International Journal of Electronic Finance
This journal also publishes Open Access articles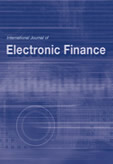 Editor in Chief

Prof. Dr. Jiaqin Yang

ISSN online

1746-0077

ISSN print

1746-0069
4 issues per year


CiteScore

0.9 (2022)

IJEF publishes articles that present current practice and research in the area of e-finance. It is dedicated to design, development, management, implementation, technology, and application issues in e-finance.
Topics covered include
E-business and IT/IS investment
E-banking/m-banking strategy/implementation
Digitisation in financial supply chain
[E-]auditing, e-taxation, e-cash flow
Customer channel management
Data mining/warehousing
E-lending/e-payment/e-procurement
Cultural/social/political issues
E-trading/online auctions
Knowledge management
Business intelligence
E-government regulation
Security/privacy/trust
IT risk analysis
Human-computer interaction
More on this journal...
Objectives
IJEF aims to help professionals working in the field, academic educators and policy-makers to contribute, to disseminate knowledge, and to learn from each other's work through cutting edge thinking in e-Finance. The international dimension is emphasised in order to overcome cultural and national barriers and to meet the needs of accelerating technological change and changes in the global economy. IJEF is an outstanding outlet that will enable e-Finance research to take a shape of its own and whose results can be shared across institutions, governments, researchers and students, as well as across the healthcare industry:
Up-to-date, leading edge research to keep you ahead and maintain a competitive edge best practice in e-Finance
Practical guidance on ways to achieve great effectiveness and efficiency in e-Finance development and implementation
In-depth analysis and interpretation to advance our understanding and provide a framework for further study of e-Finance
International coverage which allows us to share information and knowledge and insight on a worldwide scale
Readership
Professionals, academics, researchers, managers, policy makers, and nonprofit organisations.
Contents
IJEF publishes original and review papers, technical reports, case studies, conference reports, management reports, book reviews, and notes, commentaries, and news. Contribution may be by submission or invitation, and suggestions for special issues and publications are welcome.
High quality papers to keep you at the forefront of the latest thinking and research in e-Finance
Case studies and practical applications to illustrate e-Finance design, development, management and implementation
Editor in Chief
Yang, Jiaqin, Georgia College & State University, USA
(jiaqin.yanggcsu.edu)
Associate Editors
Alshater, Muneer M., Philadelphia University, Jordan
Ozok, Ant, University of Maryland, Baltimore County, USA
Smith, Alan D., Robert Morris University, USA
Senior Editor
Wei, June, University of West Florida, USA
Editorial Board Members
Abd El Aziz, Rasha, Arab Academy for Science and Technology, Egypt
Al-Naeem, Tariq, King Saud University, Saudi Arabia
Andoh-Baidoo, Francis Kofi, University of Texas - Pan American, USA
Bai, Shuming, University of Texas of the Permian Basin, USA
Barnes, Stuart J., King's College London, UK
Chansa-ngavej, Chuvej, SIU International University, Thailand
Debasish, Sathya Swaroop, Utkal University , India
Dwivedi, Yogesh Kumar, Swansea University, UK
Ferruz Agudo, Luis, University of Zaragoza, Spain
Gurses, Ayse P., The Johns Hopkins University, USA
Hassan, Mohammad Kabir, University of New Orleans, USA
Herath, Siriyama Kanthi, Clark Atlanta University, USA
Janamanchi, Balaji, Texas A&M International University, USA
Koh, Chang E., University of North Texas, USA
Laukkanen, Tommi, University of Joensuu, Finland
Lee, Cheng-Few, Rutgers University, USA
Lin, Binshan, Louisiana State University in Shreveport, USA
Liu, Manlu, Rochester Institute of Technology , USA
Liu, Shang-Chia, FuJen Catholic University, Taiwan, Province of China
Luo, Xin (Robert), The University of New Mexico, USA
Muñoz-Torres, María J., University Jaume I, Spain
Pastuszak, Zbigniew, Maria Curie-Sklodowska University, Poland
Scornavacca, Eusebio, University of Baltimore, USA
Sharma, Sushil K., Ball State University, USA
Tsang, Philip Manwah, Caritas Institute of Higher Education, Hong Kong SAR, China
Wu, Soushan, Chang Gung University, Taiwan, Province of China
Yunezawa, Yasuhiro, Yokohama National University, Japan
A few essentials for publishing in this journal
Submitted articles should not have been previously published or be currently under consideration for publication elsewhere.
Conference papers may only be submitted if the paper has been completely re-written (more details available here) and the author has cleared any necessary permissions with the copyright owner if it has been previously copyrighted.
Briefs and research notes are not published in this journal.
All our articles go through a double-blind review process.
All authors must declare they have read and agreed to the content of the submitted article. A full statement of our Ethical Guidelines for Authors (PDF) is available.
There are no charges for publishing with Inderscience, unless you require your article to be Open Access (OA). You can find more information on OA here.



Submission process

All articles for this journal must be submitted using our online submissions system.
View Author guidelines.