International Journal of Data Science
This journal also publishes Open Access articles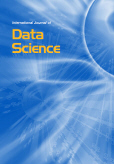 Editor in Chief

Prof. John Wang

ISSN online

2053-082X

ISSN print

2053-0811
4 issues per year

With the Age of Big Data upon us, we risk drowning in a flood of digital data. Big data spans five dimensions (volume, variety, velocity, volatility and veracity), generally steered towards one critical destination - value. Big data has now become a critical part of the business world and daily life. Containing big information and big knowledge, big data does indeed have big value. IJDS confronts the challenges of extracting a fountain of knowledge from "mountains" of big data.
Topics covered include
Big data cloud, mining and management
Big data storage, processing, sharing and visualisation
Big data systems, tools, theory and applications
Business analytics, intelligence and mathematics
Computer science, hacking skills
Informatics and information systems and technology
Machine learning, web-based decision making
Management science, social sciences and statistics
Mathematical optimisation and mathematics of decision sciences
Multiple source data processing and integration
Network and social-graph analysis
Optimisation, performance measurement
Security and privacy
System analysis and theory
Volume, velocity and variety of big data on cloud
More on this journal...
Objectives
IJDS employs an interdisciplinary approach and bridges the gap between different disciplines, including computer science, OR/MS, statistics, data mining, DSS, graphic design and human-computer interaction. The process of knowledge creation therefore can include multiple components and perspectives. By adopting such a diverse set of tools/techniques while employing the synergies involved, companies and organisations can make faster (real-time), frequent and fact-based decisions.
IJDS therefore aims to provide a professional forum for examining the processes and results associated with obtaining data, as well as munging, scrubbing, exploring, modelling, interpreting, communicating and visualising data. Data science takes data in cyberspace as a research object. The goal is an integrated and interconnected process designed to form a common ground from which a knowledge-based system can be built, shared and supported by professionals from different disciplines.
Readership
Academics
Applied statisticians
Archivists
Consultants
Data analysts and data miners
Database administrators
Educators and graduate students
Engineers
Librarians
Management scientists
Operation researchers
Policy makers
Problem solvers and decision makers
Programmers
Strategic planners
Contents
IJDS publishes research papers (descriptive or predictive, and/or prescriptive), innovative ideas, case studies, surveys/reports and book reviews. Special Issues devoted to important topics will be published.
Editor in Chief
Wang, John, Montclair State University, USA
(prof.johnwanggmail.com)
Managing Editor
Wang, Hai, Saint Mary's University, Canada
Associate Editors
Birkenkrahe, Marcus Speh, Berlin School of Economics and Law, Germany
Caron, Franco, Politecnico di Milano, Italy
Pavur, Robert, University of North Texas, USA
Piotrowicz, Wojciech, University of Oxford, UK
Postolică, Vasile, University of Bacău, Romania
Robnik-Sikonja, Marko, University of Ljubljana, Slovenia
American Editor
Chen, Song Xi, Peking University and Iowa State University , USA
Assistant Editor
Song, Jialin, Microsoft, USA
European Editor
Carnero, Carmen, University of Castilla-La Mancha, Spain
Far East Editor
Zhou, Yuanchun, Computer Network Information Center, Chinese Academy of Sciences, China
Japanese Editor
Tomoko, Saiki, Saiki Patent, Japan
Middle East Editor
Salem, Abdel-badeeh M., Ain Shams University, Egypt
Practitioner Editor
Walker, Michael A., Data Science Association, Inc., USA
Senior Editor
Jaume, Sylvain, Saint Peter's University, USA
Editorial Board Members
Abdelhafez, Hoda, Suez Canal University, Egypt
Akbas, Esra, Oklahoma State University, USA
Akyüz, Göknur Arzu, University of Turkish Aeronautical Association, Turkey
Aluvalu, Rajanikanth, Chaitanya Bharathi Institute of Technology, India
Bagherpour, Morteza, Iran University of Science and Technology, Iran
Baharlouei, Sina, University of Southern California, USA
Bhatia, Sanjiv K., University of Missouri - St. Louis, USA
Burcu, Zeynep, Istanbul Technical University, Turkey
Byon, Young-ji, Northwestern College, USA
Çebi, Ferhan, Istanbul Technical University, Turkey
Chambers, Kristina, TTX Company, USA
Chang, Yu Sang, Gachon University and KDI School of Public Policy and Management, South Korea
Chantrapornchai, Chantana, Silpakorn University, Thailand
Chen, Guoming, Guilin University of Aerospace Technology, China
Chen, Suiyao, University of South Florida, USA
Chen, Wei, York College of Pennsylvania, USA
Chen, Yanyu, Zhejiang Normal University, China
Chung, William, City University of Hong Kong, Hong Kong SAR, China
Dwivedi, Ashutosh Dhar, Copenhagen Business School, Denmark
Erden, Caner, Sakarya University of Applied Sciences, Turkey
Feng, Yunhe, University of Washington, USA
Fox, William, Naval Postgraduate School , USA
Gan, Min, La Trobe University, Australia
Gaur, Loveleen, Taylor's University, Malaysia
Gulpinar, Nalan, University of Warwick, UK
Han, Qian, Deloitte LLP, USA
Harroun, James, SAS Institute, USA
Hodge, Victoria, University of York , UK
Islam, Jyoti, Georgia State University, USA
Johnsson, Magnus, Lund University , Sweden
Kretowski, Marek, Bialystok Technical University, Poland
Kumar, Navin, Optum Inc., USA
Kumar, Sathish A.P., Coastal Carolina University, USA
Lai, Shih-Kung, Tongji University, China
Leung, Carson, University of Manitoba, Canada
Li, Jingying, Ford Motor Credit Company, USA
Li, Qingwei, Eastman Chemical Company, USA
Li, Shengqing, Hunan University of Technology, China
Li, Susan, Adelphi University, USA
Li, Yang, British Telecom , UK
Li, Zhen, Texas Woman's University, USA
Lin, Ying, University of Houston, USA
Liu, Rong, University of California, Los Angeles, USA
Majumdar, Pradeep Kumar, Changa University and NSIT , India
Malamis, Simos, National Technical University of Athens, Greece
Mandal, Jyotsna Kumar, University of Kalyani, India
Mathiyalakan, Sathasivam, Winston Salem State University, USA
Miao, Zhuqi, Oklahoma State University, USA
Mishra, Sambit Kumar, Biju Patnaik University of Technology, Rourkela, India
Mishra, Vinod Kumar, Madan Mohan Malaviya University of Technology, India
Mohapatra, Sanjay, Xavier Institute of Management, India
Munde, Anjali, Amity University, India
Muthukumarasamy, Govindarajan, Annamalai University, India
Nelson, Christie, Rutgers University, USA
Nijjer, Shivinder, Chitkara University, India
Okun, Oleg, Campanja AB , Sweden
Ozel Kadilar, Gamze, Hacettepe University , Turkey
Pagan, Karina Munari, University of São Paulo, Brazil
Pagan, Natália Munari, University of São Paulo, Brazil
Pal, Bijay Baran, University of Kalyani, India
Palma, Jamie, Instituto Tecnológico de Estudios Superiores de Monterrey, ITESM, Ciudad de Mexico, Mexico
Pan, Youqin, Salem State University, USA
Pilipczuk, Olga, Szczecin University, Poland
Portnov, Boris A., University of Haifa, Israel
Potcner, Kevin, Exsilon Data and Statistical Solutions, Inc. , USA
Qin, Biao, Renmin University of China , China
Qin, Xiongpai, Renmin University, China
Qu, Xilong, Hunan University of Finance and Economics, China
Ruhil, Vikash, Apple Inc., USA
Saleeshya, P. G., Amrita University, India
Sardana, Divya, Teradata Corp., USA
Segall, Richard S., Arkansas State University, USA
Serpa, Nilo, UNIP - Universidade Paulista , Brazil
Shan, Xiaojun (Gene), University of Houston - Clear Lake, USA
Shanmugasundaram, Hariharan, Vardhaman College of Engineering, India
Shao, Yuanxun, Georgia Institute of Technology, USA
Shen, Tao, Kunming University of Science and Technology, China
Si, Wujun, Wichita State University, USA
Sinanç Terzi, Duygu, Amasya University, Turkey
Singh, Harwinder, Guru Nanak Dev Engineering College, India
Singh, Preetvanti, Dayalbagh Educational Institute , India
Sohail, Noman, Shantou University Medical College, China
Solomon, Ogara, Jaramogi Oginga Odinga University of Science and Technology, Kenya
Spiegel, Thaís, Rio de Janeiro State University , Brazil
Srinivasan, Karthik, University of Kansas, USA
Stubbs, Evan, SAS and University of South Australia School of Information Technology and Mathematical Sciences, Australia
Tamburis, Oscar, University of Naples Federico II (Italy), Italy
Tavakkol, Behnam, Stockton University, USA
Tkacz, Magdalena, University of Silesia, Poland
Ülkü, M. Ali, Dalhousie University, Canada
Velev, Dimiter, University of National and World Economy, Bulgaria
Verma, Abhishek, California State University, Northridge, USA
Vitor, Fabio, University of Nebraska at Omaha, USA
Wall, William Philip, Stamford International University, Thailand
Wang, Fang, Brunel University London, UK
Wang, Hongzhi, Harbin Institute of Technology, China
Wang, Jason T. L., New Jersey Institute of Technology, USA
Wang, Xuan, University of Texas Rio Grande Valley, USA
Wu, Chaojiang, Drexel University , USA
Yoo, Taejong, Sangmyung University, South Korea
Zhang, Guoyi, University of New Mexico, USA
Zheng, Xianrong (Shawn), Old Dominion University, USA
A few essentials for publishing in this journal
Submitted articles should not have been previously published or be currently under consideration for publication elsewhere.
Conference papers may only be submitted if the paper has been completely re-written (more details available here) and the author has cleared any necessary permissions with the copyright owner if it has been previously copyrighted.
Briefs and research notes are not published in this journal.
All our articles go through a double-blind review process.
All authors must declare they have read and agreed to the content of the submitted article. A full statement of our Ethical Guidelines for Authors (PDF) is available.
There are no charges for publishing with Inderscience, unless you require your article to be Open Access (OA). You can find more information on OA here.



Submission process

All articles for this journal must be submitted using our online submissions system.
View Author guidelines.