International Journal of Circuits and Architecture Design
This journal also publishes Open Access articles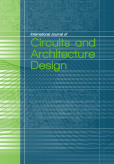 Editor in Chief

Dr. M.A. Dorgham

ISSN online

2051-7033

ISSN print

2051-7025
4 issues per year

Rapid developments and convergence in consumer electronics have made the theory of VLSI circuits a burgeoning area of research and development. IJCAD proposes and fosters discussions on circuits, architecture design, systems, processor architecture and electronic design automation. The journal provides a platform for research scholars, scientists and academicians worldwide to promote, share and discuss the various new issues and developments in different areas of circuits, architecture and design.
Topics covered include
Circuit theory and design
Circuit analysis and simulation
EDA methodologies, tools, flows and automation techniques
Robust, power, delay and area conscious digital circuits
FPGA architecture and applications
On-chip communication, design, architecture and issues
Physical design, methodologies, tools and applications
Interdisciplinary methodologies/technologies in VLSI
Innovative device technologies, designs, processes and issues
IP design issues, interoperability, reuse and applications
Emerging trends in VLSI design automation
More on this journal...
Objectives
The objectives of IJCAD are to disseminate new knowledge and technology among the academic and research community, professionals and industry practitioners, thus bridging the gap between research theories and actual implementation. The journal represents a current, comprehensive and practical information tool in the area of circuit and architecture design.
Readership
IJCAD provides a vehicle to help research scholars, scientists and academicians all over the world to promote, share, and discuss various new issues and developments in different areas of circuit, architecture and design, to disseminate information and to learn from each other's work
Contents
IJCAD publishes original papers, review papers, case studies and extended conference papers. The journal also invites proposals for Special Issues devoted to important topics in circuit and architecture design.
IJCAD is indexed in:
IJCAD is listed in:

This journal is yet to be included in any lists or directories.

Editor in Chief
Dorgham, M.A., International Centre for Technology and Management, UK
(supportinderscience.com)
Advisory Board
Ansari, Abdul Quaiyum, Jamia Millia Islamia, India
Gupta, Maneesha, Netaji Subhas Institute of Technology, India
Ismail, Yehea, American University in Cairo, Egypt
Nandy, S.K., Indian Institute of Science , India
Editorial Board Members
Ansary, Omid, Pennsylvania State University, Harrisburg, USA
Benmessaoud, Asma, M'Hammed Bouguerra University (Boumerdes) , Algeria
Bobda, Christophe, University of Arkansas, USA
Chauhan, Hari, Northeastern University , USA
El-Moursy, Magdy A., Mentor Graphics Corporation, Egypt
Gharbi, Atef, Institut national des sciences appliquées et de technologie (INSAT), Tunisia
Ghoneima, Maged, American University in Cairo , Egypt
Hsiung, Pao-Ann, National Chung Cheng University, Taiwan, Province of China
Ievgen, Korotkyi, National Technical University of Ukraine , Ukraine
Khan, Arsalan Hameed, Northwestern Polytechnical University, China
Kumar, Nitin, University of Fukui , Japan
Pölzlbauer, Florian, Virtual Vehicle, Austria
Rashid, Muhammad, Umm Al-Qura University , Saudi Arabia
Stojanovic, Radovan, University of Montenegro, Montenegro
Tiwari, Satish Chandra, Cadence Design Systems, India
A few essentials for publishing in this journal
Submitted articles should not have been previously published or be currently under consideration for publication elsewhere.
Conference papers may only be submitted if the paper has been completely re-written (more details available here) and the author has cleared any necessary permissions with the copyright owner if it has been previously copyrighted.
Briefs and research notes are not published in this journal.
All our articles go through a double-blind review process.
All authors must declare they have read and agreed to the content of the submitted article. A full statement of our Ethical Guidelines for Authors (PDF) is available.
There are no charges for publishing with Inderscience, unless you require your article to be Open Access (OA). You can find more information on OA here.



Submission process

All articles for this journal must be submitted using our online submissions system.
View Author guidelines.