International Journal of Business and Data Analytics
This journal also publishes Open Access articles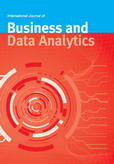 Editor in Chief

Dr. Sujeet K. Sharma

ISSN online

2515-9119

ISSN print

2515-9100
4 issues per year

IJBDA aims to be a dominant knowledge forum for cutting-edge research developments in analytics theory and applications within the context of business management. Data analytics receives considerable attention because it defines the competitive dynamics of the modern business environment. Ever-increasing research activity in data analytics underlines the importance of a global platform for sharing the latest advances in this area. IJBDA seeks to satisfy demand for significant research results in key analytics areas of primary business disciplines.
Topics covered include
Big data
Big data analytics
Social media analytics
Accounting analytics
Financial analytics
Marketing analytics
Management analytics
Business analytics
Supply chain analytics
Operations management analytics
Descriptive, predictive and prescriptive analytics
More on this journal...
Objectives
The objectives of IJBDA are threefold: to provide evidence supporting or challenging the available literature; to provide a forum for researchers in which new theories and applications of analytics can be discussed; and to be one of the best journals in the business and data analytics domain.
Readership
IJBDA caters for the needs of academicians, practitioners, researchers and students in the business and data analytics community who contribute to and benefit from multidisciplinary research in data analytics. The journal provides an effective forum for exchanging state-of-the-art knowledge with regard to significant research problems in various domains of analytics.
Contents
IJBDA publishes theoretical frameworks, empirical papers, review papers, extended conference papers, case studies and book reviews. Special Issues devoted to important topics in business and data analytics research will occasionally be published.
IJBDA is indexed in:
IJBDA is listed in:

This journal is yet to be included in any lists or directories.

Editor in Chief
Sharma, Sujeet K., Indian Institute of Management Tiruchirappalli, India
(ijbda.editorgmail.com)
Associate Editors
Alawamleh, Mohammad, American University of Madaba, Jordan
Alhashmi, Saadat Mehmood, University of Sharjah, United Arab Emirates
Ayanso, Anteneh, Brock University, Canada
Dominic, P. D. D., Universiti Teknologi PETRONAS (UTP), Malaysia
Griva, Anastasia, National University of Ireland Galway, Ireland
He, Xiaoyun (Sharon), Auburn University at Montgomery, USA
Hefley, Bill, University of Texas at Dallas, USA
Hoque, Md Rakibul, University of Dhaka, Bangladesh and Emporia State University, USA
Kar, Arpan Kumar, Indian Institute of Technology Delhi, India
Kolog, Emmanuel Awuni, University of Ghana, Ghana
Pasi, Gabriella, University of Milano-Bicocca, Italy
Advisory Board
Cho, Byung Rae, Clemson University, USA
Dwivedi, Yogesh Kumar, Swansea University, UK
Emrouznejad, Ali, University of Surrey, UK
Editorial Board Members
Abu Elsamen, Amjad, Zayed University, United Arab Emirates
Badshah, Ihsan, Aukland University of Technology, New Zealand
Butt, Irfan, Lakehead University, Canada
Carvalho, Arthur, Miami University, USA
Daniel, Jay, University of Technology Sydney, Australia
Dutta, Pankaj, Indian Institute of Technology, India
Gattoufi, Said, Universite de Tunis, Tunisia
Hossain, Syed Akhter, Daffodil International University, Bangladesh
Jana, Rabin K., Indian Institute of Management Raipur, India
Kumar, Pradeep, Indian Institute of Management, Lucknow, India
Kuruppu, Thilina Niroshan, Sultan Qaboos University, Oman
Mishra, Amitabh, Ibri College of Applied Science, Oman
Sharma, Manisha, Gautam Budhha University, India
Shekarian, Ehsan, University of Oulu, Finland
Tarhini, Ali, Sultan Qaboos University, Oman
Zhao, Kai, Georgia State University, USA
A few essentials for publishing in this journal
Submitted articles should not have been previously published or be currently under consideration for publication elsewhere.
Conference papers may only be submitted if the paper has been completely re-written (more details available here) and the author has cleared any necessary permissions with the copyright owner if it has been previously copyrighted.
Briefs and research notes are not published in this journal.
All our articles go through a double-blind review process.
All authors must declare they have read and agreed to the content of the submitted article. A full statement of our Ethical Guidelines for Authors (PDF) is available.
There are no charges for publishing with Inderscience, unless you require your article to be Open Access (OA). You can find more information on OA here.



Submission process

All articles for this journal must be submitted using our online submissions system.
View Author guidelines.