International Journal of Advanced Operations Management
This journal also publishes Open Access articles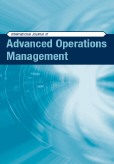 Editor in Chief

Prof. Kannan Govindan

ISSN online

1758-9398

ISSN print

1758-938X
4 issues per year


CiteScore

3.0 (2022)

In today's complex, global economy, the operations function is critical to business success. All organisations have an operations function that helps them run efficiently and productively. IJAOM is a peer reviewed international journal which publishes original, high-quality and cutting-edge research on all aspects of advanced operations management, aiming at bridging the gap between theory and practice with applications analysing the real situation.
Topics covered include
Global operations management, lean/agile operations
Knowledge, service, demand and R&D management
Scheduling, sequencing, vehicle routing
Inventory management and co-ordination
Multi-objective optimisation; TQM and six sigma practices
Business process outsourcing
Aggregate planning, ERP, JIT
Performance measurement
Cultural, environmental and implementation issues
Logistics service performance, supply chain management
Product planning, lot sizing, MPS, MRP
Repetitive manufacturing and service operations
Project and technology management, network management
Modelling and simulation, decision analysis/making
Comparison of operations management in different countries
More on this journal...
Objectives
The main objectives of IJAOM are:
To present state-of-art, high-quality research developments in all advanced areas of operations management (OM)
To help professionals working in the area of operations management, academicians, consultants and practitioners to share cutting-edge information of current developments in the area
To define new problem domains in the area of OM
To develop new methodologies to solve OM problems
The international dimension is emphasised in order to meet the demands of global business.
Readership
IJAOM provides a platform to help academics, researchers, professionals and practitioners working in the field of advanced operations management to disseminate and publicise research work and to facilitate a greater learning process from each other's work.
Contents
IJAOM publishes original papers, review papers, field research, technical reports, case studies, conference reports, management reports, book reviews, notes, commentaries and news. Special Issues devoted to important topics in advanced operations management will occasionally be published.
Editor in Chief
Govindan, Kannan, University of Southern Denmark, Denmark
(kgoviti.sdu.dk)
Editor
Kannan, Devika, University of Southern Denmark, Denmark
Editorial Board Members
Agarwal, Ravi P., Texas A&M University Kingsville, USA
Bagchi, Uttarayan, University of Texas at Austin, USA
Battini, Daria, University of Padova, Italy
Chen, Bo, University of Warwick, UK
Cheng, T.C. Edwin, The Hong Kong Polytechnic University, Hong Kong SAR, China
Choi, Tsan-Ming (Jason), The Hong Kong Polytechnic University, Hong Kong SAR, China
Dessouky, Maged, University of Southern California, USA
Dessouky, Yasser, San Jose State University, USA
Elsayed, E.A., Rutgers University, USA
Eyob, Ephrem, Virginia State University, USA
Ferreira, Fernando Alberto Freitas, University Institute of Lisbon, Portugal
Goh, Mark, National University of Singapore, Singapore
Grubbström, Robert W., Linköping Institute of Technology, Sweden
Gungor, Askiner, Pamukkale University, Turkey
Gupta, Surendra M., Northeastern University, USA
Handfield, Robert, North Carolina State University, USA
Jódar, Lucas, Universidad Politécnica de Valencia, Spain
Khalili Nasr, Arash, Sharif University of Technology, Iran
Klassen, Robert D., Ivey Business School at Western University, Canada
Kumar, U. Dinesh, Indian Institute of Management Bangalore, India
Laporte, Gilbert, HEC Montréal, Canada
Lin, Binshan, Louisiana State University in Shreveport, USA
Liu, Lu, Shandong University of Science and Technology, China
Lorenz, Jens, University of New Mexico, USA
Mahadevan, B., Indian Institute of Management Bangalore, India
Mathirajan, M., Indian Institute of Science, India
Nahmias, Steven, Santa Clara University, USA
O'Sullivan, David, National University of Ireland, Galway, Ireland
Pawar, Kulwant S., University of Nottingham, UK
Peccati, Lorenzo, Bocconi University, Italy
Pokharel, Shaligram, Qatar University, Qatar
Ramanathan, Ramakrishnan, University of Nottingham, UK
Rao, B. Madhu, Bowling Green State University, USA
Roth, Aleda V., Clemson University, USA
Ruiz García, Rubén, Universidad Politecnica de Valencia, Spain
Sarkis, Joseph, Worcester Polytechnic Institute, USA
Sharma, Narendra K., Indian Institute of Technology Kanpur, India
So, Rick K.C., University of California at Irvine, USA
Suer, Gursel A., Ohio University, USA
Vinodh, S., National Institute of Technology Tiruchirappalli, India
Wallace, Stein W., Norwegian School of Economics, Norway
Wang, William Yu Chung, Auckland University of Technology, New Zealand
Xu, Chully Lei, Tianjin University of Technology, China
Yang, Jiawei, Donghua University, China
Zavadskas, E. K., Vilnius Gediminas Technical University, Lithuania
A few essentials for publishing in this journal
Submitted articles should not have been previously published or be currently under consideration for publication elsewhere.
Conference papers may only be submitted if the paper has been completely re-written (more details available here) and the author has cleared any necessary permissions with the copyright owner if it has been previously copyrighted.
Briefs and research notes are not published in this journal.
All our articles go through a double-blind review process.
All authors must declare they have read and agreed to the content of the submitted article. A full statement of our Ethical Guidelines for Authors (PDF) is available.
There are no charges for publishing with Inderscience, unless you require your article to be Open Access (OA). You can find more information on OA here.



Submission process

All articles for this journal must be submitted using our online submissions system.
View Author guidelines.