International Journal of Automation and Control
This journal also publishes Open Access articles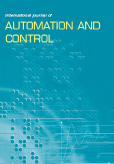 Editor in Chief

Prof. Ling Wang

ISSN online

1740-7524

ISSN print

1740-7516
6 issues per year


Impact factor (Clarivate Analytics) 2023

1.2 (5 Year Impact Factor 1.8)
JCI 0.28

CiteScore

3.7 (2022)

IJAAC addresses the evolution and realisation of the theory, algorithms, techniques, schemes and tools for any kind of automation and control platforms including macro, micro and nano scale machineries and systems, with emphasis on implications that state-of-the-art technology choices have on both the feasibility and practicability of the intended applications. This perspective acknowledges the complexity of the automation, instrumentation and process control methods and delineates itself as an interface between the theory and practice existing in parallel over diverse spheres.
Topics covered include
Control theory and practice
Identification and modelling
Mechatronics
Application of soft computing
Real-time issues
Distributed control and remote monitoring
System integration
Fault detection and isolation (FDI)
Virtual instrumentation and control
Fieldbus technology and interfaces
Agriculture, environment, health applications
Industry, military, space applications
More on this journal...
Objectives
The objectives of IJAAC are to establish an effective channel of communication between developers, system integrators, technocrats, academics and research institutions, and persons concerned with the complex role of automation and control solutions for the target systems. It addresses the evolution and realisation of the theory, algorithms, techniques, schemes and tools for platforms such as components, machines, processing, packaging, and material handling systems with emphasis on implications that the derived methodological choices have possible implementations. It also aims to promote and coordinate developments in this field.
Readership
IJAAC provides a vehicle to help professionals, academics, researchers and policy makers working in the field of automation and control system technology.
Contents
IJAAC publishes design, realisation and operation of automation and control related original papers, review papers, technical reports, case studies, tutorials, conference reports, book reviews, notes, commentaries, and news. Special Issues devoted to important topics in automation and control technology infrastructure will occasionally be published.
Editor in Chief
Wang, Ling, Tsinghua University, China
(wanglingmail.tsinghua.edu.cn)
Editors
Azar, Ahmad Taher, Prince Sultan University, Kingdom of Saudi Arabia and Benha University, Egypt
Mohan, B.M., Indian Institute of Technology, Kharagpur, India
Associate Editors
Chen, Chao-Yang, Hunan University of Science and Technology, China
Guo, Yi-nan, China University of Mining & Technology - Beijing, China
Oleiwi, Bushra Kadhim, University of Technology, Iraq
Vaidyanathan, Sundarapandian, Vel Tech University, India
Wang, Rui, National University of Defense Technology, Changsha, China
Yu, Yang, Jiangsu University of Technology, China
Editorial Board Members
Abed, Eyad H., University of Maryland, USA
Boubaker, Olfa, University of Carthage, Tunisia
Cheng, Shi, Shaanxi Normal University, China
Fanti, Maria Pia, Politecnico di Bari, Italy
Gao, Shangce, University of Toyama, Japan
Gen, Mitsuo, Fuzzy Logic Systems Institute and Tokyo University of Science, Japan
Kacprzyk, Janusz, Polish Academy of Sciences, Poland
Kamal, Nashwa Ahmad, Cairo University, Egypt
Li, Wei, University of Sydney, Australia
Luo, Chaomin, Mississippi State University, USA
Mei, Yi, Victoria University of Wellington, New Zealand
Munoz-Pacheco, Jesus Manuel, Autonomous University of Puebla, Mexico
Ponnambalam, Sivalinga G., VIT University, India
Ramdani, Messaoud, Badji Mokhtar-Annaba University, Algeria
Suganthan, Ponnuthurai Nagaratnam, Nanyang Technological University, Singapore
Tan, Mao, Xiangtan University, China
Tasgetiren, Mehmet Fatih, Qatar University, Qatar
Volos, Christos, Aristotle University of Thessaloniki, Greece
Wang, Zidong, Brunel University, UK
Xia, Yuanqing, Beijing Institute of Technology, China
A few essentials for publishing in this journal
Submitted articles should not have been previously published or be currently under consideration for publication elsewhere.
Conference papers may only be submitted if the paper has been completely re-written (more details available here) and the author has cleared any necessary permissions with the copyright owner if it has been previously copyrighted.
Briefs and research notes are not published in this journal.
All our articles go through a double-blind review process.
All authors must declare they have read and agreed to the content of the submitted article. A full statement of our Ethical Guidelines for Authors (PDF) is available.
There are no charges for publishing with Inderscience, unless you require your article to be Open Access (OA). You can find more information on OA here.



Submission process

All articles for this journal must be submitted using our online submissions system.
View Author guidelines.