EuroMed Journal of Management
This journal also publishes Open Access articles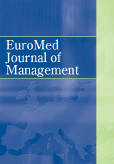 Editor in Chief

Prof. Charbel Salloum

ISSN online

2055-1711

ISSN print

2055-1703
4 issues per year

Along with the 27 EU member states, 16 Southern Mediterranean, African and Middle Eastern countries are defined as 'Euromed'. The connections between the EU and its Mediterranean neighbours may be seen as critical in terms of geopolitical and economic development. EMJM addresses management issues within this growing and diverse region. It proposes and fosters collaboration and openness between different research cultures and trends related to business topics, topics that illustrate innovative models and concepts coming into and within EuroMed.
Topics covered include
Management decision making
Strategic management
Marketing
Human resource management
Finance, accounting, economics and banking
Innovation and enterprise
Corporate social responsibility
Operations and quality management
Supply chain management, shipping and logistics
Sports management
Hospitality and tourism
Environment and sustainable development
Natural resources, energy and ecology management
Food security and agriculture management
More on this journal...
Objectives
The objectives of EMJM are to establish a dialogue between European-Mediterranean researchers and to encourage research from this region. It also aims to promote and reveal the best practice and research of developed and developing countries in the area. The regional dimension is emphasised in order to overcome cultural and national barriers and to meet the needs of the development of knowledge and understanding for contemporary management developments, trends and challenges with an international audience.
Readership
EMJM serves as essential reading for both international and regional academics and practitioners with research interests in the EuroMed region. Readers will seek to understand the different and/or alternative perspectives on European-Mediterranean business in practice.
Contents
EMJM publishes original and review papers, technical reports, case studies and book reviews. Contribution may be by submission or invitation and suggestions for special issues are welcome.
Honorary Editor
Digout, Jacques, TBS Business School, France
Editor in Chief
Salloum, Charbel, EM Normandie Business School, France
(csalloumem-normandie.fr)
Associate Editor
Valeri, Marco, Niccolò Cusano University, Italy
Editorial Board Members
Alatwi, Amer, Al Muthanna University, Iraq
Alexandre, Laurice, Paris Descartes University, France
Aziz, Miriam R., USEK Business School, Lebanon
Azouri, Marwan, Notre Dame University, Lebanon
Badaoui, Nicolas, Holy Spirit University of Kaslik, Lebanon
Besson, Dominique, Lille I University, France
Camilleri, Mark Anthony, University of Malta, Malta
Ghassan, Hassan, King Faisal University, Saudi Arabia
Haddadj, Slimane, Dijon University, France
Hawi, Ruba, Isra University, Jordan
Jabbour, Georges, George Washington University, USA
Jarrar, Hajer, Holy Spirit University of Kaslik, Lebanon
Justinek, Gorazd, New University, Slovenia
Kabbara, Diala, Pavia University, Italy
Lefebvre, Quentin, Université Panthéon-Assas, France
Malkawi, Bashar H., H.H. Dubai Ruler's Court, United Arab Emirates
Meena, Purushottam Lal, New York Institute of Technology, USA
Mercier-Suissa, Catherine, Lyon 3 University, France
Mohamed, Ezzeddine Ben, University of Sfax, Tunisia
Rabeh, Morrar, An-Najah National University, Palestine
Salloum, Laura, EM Normandie Business School, France
Sarea, Adel M., Ahlia University, Bahrain
Sénéchal, Sylvain, TBS Business School, Morocco
Sweidan, Osama, United Arab Emirates University, United Arab Emirates
Yazdani, Hamid Reza, University of Tehran, Iraq
A few essentials for publishing in this journal
Submitted articles should not have been previously published or be currently under consideration for publication elsewhere.
Conference papers may only be submitted if the paper has been completely re-written (more details available here) and the author has cleared any necessary permissions with the copyright owner if it has been previously copyrighted.
Briefs and research notes are not published in this journal.
All our articles go through a double-blind review process.
All authors must declare they have read and agreed to the content of the submitted article. A full statement of our Ethical Guidelines for Authors (PDF) is available.
There are no charges for publishing with Inderscience, unless you require your article to be Open Access (OA). You can find more information on OA here.



Submission process

All articles for this journal must be submitted using our online submissions system.
View Author guidelines.
Journal news
Search engine optimisation
17 April, 2023
Search Engine Optimisation, SEO, involves improving a website's content, the technical aspects of the site, and the user experience to make it more attractive to search engines, resulting in higher rankings in the search engine results pages (SERPs), and to drive organic traffic. It requires a combination of keyword research, on-page optimization, technical improvments, content creation, backlink building, and continuous monitoring and analysis to achieve the best results. Writing in the EuroMed Journal of Management, Jun-Cheng Chen of TBS Education in Paris, France, discusses the state-of-the-art in SEO. His work could help fill a gap in this area of research by highlighting what is known and what is yet to be investigated [...]
More details...
Prof. Charbel Salloum appointed as new Editor in Chief of EuroMed Journal of Management
26 May, 2023
Prof. Charbel Salloum from EM Normandie Business School in France has been appointed to take over editorship of the EuroMed Journal of Management. The journal's departing Editor in Chief, Prof. Jacques Digout, will remain with EMJM as Honorary Editor in Chief.