MENA Journal of Cross-Cultural Management
This journal also publishes Open Access articles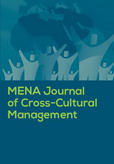 Editor in Chief

Dr. Abderrahman Hassi

ISSN online

2398-3183

ISSN print

2398-3175
4 issues per year

The Middle East and North Africa region is experiencing rapid social, political and economic changes. Managers and researchers interested in this part of the world face particular challenges and issues. MJCCM aims at contributing to a better understanding of managerial practices and business cultures by providing readers with theoretical and practical insights stemming from the diverse countries of this region. MJCCM is the only journal that deals explicitly with cross-cultural management in the MENA region.
Topics covered include
Culture and entrepreneurship
National culture and organisational culture
Culture and supply chain management
Culture and human resource management
Culture and decision making
Culture and leadership
Culture and change
Culture and strategy
Influence of culture on ethics and governance
Culture and innovation
Culture, economics and development
More on this journal...
Objectives
The primary objective of MJCCM is to contribute to applying theoretical insights and research methods to solve contemporary cross-cultural problems faced by international organisations and personnel in the MENA region. It also aims at supporting management research in the region, and providing readers with an updated overview of the local managerial practices from the MENA region. Researchers, academics and practitioners are encouraged to share their experience, knowledge and practices with both the local and international audiences, thereby contributing to continuous learning and organisational improvement.
Readership
MJCCM is a forum designed to contribute to informing managers, professionals, researchers, academics, students and policy makers about culturally specific business practices, norms and values in the MENA region.
Contents
MJCCM publishes empirical research, thorough literature review, conceptual papers, practitioner observations, case studies and book reviews that focus on cross-cultural management in the MENA region. The journal follows an international peer review process and accepts original and thorough papers using both qualitative and quantitative methodologies.
Browse issues
MJCCM is indexed in:
MJCCM is listed in:

This journal is yet to be included in any lists or directories.

Editor in Chief
Hassi, Abderrahman, Al Akhawayn University, Morocco
(a.hassiaui.ma)
Editors
Scherle, Nicolai, Iserlohn University, Germany
Yeganeh, Hamid, Winona State University, USA
Associate Editors
Balambo, Mohamed Amine, Ibn Tofaîl University, Morocco
Benjelloun, Hicham, Qatar University, Qatar
Harcar, Talha, Penn State University, USA
Sarea, Adel M., Ahlia University, Bahrain
Advisory Board
Barzantny, Cordula, Toulouse Business School, France
Weir, David, York St. John University, UK
Editorial Board Members
Akaaboune, Adil, Al Hosn University, United Arab Emirates
Al-Abri, Salem, Sultan Qaboos University, Oman
Alabdulwahab, Sami, King Faisal University, Saudi Arabia
Aouam, Tarik, Gent University, Belgium
Dsouli, Ouarda, University of Northampton, UK
Egel, Eleftheria, International University of Monaco, Monaco
El Abboubi, Manal, FSJES Agdal Rabat University, Morocco
El Mansour, Bassou, Indiana State University, USA
Foucher, Roland, University of Quebec at Outaouais, Canada
Guo, Xin (Michael), University of the West of Scotland, UK
Habisch, André, Kath. Universität Eichstätt-Ingolstadt, Germany
Harizi, Riadh, University of Bisha, Saudi Arabia
Ismail, Ayman, American University in Cairo, Egypt
Kerkoub, Ibrahim Azzedine, HEC Alger, Algeria
Limamy, Khalid, Mohamed V University, Morocco
Mashayekhi, Bita, University of Tehran, Iran
Naji, Abdelhadi, Trois-Rivieres University, Canada
Paché, Gilles, Aix-Marseille University, France
Prencipe, Antonio, University of Teramo, Italy
Saad Shidwan, Osman, University of Khartoum, Sudan
Sarker, Debashis, Bangladesh Rural Advancement Committee, Bangladesh
Termos, Ali, American University of Beirut, Lebanon
Yahiaoui, Dorra, Kedge Business School, France
Zamora Torres, América Ivonne, Instituto de Investigaciones Económicas y Empresariales, Mexico
A few essentials for publishing in this journal
Submitted articles should not have been previously published or be currently under consideration for publication elsewhere.
Conference papers may only be submitted if the paper has been completely re-written (more details available here) and the author has cleared any necessary permissions with the copyright owner if it has been previously copyrighted.
Briefs and research notes are not published in this journal.
All our articles go through a double-blind review process.
All authors must declare they have read and agreed to the content of the submitted article. A full statement of our Ethical Guidelines for Authors (PDF) is available.
There are no charges for publishing with Inderscience, unless you require your article to be Open Access (OA). You can find more information on OA here.



Submission process

All articles for this journal must be submitted using our online submissions system.
View Author guidelines.