Luxury Research Journal
This journal also publishes Open Access articles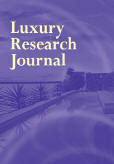 Editor in Chief

Prof. Michel Phan

ISSN online

2041-384X

ISSN print

2041-3831
4 issues per year

LRJ is a cross-disciplinary, peer-reviewed international journal that publishes high-quality conceptual and empirical articles (using quantitative or qualitative approaches), as well as cutting-edge case studies that are relevant to the luxury industry. It also presents viewpoints of influential experts within the industry. LRJ aims to establish itself as the leading journal on luxury research for academics and practitioners.
Topics covered include
Industry perspectives on luxury new venture creation/development
Product, service and customer experience development for luxury brands
Geographical/regional perspectives on the luxury sector or knowledge domain
Alliances and acquisitions in growth-oriented luxury sub-sectors
Family and luxury business development
Innovation issues in the luxury sector and knowledge domain
Consumer culture and behaviour towards luxury
Legal issues in managing luxury brands
Human resources management issues in luxury companies
Corporate social responsibility and environmental issues in luxury businesses
Communications, semiotics and social media in luxury brand management
More on this journal...
Objectives
LRJ aims to provide a platform of exchange for academics, researchers, managers and policy and decision makers interested in the issues faced by entrepreneurs, business practitioners and knowledge workers in the fast-paced, technology-intensive activities of the luxury sector. The international dimension is now compulsory in the growing global luxury world.
Readership
LRJ is essential reading for luxury brand strategists and knowledge workers in both private and public sector organisations, together with marketing academics in universities and business schools, including:
Heads of branding, brand directors and managers
Marketing directors
Researchers
Business development managers
Heads of corporate communications
CEOs
Managing directors
Strategic planners
Planning directors
IP lawyers and patent attorneys in the luxury sector
Marketing and branding consultants
Agency directors
Professors, lecturers, marketing and luxury students, and MBA students
LRJ provides a vehicle to help academics, researchers, policy makers and professionals working in the field of development of luxury business activities at knowledge, industry, regional and international levels to disseminate and share valuable information.
Contents
LRJ publishes original papers, case studies and interviews with eminent scholars or practitioners. In addition, the journal also publishes regular features on the luxury sector, knowledge domain updates and book reviews providing a "thumbnail" of the best writing on and from the luxury sector and knowledge domain. Special Issues devoted to important topics in technological advances, knowledge management and the luxury sector/domain will occasionally be published.
Honorary Editor
Kapferer, Jean-Noel, HEC Paris, France
Editor in Chief
Phan, Michel, EMLYON Business School, France
(phanem-lyon.com)
Associate Editor
Som, Ashok, ESSEC Business School, France
Regional Editor Asia Pacific and Australia
Phau, Ian, Curtin Business School, Australia
Regional Editor Europe
Heine, Klaus, EMLYON Business School, France
Regional Editor Japan
Nagasawa, Shin'ya, Waseda University, Japan
Regional Editor North America
Berthon, Pierre, Bentley University, USA
Regional Editor Southeast Asia
Pandey, Neeraj, National Institute of Industrial Engineering (NITIE), India
Regional Editor South America
Gil, Luciana de Araujo, Universidad Mayor, Chile
Advisory Board
Johnson, Lester W., Swinburne University of Technology, Australia
Ko, Eunju, Yonsei University, South Korea
Pedraza, Milton, Luxury Institute & Customer Culture Institute, USA
Editorial Board Members
Aiello, Gaetano, University of Florence , Italy
Carcano, Luana, Università Bocconi, Italy
Maman Larraufie, Anne-Flore, SémioConsult, France
Petersen, Francine Espinoza, ESMT European School of Management and Technology, Germany
Roblin, Philippe, Bayadères, France
Sen, Sankar, Baruch College/CUNY, USA
Shukla, Paurav, University of Southampton, UK
Teah, Min, Curtin University, Australia
A few essentials for publishing in this journal
Submitted articles should not have been previously published or be currently under consideration for publication elsewhere.
Conference papers may only be submitted if the paper has been completely re-written (more details available here) and the author has cleared any necessary permissions with the copyright owner if it has been previously copyrighted.
Briefs and research notes are not published in this journal.
All our articles go through a double-blind review process.
All authors must declare they have read and agreed to the content of the submitted article. A full statement of our Ethical Guidelines for Authors (PDF) is available.
There are no charges for publishing with Inderscience, unless you require your article to be Open Access (OA). You can find more information on OA here.



Submission process

All articles for this journal must be submitted using our online submissions system.
View Author guidelines.