International Journal of Value Chain Management
This journal also publishes Open Access articles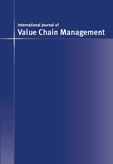 Editor in Chief

Prof. Zbigniew Pastuszak

ISSN online

1741-5365

ISSN print

1741-5357
4 issues per year


Impact factor (Clarivate Analytics) 2023

0.8 (5 Year Impact Factor 1)
JCI 0.2

CiteScore

1.6 (2022)

Pressures of competitive forces have enhanced production process changes, supercharged by shortening product/technology development lifecycles, decreasing delivery times, reducing inventories and increasing customer satisfaction. Today's complex, globalised organisations focus on procurement, HRM, technological development and infrastructure. Integrating communication and increasing cooperation between production chain members is essential for managing value chains, critical for organisational survival and growth. Progressive organisations should cover physical as well as cyber market space. IJVCM reflects and explores these issues and developments in value chain management.
Topics covered include
Value chain strategies, planning, design, development, analysis and applications
Technological interventions in value chains
Information and communication technologies
Performance metrics
Innovation, product development
Supply chain management, logistics and distribution channel design
Agile and lean manufacturing
Value/relationship management, trust, partnerships, strategic alliances
Knowledge network management
Managing human resources, communication
Managing change
Global sourcing, e-procurement and e-commerce
Demand forecasting/planning, order fulfilment, quick response time
Offering value for customers, clients, partners, and society at large
Network design and routing
More on this journal...
Objectives
The objectives of IJVCM are to establish an effective channel of communication between policy makers, corporate bodies, practitioners, academic, research institutions and government agencies, and to understand how enterprises harness new opportunities to create value, reinvent value chains and alter industry structures. It also aims to sketch possible research directions in the field of value chain technology and management.
Readership
IJVCM provides a vehicle to help professionals, academics, researchers and policy makers, working in the area of value chains, value creation, supply chains, operations, collaboration, sourcing, relationships, marketing, finance, and IT, to disseminate research knowledge, ideas and to learn from each other|s work.
Contents
IJVCM publishes original papers, review papers, technical reports, case studies, conference reports, management reports, book reviews, notes, commentaries, and news. Special Issues devoted to important topics in value chain management will occasionally be published.
Commentaries on papers and reports published in IJVCM are encouraged. Authors will have the opportunity to respond to the commentary on their work before the entire treatment is published. Contribution may be by submission or invitation, and suggestions for special issues and publications are welcome.
Editor in Chief
Pastuszak, Zbigniew, Maria Curie-Sklodowska University, Poland
(ijmededitorgmail.com)
Associate Editors
Law, Kris, Deakin University, Australia
Muhos, Matti, University of Oulu, Finland
Editorial Advisory Board
Dermol, Valerij, International School for Social and Business Studies, Slovenia
Lin, Binshan, Louisiana State University in Shreveport, USA
Meier, Claude, University of Applied Sciences in Business Administration Zurich, Switzerland
Zwilling, Motti, Ariel University, Israel
Editorial Board Members
Abdulmuhsin, Amir. A., University of Mosul, Iraq
Al-Okaily, Manaf, Jadara University and University of Jordan, Jordan
Basol, Oguz, Kirklareli University, Turkey
Breznik, Kristijan, International School for Social and Business Studies, Slovenia
Buheji, Mohammed, University of Bahrain, Bahrain
Galankashi, Masoud Rahiminezhad, Universiti Teknologi Malaysia (UTM), Malaysia
Goh, Mark, National University of Singapore, Singapore
Gola, Arkadiusz, Lublin University of Technology, Poland
Habib, Md. Mamun, Independent University, Bangladesh
Hilletofth, Per, Jönköping University, Sweden
Isoherranen, Ville, University of Oulu, Finland
Jereb, Borut, University of Maribor, Slovenia
Kavcic, Klemen, University of Primorska, Slovenia
Kowalska, Aleksandra, Maria Curie-Sklodowska University, Poland
Kundu, Goutam Kumar, VIT University, India
Kuwornu, John, Asian Institute of Technology, Thailand
Macik, Radoslaw, Maria Curie-Sklodowska University, Poland
Moustaghfir, Karim, Al Akhawayn University in Ifrane, Morocco
Paliszkiewicz, Joanna Olga, Warsaw University of Life Science, Poland
Ribeiro, Neuza Manuel Pereira, Polytechnic Institute of Leiria, Portugal
Sachakamol, Punnamee, Kasetsart University, Thailand
Simatupang, Togar M., Institut Teknologi Bandung, Indonesia
Singh, Sanjay Kumar, Abu Dhabi University, United Arab Emirates
Trunk, Aleš, International School for Social and Business Studies, Slovenia
Türkyilmaz, Ali, University of Stavanger, Norway
A few essentials for publishing in this journal
Submitted articles should not have been previously published or be currently under consideration for publication elsewhere.
Conference papers may only be submitted if the paper has been completely re-written (more details available here) and the author has cleared any necessary permissions with the copyright owner if it has been previously copyrighted.
Briefs and research notes are not published in this journal.
All our articles go through a double-blind review process.
All authors must declare they have read and agreed to the content of the submitted article. A full statement of our Ethical Guidelines for Authors (PDF) is available.
There are no charges for publishing with Inderscience, unless you require your article to be Open Access (OA). You can find more information on OA here.



Submission process

All articles for this journal must be submitted using our online submissions system.
View Author guidelines.