International Journal of Tourism Anthropology
This journal also publishes Open Access articles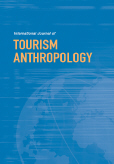 Editor in Chief

Prof. Li Cheng

ISSN online

1759-0450

ISSN print

1759-0442
4 issues per year


CiteScore

2.1 (2022)

IJTA is a peer-reviewed international journal dedicated to advanced theory, research and practice in the field of tourism anthropology. Due to the multidisciplinary nature of tourism anthropology, IJTA encourages manuscripts from interrelated disciplines - including ethnography, ethnics, sociology, psychology, archaeology, art, linguistics, economics, politics, history, philosophy, geography, and ecology - in order to publish original, high-quality and cutting-edge research on all aspects of tourism anthropology and to offer a new, integrated perspective of the field.
Topics covered include
Authenticity, identity, mobility; tourism/leisure/recreation/hospitality evolution
Rite and pilgrimage, acculturation and enculturation, ethnography, ethnocentrism
Cultural changes, cultural/interest conflicts, cross-cultural psychology
Globalisation, industrialisation, commercialisation, post-modernism
Hosts and guests, individuality, collectivity, stakeholders, community, welfare
Social/economic/ethical/familial roles, structure/impact, social class
History, memory, image, symbol, [in]tangible heritage, motivation, incentive
East and West, local and global nexus, rural and urban
Minorities, indigenous populations, folk art/customs, literature, art, museums, religion
Sustainability, ecology, culture, cultural brokering; events/festivals, theme parks
Economic/social/ecological/cultural behaviour/impact; public/government/NGOs
Competitive/interrelated industry behaviour/impact
Gender, the elderly, women, children, the disabled, health/therapy, disease, medicine
Terrorism, disasters, crises, politics, democracy/human rights, war, peace
High tech/new media impact, education and training
More on this journal...
Objectives
IJTA is designed for the prompt publication of original and significant articles of tourism anthropology. The journal aims to help professionals in this field to make contributions, disseminate information, and learn from each other's work; to expand frontiers of knowledge in tourism anthropology; and thus to interpret and understand the evolution and impact of tourism variation in all of its forms. The international scope is emphasised in order to address cultural, religious, regional and national barriers, and to meet the needs of accelerating socioeconomic change and changes in the global economy.
Readership
Professionals, academics, students, researchers and policy-makers working in the field of tourism anthropology.
Contents
IJTA provides an international forum and a refereed, authoritative source of information in the field of tourism anthropology and other related topics. IJTA publishes original and review papers, technical reports, case studies, fieldwork reports, management reports, book reviews, notes and news. Contributions may be by submission or invitation, and suggestions for special issues are welcome.
Editor in Chief
Cheng, Li, Sichuan University, China
(chengliscu.edu.cn)
Editorial Board Members
Andriotis, Konstantinos, Middlesex University, UK
Buzinde, Christine, Arizona State University, USA
Cai, Liping A., Purdue Tourism & Hospitality Research Center, USA
Chick, Garry, Pennsylvania State University, USA
Chon, Kaye, Hong Kong Polytechnic University, Hong Kong SAR, China
Cohen, Erik, Hebrew University of Jerusalem, Israel
Corsane, Gerard, Newcastle University , UK
Davis, Peter, Newcastle University, UK
Erb, Maribeth, National University of Singapore , Singapore
Hannam, Kevin, Leeds Beckett University, UK
Henderson, Karla A., North Carolina State University, USA
Jafari, Jafar, University of Wisconsin-Stout, USA
Ji, Shaojun, Beijing Union University, China
Kim, Samuel Seongseop, Sejong University, South Korea
Korstanje, Maximiliano E., University of Palermo, Argentina
Leite, Naomi, University of London, UK
Lu, Ying (Tracy), University of Kentucky, USA
Mancinelli, Fabiola, University of Barcelona, Spain
McKercher, Bob, The Hong Kong Polytechnic University, Hong Kong SAR, China
Min, Han, National Museum of Ethnology, Japan
Nepal, Sanjay K., University of Waterloo, Canada
Nyaupane, Gyan, Arizona State University, USA
Palmer, Craig T., University of Missouri, USA
Peng, Zhaorong, Xiamen University, China
Pennington-Gray, Lori, University of Florida, USA
Prentice, Catherine, Griffith University, Australia
Romagosa, Francesc, Universitat Autònoma de Barcelona, Spain
Salazar, Noel B., University of Leuven, Belgium
Samarathunga, Manoj, Rajarata University of Sri Lanka, Sri Lanka
Schneider, Ingrid, University of Minnesota, USA
Stefano, Michelle L., Maryland State Arts Council, USA
Stone, Philip, University of Central Lancashire , UK
Stronza, Amanda, Texas A&M University, USA
Su, Ming Ming, Renmin University of China, China
Timothy, Dallen J., Arizona State University, USA
Tzanelli, Rodanthi, University of Leeds, UK
Wall, Geoffrey, University of Waterloo, Canada
Wallace, Tim, North Carolina State University, USA
Wang, Ning, Zhongshan University, China
Wang, Tingzhi, Sichuan University, China
Woodside, Arch G., Boston College, USA
Wu, Tsung-chiung (Emily), National Dong Hwa University, Taiwan, Province of China
Xiao, Honggen, Hong Kong Polytechnic University, Hong Kong SAR, China
Yang, Li, Western Michigan University, USA
Yang, Zhenzhi, Sichuan University, China
Zhang, Jie, Nanjing University, China
A few essentials for publishing in this journal
Submitted articles should not have been previously published or be currently under consideration for publication elsewhere.
Conference papers may only be submitted if the paper has been completely re-written (more details available here) and the author has cleared any necessary permissions with the copyright owner if it has been previously copyrighted.
Briefs and research notes are not published in this journal.
All our articles go through a double-blind review process.
All authors must declare they have read and agreed to the content of the submitted article. A full statement of our Ethical Guidelines for Authors (PDF) is available.
There are no charges for publishing with Inderscience, unless you require your article to be Open Access (OA). You can find more information on OA here.



Submission process

All articles for this journal must be submitted using our online submissions system.
View Author guidelines.