International Journal of Society Systems Science
This journal also publishes Open Access articles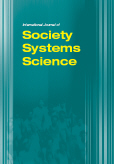 Editor in Chief

Prof. John Wang

ISSN online

1756-252X

ISSN print

1756-2511
4 issues per year

Society faces many significant challenges: pollution, poverty, pain, terrorism, crime, greenhouse effect, war, disease, starvation, road accidents, inflation/deflation, unemployment, pornography, great suffering, ignorance, pesticide poisoning, falsehood, etc. It could be argued that scientists have spent too much time on many not-so-urgent issues and too little effort on these challenges. IJSSS addresses the barriers between: social and natural sciences, theory and applications, hard decision models and soft ones, different business disciplines, government and industry, ivory tower and real society.
Topics covered include
Analytical hierarchy process, data envelopment analysis
Behavioural science, clinical psychology, ethics
Benchmarking, organisational informatics
Business strategy
Decision support systems, decision theory, computer simulation
[Urban] development policy/management, economics, geography/society
Education, healthcare and legal systems
E-government, politics, public/international affairs, e-society
Environmental protection, sustainable development
Expert systems, fuzzy logic, goal programming
Information sciences/technology, IT and organisations
Media and communications, knowledge management
Science, technology and society
Social informatics, networking, psychology, responsibility
Sociology, social sciences, social security systems, socio-technical networks
More on this journal...
Objectives
The objectives of
IJSSS
are to call for attention to be paid to
interdisciplinary
principles, architectures, techniques, methodologies, models, as well as the appropriate strategies, which can solve the various society-related dilemmas. Social scientists and natural scientists might work together to promote synergy. Theory and application can be integrated. Hard and soft decision models could be interchanged. Different disciplines in the business world should be integrated. Government and industry should be incorporated. Scientists in ivory towers must face the real challenges in the whole of society. When one part of the society offers its service to the other, it is very likely that both parties will benefit. Only in this way can the talents and the resources from different areas be fully utilised for the benefits of the entire society.
Readership
IJSSS presents a forum to help policy makers, researchers, and professionals to exchange their innovative ideas and thought-provoking opinions. It also creates a communication channel between practitioners and academics to discuss problems, challenges and opportunities in all aspects of our society.
Contents
IJSSS publishes research papers, reviews, reports, surveys, position papers, debates, case studies, innovative ideas, research notes, practice comments, book reviews, commentaries, and news. Special Issues devoted to important topics in society management will occasionally be published.
Editor in Chief
Wang, John, Montclair State University, USA
(prof.johnwanggmail.com)
Editor
Shen, Zhenjiang, Kanazawa University, Japan
Managing Editor
Teng, Xiao, Cross-Strait Tsinghua Research Institute, China
Associate Editors
Moitra, Soumyo, Carnegie Mellon University, USA
Panahifar, Farhad, Beykoz University, Turkey
Prosperi, David, Florida Atlantic University, USA
Ragsdale, Cliff, Virginia Tech, USA
Sajjad, Aymen, Massey University, New Zealand
Schniederjans, Marc, University of Nebraska-Lincoln, USA
American Editor
Thill, Jean-Claude, University of North Carolina at Charlotte, USA
Book Review Editor
Chadchan, Jayprakash, Christ University, India
European Editor
Michel, Beuthe, Catholic University of Mons, Belgium
Far East Editor
Mao, Ji-Ye, Renmin University of China, China
Editorial Board Members
Abdulmuhsin, Amir. A., University of Mosul, Iraq
Akram, Umair, Peking University, China
Alawamleh, Mohammad, American University of Madaba, Jordan
Alizadeh, Reza, University of Oklahoma, USA
Baker, Timothy, Washington State University, USA
Bostan, Ionel, University of Suceava, Romania
Brunsma, David, Virginia Tech., USA
Cabrero, Daniel G., The Open University, UK
Caramia, Massimiliano, University of Rome "Tor Vergata", Italy
Cohen, Suleiman Ibrahim, Erasmus University Rotterdam, Netherlands
Cook, Ian, Liverpool John Moores University, UK
Cvetkoska, Violeta, Ss. Cyril and Methodius University, North Macedonia
David, H. Benjamin Fredrick, K.R. College of Arts and Science, India
Del Baldo, Mara, University of Urbino "Carlo Bo", Italy
Delve, Janet, University of Portsmouth, UK
Dumka, Ankur, Graphic Era (Deemed to be University), India
Fávero, Luiz Paulo, University of São Paulo, Brazil
Fedushko, Solomiia, Lviv Polytechnic National University, Ukraine
Fernández Rodríguez, Carlos Jesús, Universidad Autónoma de Madrid, Spain
Forgó, Ferenc, Corvinus University of Budapest, Hungary
Fukuyama, Hirofumi, Fukuoka University, Japan
Galinec, Darko, Ministry of Defense of The Republic of Croatia, Croatia
Garcia, Reinaldo C., Universidade de Brasília , Brazil
Gatt, Kevin, University of Malta, Malta
Gedik, Yasemin, Woxsen University, India
Grängsjö, Yvonne von Friedrichs, Mid Sweden University, Sweden
Gulbahar, Yasemin, Baskent University, Turkey
Haes, Hassan, Tishreen University and National Technical University of Athens, Greece
Haller, Tobias, University of Bern, Switzerland
Hong, Wei-Chiang, Jiangsu Normal University, China
Hu, Zhiyong, University of West Florida, USA
Jackson, Anthony (Tony) A., University of Dundee, UK
Jahanshir, Arezu, Bueinzahra Technical University, Iran
Jemielniak, Dariusz, Kozminski Business School, Poland
Jiang, Bin, University of Gävle, Sweden
Kelly, Maurie, Pennsylvania State University, USA
Khan, Imran, Niels Brock Copenhagen Business College, Denmark
Kherchi, Ishak, University of Hassiba Ben Bouali de Chlef, Algeria
Krishnan, S. Gokula, Acharya Institute of Technology, India
Kvasny, Lynette, Pennsylvania State University, USA
Lai, Shih-Kung, Tongji University, China
Lalwani, Shweta, Sir Padampat Singhania University Udaipur, India
Li, Kevin W., University of Windsor, Canada
Liang, Liang, University of Science and Technology of China, China
Lozano, Sebastian, University of Seville, Spain
Malkawi, Bashar H., H.H. Dubai Ruler's Court, United Arab Emirates
Mansour, Nadia, The University of Sousse, Tunisia and University of Salamanca, Spain
Maoh, Hanna, University of Windsor, Canada
Maranda, Michael J., City College of New York, USA
Marceau, Danielle, University of Calgary, Canada
Martín, Juan, Universidad Complutense de Madrid, Spain
Mayer, Audrey, Michigan Technological University, USA
Mittal, Prabhat, University of Delhi, India
Moore, Antoni, University of Otago, New Zealand
Mukhopadhay, Somnath, University of Texas at El Paso, USA
Mukthar KP, Jaheer, Kristu Jayanti College Autonomous, India
Ncube, Mthokozisi Masumbika, Zimbabwe Open University, Zimbabwe
Nijkamp, Peter, Free University, Netherlands
Noyan, Elçin, University of Antalya Belek, Turkey
Özsungur, Fahri, University of Adana Science and Technology, Turkey
Paiva, Sara, Instituto Politécnico de Viana do Castelo, Portugal
Papathanasiou, Jason, University of Macedonia, Greece
Paravastu, Narasimha S., University of Central Missouri, USA
Parker, Barnett, Pfeiffer University, USA
Pei, Tao, Chinese Academy of Sciences, China
Portnov, Boris A., University of Haifa, Israel
Powell, Jason, University of Liverpool, UK
Raković, Lazar, University of Novi Sad, Serbia
Ramim, Michelle, Nova Southeastern University, USA
Rauner, Marion S., University of Vienna, Austria
Revesz, Peter, University of Nebraska-Lincoln, USA
Söderholm, Kristina, Luleå University of Technology , Sweden
Saarela, Jan, Åbo Akademi University, Finland
Sadahiro, Yukio, University of Tokyo, Japan
Serrano Pascual, Amparo, Universidad Complutense de Madrid, Spain
Sgroi, Filippo, University of Palermo, Italy
Shah, Shital C., Rush University Medical Center, USA
Shih, Jhih-Shyang, Resources for the Future, USA
Shiode, Narushige, Cardiff University, UK
Singh, Ajit Pal, Defense University, Ethiopia
Singh, Jagdeep, Ludhiana College of Engineering and Technology, India
Sinnappan, Punitha, Sunway University, Malaysia
Stanganelli, Marialuce, University of Naples "Federico II", Italy
Szidarovszky, Ferenc, University of Arizona, USA
Szmelter-Jarosz, Agnieszka, University of Gdańsk, Poland
Thore, Sten A., IC2 Institute, Portugal
Timmermans, Harry, Eindhoven University of Technology, Netherlands
Vijayan, Gowri, Saudi Electronic University, Saudi Arabia
Webster, D.G., Dartmouth College, USA
Yamaka, Woraphon, Chiang Mai University, Thailand
Yuan, Michael Y., Roger Williams University, USA
Yuan, Yufei, McMaster University, Canada
Yuanyuan, Guo, Tsinghua University, China
Zellner, Moira, Northeastern University, USA
Zhang, Peter, Georgia State University, USA
Zhang, Zuopeng (Justin), State University of New York at Plattsburgh, USA
Zhao, Fang, American University of Sharjah, United Arab Emirates
Zhao, Xiaofeng, University of Mary Washington, USA
Zimon, Dominik, Rzeszow University of Technology, Poland
Zirilli, Francesco, Sapienza Universita di Roma, Italy
A few essentials for publishing in this journal
Submitted articles should not have been previously published or be currently under consideration for publication elsewhere.
Conference papers may only be submitted if the paper has been completely re-written (more details available here) and the author has cleared any necessary permissions with the copyright owner if it has been previously copyrighted.
Briefs and research notes are not published in this journal.
All our articles go through a double-blind review process.
All authors must declare they have read and agreed to the content of the submitted article. A full statement of our Ethical Guidelines for Authors (PDF) is available.
There are no charges for publishing with Inderscience, unless you require your article to be Open Access (OA). You can find more information on OA here.



Submission process

All articles for this journal must be submitted using our online submissions system.
View Author guidelines.