International Journal of System Control and Information Processing
This journal also publishes Open Access articles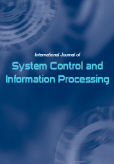 Editor in Chief

Prof. Shaoyuan Li

ISSN online

1759-9342

ISSN print

1759-9334
4 issues per year

IJSCIP proposes and fosters discussion on the theory, application and design of control systems, and the implementation of information technology. It encourages contributions from both academic research and industrial technology development, and provides a forum to integrate far-reaching research insight and methodologies with new knowledge and novel techniques. IJSCIP is founded on the idea of the systematic development of modern system control with information processing.
Topics covered include
Static and dynamic systems modelling
Novel and unconventional linear system modelling techniques
Nonlinear and linear system identification
Model calibration and validation
Control and optimisation techniques
Neural networks, fuzzy logic, and other heuristic techniques
Robotics
Software development, benchmarking tests, and applications
Applications in economics, finance, and social studies
Wide ranging representative application examples in other disciplines
More on this journal...
Objectives
IJSCIP is designed to be a leading international journal for publishing original papers reporting the progress and results of research in control theories and information technologies. The primary objective of IJSCIP is to establish an effective channel of communication among those in academia, industry and others concerned with system control, information-based techniques, and industrial case studies. The terms system and information are interpreted widely and include but are not limited to physical, biological, organisational and other entities. The international dimension is emphasised in order to overcome cultural and national barriers and to meet the needs of promoting and coordinating developments in the declared areas.
Readership
IJSCIP is intended to serve as a forum for professionals, academics, researchers, policy makers, practitioners, and developers to exchange ideas and results in the field of system science, information technology and decision making.
Contents
IJSCIP publishes original papers, review papers, technical reports, case studies, conference reports, management reports, book reviews, notes, commentaries, and news. Special issues devoted to important topics in system theory and information technology will occasionally be published.
Editor in Chief
Li, Shaoyuan, Shanghai Jiao Tong University, China
(ijscipsjtu.edu.cn)
Executive Editor
Yin, Xiang, Shanghai Jiao Tong University, China
Associate Editors
Kang, Yu, University of Science and Technology of China, China
Lohse, Niels, Loughborough University, UK
Shaker, Hamid Reza, Aalesund University College, Norway
Vyatkin, Valeriy, Aalto University, Finland
Wang, Kevin I-Kai, University of Auckland, New Zealand
Editorial Advisory Board
Cao, Xiren, Hong Kong University of Science and Technology, Hong Kong SAR, China
Kimura, Hidenori, RIKEN Brain Science Institute/Toyota Collaboration Center, Japan
Tarn, Tzyh Jong, Washington University, USA
Editorial Board Members
Chen, Cailian, Shanghai Jiao Tong University, China
Chen, Zengqiang, Nankai University, China
Garcia, Alfredo, University of Virginia, USA
Hu, Dewen, National University of Defense Technology, China
Jang, Shi-Shang, National Tsing Hua University, Taiwan, Province of China
Jia, Yingmin, Beihang University, China
Li, Tao, Shanghai University, China
Lin, Zongli, University of Virginia, USA
Polis, Michael P., Oakland University, USA
Ren, Wei, Utah State University, USA
Shi, Peng, University of Glamorgan, UK
Wang, Xiaofan, Shanghai Jiao Tong University, China
Xin, Xin, Okayama Prefectural University, Japan
Xu, Shengyuan, Nanjing University of Science and Technology, China
Zhabelova, Gulnara, Lulea University of Technology, Sweden
Zhai, Guisheng, Shibaura Institute of Technology, Japan
Zhang, Jifeng, Chinese Academy of Sciences, China
A few essentials for publishing in this journal
Submitted articles should not have been previously published or be currently under consideration for publication elsewhere.
Conference papers may only be submitted if the paper has been completely re-written (more details available here) and the author has cleared any necessary permissions with the copyright owner if it has been previously copyrighted.
Briefs and research notes are not published in this journal.
All our articles go through a double-blind review process.
All authors must declare they have read and agreed to the content of the submitted article. A full statement of our Ethical Guidelines for Authors (PDF) is available.
There are no charges for publishing with Inderscience, unless you require your article to be Open Access (OA). You can find more information on OA here.



Submission process

All articles for this journal must be submitted using our online submissions system.
View Author guidelines.