International Journal of Rapid Manufacturing
This journal also publishes Open Access articles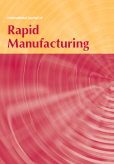 Editor in Chief

Dr. Sheng-feng Qin

ISSN online

1757-8825

ISSN print

1757-8817
4 issues per year

Organisations now succeed or fail based upon their ability to respond quickly to changing customer demands and to utilise innovative technologies. In this environment, the advantage goes to the firm offering greater varieties of new products with higher performance and greater overall appeal. As a direct result, industry is required to apply new engineering philosophies such as Rapid Response to Manufacturing (RRM). IJRapidM addresses the advancement of RRM, especially engineering design and rapid manufacturing in an integrated form.
Topics covered include
Advanced methods in design, prototyping, manufacturing
New engineering paradigms/philosophies for advanced engineering design
Solution methodologies in integrated design/manufacturing
Principles, applications, implementation strategies/technologies
Product lifecycle development/analysis for ease of manufacture/assembly
Geometric modelling/dimensioning/tolerancing, feature-based/parametric design
Process optimisation, quality, control
Impact of rapid manufacturing on the design process
Material/mechanical properties, solidification processes for powder/solids/liquids
Traditional and rapid prototyping/manufacturing processes/capabilities
Rapid manufacturing and MEMS, rapid tooling
Medical applications
Economic aspects/justification, rapid prototyping/tooling/manufacturing benefits
Mass customisation, intelligent/lean/agile manufacturing
Collaborative/web-based engineering, information management, e-commerce
More on this journal...
Objectives
The objective of IJRapidM is to provide a comprehensive collection of the latest research and technical work in the area of rapid tooling and manufacturing especially in an integrated engineering design environment The main goal is to serve as a resource for both researcher and practitioners.
Readership
Individuals with interest in the following are the primary audiences:
Rapid response manufacturing
Development life cycle
Life cycle cost issues
Mechanical design and materials
Rapid manufacturing
Reconfigurable manufacturing
IJRapidM will attempt to bring these topics under the same roof. It is the journal's goal to gather peer-reviewed research papers that are of interest to this. The contributions made to IJRapidM are expected to be from academic and research institutions, industries and government agencies.
Contents
IJRapidM will publish:
Original full length articles reporting experimental and theoretical research
Original applications reported with scholarly values
General survey and critical reviews
Book reviews
Occasional Special Issues devoted to important topics in engineering design and rapid manufacturing
Editor in Chief
Qin, Sheng-feng, Northumbria University, UK
(sheng-feng.qinnorthumbria.ac.uk)
Associate Editors
Fidan, Ismail, Tennessee Tech University, USA
Gibson, Ian, University of Twente, Netherlands
Rennie, Allan, Lancaster University, UK
Advisory Board
Bernard, Alain, Ecole Centrale de Nantes, France
Usher, John M., University of South Alabama, USA
Zeid, Abe, Northeastern University, USA
Editorial Board Members
Asiabanpour, Bahram, Texas State University, USA
Bruccoleri, Manfredi, University of Palermo, Italy
Chen, Yong, University of Southern California, USA
Cheng, Kai, Brunel University London, UK
Ghazy, Mootaz, Arab Academy for Science, Technology and Maritime Transport, Egypt
Kumar, L. Jyothish, Additive Manufacturing Society of India, India
Montreuil, Benoit, Georgia Tech., USA
Pandey, Pulak Mohan, Indian Institute of Technology Delhi, India
Pei, Eujin, Brunel University London, UK
Sercombe, Tim, University of Western Australia, Australia
Stecke, Kathryn E., University of Texas at Dallas, USA
To, Albert Chi, University of Pittsburgh, USA
Vijayan, V., K. Ramakrishnan College of Technology, India
Wilhelm, Micky R., University of Louisville, USA
Williams, Stewart, Cranfield University, UK
Zhang, Hong-Chao, Texas Tech University, USA
A few essentials for publishing in this journal
Submitted articles should not have been previously published or be currently under consideration for publication elsewhere.
Conference papers may only be submitted if the paper has been completely re-written (more details available here) and the author has cleared any necessary permissions with the copyright owner if it has been previously copyrighted.
Briefs and research notes are not published in this journal.
All our articles go through a double-blind review process.
All authors must declare they have read and agreed to the content of the submitted article. A full statement of our Ethical Guidelines for Authors (PDF) is available.
There are no charges for publishing with Inderscience, unless you require your article to be Open Access (OA). You can find more information on OA here.



Submission process

All articles for this journal must be submitted using our online submissions system.
View Author guidelines.