International Journal of Planning and Scheduling
This journal also publishes Open Access articles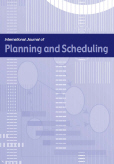 Editor in Chief

Prof. Ghaith Rabadi

ISSN online

2044-4958

ISSN print

2044-494X
4 issues per year

IJPS considers theoretical and applied research that encompass theoretical advances, new solution methods, modelling, complexity analysis, algorithms and applications for complex planning and scheduling problems. We encourage planning and scheduling from various fields and specifically papers that (i) have new and innovative models and methods (ii) bridge the gap between theory and practice (iii) take interdisciplinary approaches and (iv) improve educational aspects of planning and scheduling. Intelligent planning and scheduling can accomplish the tasks without acquiring additional resources unnecessarily.
Topics covered include
Production, manufacturing, maintenance
Project scheduling
Services, supply chains, healthcare
Military, aerospace and aviation
Uncertain (stochastic or fuzzy) environments
Simulation-based, agent-based, constraint-based planning/scheduling
Spatial scheduling
Routing
Distributed planning/scheduling
Rescheduling
Robust planning/scheduling
Real-time planning/scheduling
Timetabling and workforce
Software systems
Educational aspects
More on this journal...
Objectives
The objectives of IJPS are to promote and disseminate the latest theoretical and applied research in the area of planning and scheduling in various fields of application. IJPS will facilitate the fostering and sharing of knowledge among academia, research institutions, government and industrial organisations. IJPS will be a forum for a lively, interdisciplinary discussion of the entire range of issues surrounding planning and scheduling. The specific objectives are achieved through original publications that support one or more of the following major research thrusts:
Presenting new and innovative models and methods: IJPS encourages papers that introduce new and innovative models that redefine planning and scheduling problems and put them in the modern enterprise context. Innovative research on solution methods for established models certainly remains of interest, and submissions from all areas of methodology are welcome.
Bridging the gap between theory and practice: IJPS encourages papers that contribute to bridging the gap between theoretical and applied research - helping practitioners utilise the latest developments in solving real-world problems and helping academics become aware of such problems and their context.
Taking interdisciplinary approaches: IJPS encourages papers that highlight the interfaces among areas of operations research, information technology, artificial intelligence, and computer science.
Improving the education process: IJPS encourages papers that promote educational aspects of planning and scheduling, with space devoted to reviews of teaching materials and to rigorous papers on the implementation and assessment of innovative teaching techniques.
Readership
IJPS is a global forum that serves as an outlet of knowledge dissemination for academics, educators, researchers, and practitioners in the field of planning and scheduling to share their latest research findings.
Contents
IJPS publishes original papers, review papers, book reviews, and technical notes. Case studies can be accepted if they have a clear and significant contribution toward bridging the gap between the theory and application in real world applications. Special Issues will also be considered for important and cutting edge topics in planning and scheduling. The content encompasses the following methods when they apply to planning and scheduling problems: exact methods, mathematical programming (linear, nonlinear, and integer programming), constraint programming, heuristic and approximate algorithms, local search, metaheuristics, complexity analysis, theoretical frameworks and analysis.
Editor in Chief
Rabadi, Ghaith, University of Central Florida, USA
(ghaith.rabadiucf.edu)
Associate Editors
Baker, Kenneth R., Dartmouth College, USA
Cheng, T.C. Edwin, The Hong Kong Polytechnic University, Hong Kong SAR, China
Gupta, Jatinder (Jeet) N.D., University of Alabama, Huntsville, USA
Potts, Chris, University of Southampton, UK
Uzsoy, Reha, North Carolina State University, USA
Editorial Board Members
Azizoğlu, Meral, Middle East Technical University, Turkey
Ettl, Markus, IBM , USA
Haouari, Mohamed, Qatar University, Qatar
Kacem, Imed, Université de Lorraine, France
Kok, A. (Ton) G. de, Eindhoven University of Technology, Netherlands
Lin, Bertrand M.T., National Chiao Tung University, Taiwan, Province of China
Mönch, Lars, FernUniversität Hagen, Germany
Maddah, Bacel, American University of Beirut, Lebanon
Ovacik, Irfan, Intel, USA
Sarin, Subhash C., Virginia Tech, USA
Sarmah, Sarada Prasad, Indian Institute of Technology Kharagpur, India
Smith, Stephen, Carnegie Mellon University, USA
Soroush, Hossein M., Kuwait University, Kuwait
Storer, Robert H., Lehigh University, USA
Trietsch, Dan, Independent Researcher and Consultant, New Zealand
A few essentials for publishing in this journal
Submitted articles should not have been previously published or be currently under consideration for publication elsewhere.
Conference papers may only be submitted if the paper has been completely re-written (more details available here) and the author has cleared any necessary permissions with the copyright owner if it has been previously copyrighted.
Briefs and research notes are not published in this journal.
All our articles go through a double-blind review process.
All authors must declare they have read and agreed to the content of the submitted article. A full statement of our Ethical Guidelines for Authors (PDF) is available.
There are no charges for publishing with Inderscience, unless you require your article to be Open Access (OA). You can find more information on OA here.



Submission process

All articles for this journal must be submitted using our online submissions system.
View Author guidelines.