International Journal of Procurement Management
This journal also publishes Open Access articles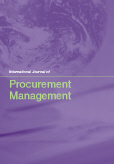 Editor in Chief

Prof. Angappa Gunasekaran

ISSN online

1753-8440

ISSN print

1753-8432
12 issues per year


CiteScore

2.2 (2022)

Globalisation of market and operations, including outsourcing, lead to global purchasing and supplier development. This perspective indicates the importance of effective procurement and supply functions for organisational effectiveness and competitiveness. In addition, developments in IT/IS, such as enterprise resource planning and radio frequency identification, have a significant impact on procurement functions and supply management. IJPM addresses development of procurement resources, highlighting the implications that purchasing and supply management functions have on organisational productivity and competitiveness in the global market.
Topics covered include
Procurement/supply management strategies/systems, outsourcing
Managing supplier development/innovation
Purchasing/corporate strategy alignment
Global procurement/supply development, selling consortiums
[Supplier] performance measures/metrics/communication, benchmarking
IT/IS, e.g ERP, RFID, e-procurement
Environmental issues, green supply management, sustainable procurement
Ethical standards, human resource management
Cost models, evaluating costs/benefits
Reengineering procurement processes
Inventory/demand/project/risk management
Public sector organisations, military establishments
Modelling and analysis
Procurement teams/organisation, agile procurement/supply systems
Corporate social responsibility, supplier relationship protocols
More on this journal...
Objectives
The main objective of IJPM is to provide a platform for interaction between researchers and practitioners who are dealing with procurement function and supply management. The journal also promotes and coordinates developments in the field of procurement and supply management. Due attention will be given to procurement and supply management in both private and public sector organisations.
The global dimension is emphasised with the objective of overcoming various cultural and political barriers and in turn to meet the needs of effective management of procurement and supply in the global market through appropriate technological and organisational changes. IJPM aims to provide the executives and academics with the state of the art of procurement and supply strategies, techniques and tools. Furthermore, the journal will facilitate the exchange of information about procurement and supply management among researchers and practitioners in the field of procurement and supply management.
Readership
IJPM acts as a vehicle to help professionals, practitioners, academics and researchers, working in the field of procurement and supply management, to disseminate information and latest developments and to learn from each other's research.
Contents
IJPM publishes original papers, review papers, technical reports, case studies, conference reports, management reports, book reviews, notes, commentaries, and news. Special Issues devoted to important topics in procurement and supply management will occasionally be published.
Editor in Chief
Gunasekaran, Angappa, Penn State Harrisburg, USA
(an.gunasekarangmail.com)
Editorial Board Members
Ashayeri, Jalal, Tilburg University, Netherlands
Aviv, Yossi, Washington University, USA
Batt, Peter J., Curtin University of Technology, Australia
Billington, Corey, IMD Business School, Switzerland
Buvik, Arnt, Molde University College, Norway
Callender, Guy, Curtin University of Technology, Australia
Carter, Joseph R., Arizona State University, USA
Cavinato, Joseph, Thunderbird School of Global Management, USA
Chandra, Charu, University of Michigan – Dearborn, USA
Chandra, Pankaj, Indian Institute of Management, Ahmedabad, India
Chen, Frank Y., Chinese Univ. of Hong Kong, Hong Kong SAR, China
Christiansen, Poul Erik, Copenhagen Business School, Denmark
Colin, Jacques, Université de la Méditerranée, France
Cox, Andrew, University of Birmingham, UK
Cullen, John, University of Sheffield, UK
Day, Marc, Henley Management College, UK
Dubois, Anna, Chalmers University of Technology, Sweden
Fawcett, Stanley E., Weber State University, USA
Francis, Mark, Cardiff Metropolitan University, UK
Ghosh, Soumen, Georgia Institute of Technology, USA
Glickman, Theodore S., George Washington University, USA
Goh, Mark, National University of Singapore, Singapore
Graves, Andrew Peter, University of Bath, UK
Griffin, Paul, Georgia Institute of Technology, USA
Harland, Christine, University of Bath, UK
Harrison, Terry, Penn State University, USA
Hartley, Keith, University of York, UK
Hulthén, Kajsa, Chalmers University of Technology, Sweden
Jahns, Christopher, European Business School and Supply Management Institute SMI, Germany
Kekäle, Tauno, University of Vaasa, Finland
Klassen, Robert D., Ivey Business School at Western University, Canada
Kwon, Ik-Whan G., St. Louis University, USA
Léonard, Michel, University of Geneva, Switzerland
Lewis, Michael, University of Bath, UK
Macbeth, Douglas K., University of Southampton, UK
Mason-Jones, Rachel, University of Glamorgan, UK
McKinnon, Alan, Heriot-Watt University, UK
Meade, Laura, Texas Christian University, USA
Munson, Charles, Washington State University, USA
Nichols, Jr., Ernest L., The University of Memphis, USA
Norrman, Andreas, Lund University, Sweden
Pache, Gilles, University of Montpellier, France
Pearson, John, Arizona State University, USA
Phillips, Paul, University of Kent, UK
Piga, Gustavo, University of Rome Tor Vergata, Italy
Poh, Kim Leng, National University of Singapore, Singapore
Price, Philip, University of Alaska Anchorage, USA
Quaddus, Mohammed, Curtin University of Technology, Australia
Radhakrishnan, P., Vellore Institute of Technology, India
Ranganathan, Rajesh, Coimbatore Institute of Technology, India
Reijniers, Jacques, Nyenrode Business Univesiteit, Netherlands
Rennard, Jean-Philippe, Grenoble Ecole de Management, France
Schiele, Joseph J., Oakland University School, USA
Selen, Willem, United Arab Emirates University, United Arab Emirates
Shah, Janat, Indian Institute of Management Bangalore, India
Sollish, Fred, Institute for Supply Management, USA
Stahre, Johan, Chalmers University of Technology, Sweden
Szegedi, Zoltan, St. Stephen University, Hungary
Trent, Robert, Lehigh University, USA
Tummala, Rao, Eastern Michigan University, USA
Venkataramanan, Munirpallam A., Indiana University, USA
Venugopal, V., Nyenrode Business University, Netherlands
Walton, Steve, Emory University, USA
Wilding, Richard, Cranfield University, UK
Zhu, Joe, Worcester Polytechnic Institute, USA
Zsidisin, George A., University of Missouri–St. Louis, USA
A few essentials for publishing in this journal
Submitted articles should not have been previously published or be currently under consideration for publication elsewhere.
Conference papers may only be submitted if the paper has been completely re-written (more details available here) and the author has cleared any necessary permissions with the copyright owner if it has been previously copyrighted.
Briefs, research notes and case studies are not published in this journal.
All articles must be written in English, using UK spelling and terminology. If English is not your first language, please ask an English-speaking colleague to proofread your article.
All our articles go through a double-blind review process.
All authors must declare they have read and agreed to the content of the submitted article. A full statement of our Ethical Guidelines for Authors (PDF) is available.
There are no charges for publishing with Inderscience, unless you require your article to be Open Access (OA). You can find moreinformation on OA here.



Submission process

All articles for this journal must be submitted using our online submissions system.
View Author guidelines.