International Journal of Power and Energy Conversion
This journal also publishes Open Access articles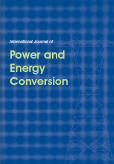 Editor in Chief

Dr. Abdessamad Didi

ISSN online

1757-1162

ISSN print

1757-1154
4 issues per year


CiteScore

1.9 (2022)

IJPEC highlights the latest research trends in various sources of energy and in their diversity, transport and distribution. There are currently significant challenges in the energy sector, including the international energy crisis and the operation, control and protection of the energy system. The main objective of IJPEC is to disseminate the latest research trends in the energy sector, such as power electronics, smart grids, energy storage and nuclear energy, as well as in energy conversion techniques.
Topics covered include
Energy conversion
Energy production
Neural intelligence in energy and power control
Energy storage technologies
Renewable energies, nuclear energy and techniques
Energy management in smart grids and power quality
Applications of power electronics to power systems
Distributed generation and renewable energy sources
Conversion energies and machines drives
Utilisation of electrical energy
Applications of nuclear power, accelerator (ADS) and beam energy
Modelling, simulation and analysis
The challenges of restructured energy systems
Special machines and robust control for energy systems
Electric power distributed networks
More on this journal...
Objectives
The main objective of IJPEC is to establish an excellent channel of communication between experts in academic and research institutions, practitioners and professionals working in power industry and related business, and policy makers.
Readership
IJPEC acts as a bridge between professionals, academics, researchers and people in industry. This will be extremely helpful in creating industry-institution interaction between the people working in academia, the power sector and machine manufacturers, helping them to disseminate information and to learn from each other's work.
Contents
IJPEC publishes original papers, review papers, technical reports and case studies. Special Issues devoted to important topics in power system and energy conversion will occasionally be published.
Editor in Chief
Didi, Abdessamad, Centre National de l'Energie, des Sciences et des Techniques Nucléaires, Morocco
(ijpec.didigmail.com)
Associate Editors
Ajlouni, Abdul-Wali, Umm Al-Qura University, Saudi Arabia
Benmansour, Moncef, National Energy Center of Nuclear Science and Technology, Morocco
Advisory Board
Dekhissi, Hassane, Mohamed 1st University, Morocco
Hammouti, Belkheir, Mohamed 1st University, Morocco
Editorial Board Members
Abraham, Ajith, Machine Intelligence Research Labs (MIR Labs), USA
Acha, Enrique, University of Glasgow, UK
Alnaib, Ibrahim Ismael, University of Mosul, Iraq
Alrowaili, Ziyad Awadh, Jouf University, Saudi Arabia
Aminov, Rashid, Saratov Scientific Center of the Russian Academy of Sciences, Russian Federation
Amsil, Hamid, National Energy Center of Nuclear Science and Technology, Morocco
Bardane, Adil, Khalifa University, United Arab Emirates
Bencheikh, Mohamed, Hassan II University, Morocco
Bounouira, Hamid, National Energy Center of Nuclear Science and Technology, Morocco
Chakir, El Mahjoub, Ibn Tofail University, Morocco
Das, Sanjoy, Kansas State University, USA
Edris, Abdel-Aty, Electric Power Research Institute, EPRI, USA
Faiza, Dib, Abdelmalek Essaadi University, Morocco
Habib, Md. Ahsan, Begum Rokeya University, Bangladesh
Hassan, Mohamed, Alexandria University, Egypt
Hegazi, Hesham, The German University in Cairo, Egypt
Hosseini, M.A., University of Turin, Italy
Hou, Nie, University of Alberta, Canada
Izonin, Ivan, Lviv Polytechnic National University, Ukraine
Jaï, Otman, Sidi Mohamed Ben Abdelah University, Morocco
Kumawat, Ashok, Manipal University Jaipur, India
Mahalik, N. P., California State University, Fresno, USA
Malekie, Shahryar, Nuclear Science and Technology Research Institute, Iran
Olarinoye, Ismail Oyeleke, Federal University of Technology, Minna, Nigeria
Rrhioua, Abdeslem, Mohamed Premier University, Morocco
Venayagamoorthy, Ganesh Kumar, University of Missouri - Rolla, USA
Xu, Wilsun, University of Alberta, Canada
Zhivkov, Petar, Bulgarian Academy of Sciences, Bulgaria
Zoulagh, Taha, Universidad de Santiago de Chile, Chile
A few essentials for publishing in this journal
Submitted articles should not have been previously published or be currently under consideration for publication elsewhere.
Conference papers may only be submitted if the paper has been completely re-written (more details available here) and the author has cleared any necessary permissions with the copyright owner if it has been previously copyrighted.
Briefs and research notes are not published in this journal.
All our articles go through a double-blind review process.
All authors must declare they have read and agreed to the content of the submitted article. A full statement of our Ethical Guidelines for Authors (PDF) is available.
There are no charges for publishing with Inderscience, unless you require your article to be Open Access (OA). You can find more information on OA here.



Submission process

All articles for this journal must be submitted using our online submissions system.
View Author guidelines.
Journal news
Self-cleaning solar panels
26 September, 2023
Research in the International Journal of Power and Energy Conversion outlines an approach to cleaning photovoltaic (PV) solar panels to ensure they operate at maximum power-generation efficiency. The automatic and portable cleaning system, which can be adapted for different panel sizes is designed to combat efficiency reduction of up to 40% caused by the accumulation of dust on the sunlight-absorbing upper surface of PV panels. Dust and dirt accumulation have always been a significant problem undermining the performance of PVs. Fulton Carlos Reategui-Ordoñez, Fernando Paredes Marchena, Juan Eduardo Reategui-Ordoñez, Hugo Guillermo, and Jimenez Pacheco of the Universidad Católica de Santa María in San José, Perú, focused on the impact of climate variations on PV cleanliness. They found that dust accumulation led to a remarkable reduction in panel efficiency with a fall of more than 11% and sometimes a peak reduction of 39.6% occurring during maximal incident sunlight. They add that a panel's fill factor (FF), a critical indicator of efficiency, drops significantly if a panel is coated with dust or otherwise dirty. Dust accumulation is, of course, dependent on local conditions and so an automated cleaning system would be most useful in some regions more than others [...]
More details...
Dr. Abdessamad Didi appointed as new Editor in Chief of International Journal of Power and Energy Conversion
13 April, 2023
Dr. Abdessamad Didi from the Centre National de l'Energie, des Sciences et des Techniques Nucléaires in Morocco has been appointed to take over editorship of the International Journal of Power and Energy Conversion.