International Journal of Nanoparticles
This journal also publishes Open Access articles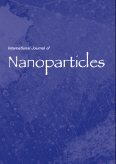 Editor in Chief

Dr. M.A. Dorgham

ISSN online

1753-2515

ISSN print

1753-2507
4 issues per year


CiteScore

1.0 (2022)

Nanoparticles are becoming key components in a wide range of applications. Research encompasses numerous disciplines, e.g. nanotechnology, molecular engineering, medicine, pharmaceutical drug manufacture, biology, chemistry, physics, optical components, polymer science, mechanical engineering, toxicology, cosmetics, energy, food technology and environmental and health sciences. IJNP highlights the chemical, physical and biological phenomena/processes associated with nanoparticles and nanostructures ranging from molecular size to 100nm which exhibit improved properties or have novel applications due to their size. Submicron nanoparticles are included in special cases.
Topics covered include
Fundamental science and technology
Characterisation and measurement
Functionalisation
Nanomachining/engineering
Nanoparticle beams
Inorganic materials and polymers
Environmental impact
Nanotoxicology and nanomedicine
Nanoparticles in living systems
Modifications of surfaces
Food science
Applications in catalytic/decorative/cosmetic industries
Environmental remediation
Energy applications
Novel applications
More on this journal...
Objectives
IJNP provides a vehicle to help academics, researchers, industrial companies, trade associations, and policy makes in the fields of medicine, biology, manufacturing technology, materials science, engineering, biotechnology, nanotechnology, nanoelectronics and business to disseminate information and learn from each others' work. It also aims at promoting and coordinating developments in the field of nanoparticles. The international dimension is emphasised in order to meet the latest needs of accelerating theoretical knowledge and practical verification of new technologies and products.
Readership
IJNP is intended to help professionals, academics, researchers, industrialists and policy-makers, working in the field of nanoparticle science and technology and their applications.
Contents
IJNP publishes original high quality papers, rapid communications in the form of letters to the editor, timely review papers, technical reports, book reviews, nano persectives and case studies. Special issues devoted to developments in important topics in nanoparticles research will be published. Such topics inlcude environmental impact of nanoparticles; nanotoxicology; nanoelectronics; biological nanoparticles; nanoparticles in medicine; nanoparticles in the cosmetics industry; nanoparticles for sustainable growth and in water purification; self assembled nanostructures; characterisation of nanoparticles; catalytic nanoparticles; nanoparticles in arerosols, biotechnology, emission control, sensors, microcontamination; and their use energy consumption.
Editor in Chief
Dorgham, M.A., International Centre for Technology and Management, UK
(supportinderscience.com)
Associate Editor
Lei, Yong, Ilmenau University of Technology, Germany
Assistant Editor
Fei, Guangtao, Chinese Academy of Sciences, China
Regional Editor
Koshizaki, Naoto, National Institute of Advanced Industrial Science and Technology (AIST), Japan
Editorial Board Members
Cai, Weiping, Chinese Academy of Sciences, China
Cho, Sung Oh, Korea Advanced Institute of Science and technology (KAIST), South Korea
Gao, Puxian, University of Connecticut, USA
Handy, Rodney G., Purdue University, USA
Huang, Chuanzhen, Shandong University, China
Jiang, Kyle, University of Birmingham, UK
Maenosono, Shinya, Japan Advanced Institute of Science and Technology, Japan
Morrell, Jonathan S., Y-12 National Security Complex, USA
Runge, Erich, Ilmenau University of Technology, Germany
Wilde, Gerhard, University of Münster, Germany
A few essentials for publishing in this journal
Submitted articles should not have been previously published or be currently under consideration for publication elsewhere.
Conference papers may only be submitted if the paper has been completely re-written (more details available here) and the author has cleared any necessary permissions with the copyright owner if it has been previously copyrighted.
Briefs and research notes are not published in this journal.
All our articles go through a double-blind review process.
All authors must declare they have read and agreed to the content of the submitted article. A full statement of our Ethical Guidelines for Authors (PDF) is available.
There are no charges for publishing with Inderscience, unless you require your article to be Open Access (OA). You can find more information on OA here.



Submission process

All articles for this journal must be submitted using our online submissions system.
View Author guidelines.