International Journal of Modelling in Operations Management
This journal also publishes Open Access articles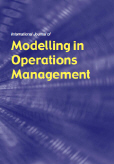 Editor in Chief

Dr. M.A. Dorgham

ISSN online

2042-4108

ISSN print

2042-4094
4 issues per year

IJMOM provides a multidisciplinary platform for the advancement of knowledge in the areas of services, engineering, business and management in the area of operations management, operations being the main contributor to production in our economies and businesses and deserving close attention from researchers for development and improvement. Operations management deals with the study of efficiency, speed, accuracy, volume and variety in industrial management and is vital in both service and manufacturing sectors.
Topics covered include
Business strategy
Service innovation, strategies, marketing, design, management
Customer relationship management
Service systems, service quality issues
Supply chain management
Issues in service industry
Operations strategy
Production management
Knowledge management
Information systems management
Adoption of technologies in services
Total quality management
Decision support systems
Human resource management
Marketing, operations management
More on this journal...
Objectives
IJMOM aims to gather the strengths of all researchers interested in using modelling techniques to research developing and improving operations management, be it in the manufacturing or service sector. Modelling techniques can encompass quantitative modelling as well as soft modelling more suitable for qualitative research.
IJMOM also aims to be established as one of the authorities for publishing highly regarded quality papers from scholars around the world with a strong interest in the research of operations management using modelling techniques
.
Readership
Professionals, academics and researchers.
Contents
IJMOM publishes original and review papers, technical reports and case studies using both quantitative and qualitative modelling techniques in operations research. Contributions may be by submission or invitation, and suggestions for Special Issues and publications are welcome.
Editor in Chief
Dorgham, M.A., International Centre for Technology and Management, UK
(supportinderscience.com)
Associate Editors
Chan, Felix T.S., Macau University of Science and Technology, Macao
Li, Xiang, Nankai University, China
Pastuszak, Zbigniew, Maria Curie-Sklodowska University, Poland
Phusavat, Kongkiti, Kasetsart University, Thailand
Editorial Board Members
Ablanedo-Rosas, Jose Humberto, University of Texas at El Paso, USA
Aghezzaf, El-Houssaine, Ghent University, Belgium
Banerji, Sujit, University of Warwick, UK
Claeys, Dieter, Ghent University, Belgium
Feng, Tianjun, Fudan University, China
Goh, Mark, National University of Singapore, Singapore
Govindan, Kannan, University of Southern Denmark, Denmark
Kataria, Ravinder, Lovely Professional University, India
Lee, Voon Hsien, Universiti Tunku Abdul Rahman, Malaysia
Li, Kevin W., University of Windsor, Canada
Loke, Siew-Phaik, Quest International University Perak, Malaysia
Madu, Christian N., Pace University, USA
Mathiyazhagan, K., Thiagarajar School of Management, Madurai, India
Perera, Terrence D., Sheffield Hallam University, UK
Ruiz García, Rubén, Universidad Politecnica de Valencia, Spain
Shi, Victor, Wilfrid Laurier University, Canada
Tang, Ou, Linköping University, Sweden
Zhou, Li, University of Greenwich, UK
A few essentials for publishing in this journal
Submitted articles should not have been previously published or be currently under consideration for publication elsewhere.
Conference papers may only be submitted if the paper has been completely re-written (more details available here) and the author has cleared any necessary permissions with the copyright owner if it has been previously copyrighted.
Briefs and research notes are not published in this journal.
All our articles go through a double-blind review process.
All authors must declare they have read and agreed to the content of the submitted article. A full statement of our Ethical Guidelines for Authors (PDF) is available.
There are no charges for publishing with Inderscience, unless you require your article to be Open Access (OA). You can find more information on OA here.



Submission process

All articles for this journal must be submitted using our online submissions system.
View Author guidelines.