International Journal of Migration and Border Studies
This journal also publishes Open Access articles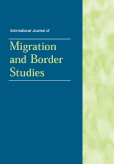 Editor in Chief

Associate Prof. Sasha Baglay

ISSN online

1755-2427

ISSN print

1755-2419
4 issues per year

IJMBS addresses the whole range of technological, human/social, political, policy, organisational and managerial issues related to migration and border studies. IJMBS is a peer-reviewed journal which offers a forum for disciplinary and inter-disciplinary research concerning conceptual, theoretical, empirical and methodological dimensions of migration and border studies. It aims to bring together a diverse range of international scholars and practitioners to advance knowledge, improve practice, and act as a definitive source on migration and border issues.
Topics covered include
Technological advances/issues
Analysis/assessment methodologies
Research methods/data analysis
Performance measurement
Governance, managerial and organisational issues
International leadership issues
Immigration policy analysis, economic impacts
Human mobility, immigrant integration
Strategic development, immigration strategy
Modelling techniques
Decision support
Border security design
Systems analysis
Training/education, professional development
Cultural, ethical and philosophical issues
More on this journal...
Objectives
The objectives of
IJMBS
are to provide a forum for international practitioners, academics, researchers and policy makers to disseminate and access the most recent advances in knowledge, research and practice for border security and immigration policy. The journal will emphasise the global nature of border security and immigration policy issues as they impact regional, national and international communities.
Readership
IJMBS explores new technologies, strategies, practices, methods and research for border security and immigration policy. The journal will be of interest to professional practitioners, government officials, academics and researchers engaged in analysis, decision and policy making, research and governance related to border security and immigration policy.
Contents
IJMBS publishes original papers, technical reports, state-of-the-art reviews, case studies and technical notes. Contributions may be by submission or invitation, and suggestions for special issues and publications are welcome.
Editor in Chief
Baglay, Sasha, University of Ontario Institute of Technology, Canada
(sasha.baglayontariotechu.ca)
Editorial Board Members
Aas, Katja Franko, The University of Oslo, Norway
Ackleson, Jason, Rice University, USA
Anguiano-Téllez, María Eugenia, El Colegio de la Frontera Norte, Mexico
Antonopoulos, Georgios A., Teesside University, UK
Atak, Idil, Toronto Metropolitan University, Canada
Bains, Satwinder Kaur, University of the Fraser Valley, Canada
Berg, Laurie, The University of Technology Sydney, Australia
Bigo, Didier, King's College London, UK
Bosworth, Mary, University of Oxford, UK
Carlier, Jean-Yves, Université catholique de Louvain, Belgium
Chetail, Vincent, Graduate Institute of International and Development Studies, Switzerland
Chiquiar, Daniel, Banco de México, Mexico
Crock, Mary, The University of Sydney, Australia
Fynn Bruey, Veronica, Athabasca University, Canada
Gingrich, Luann Good, York University, Canada
Guild, Elspeth, Queen Mary, University of London, UK
Houle, France, Université de Montréal, Canada
Iskandar, Pranoto, The Institute for Migrant Rights, Indonesia
Kabbanji, Lama, Institut de recherche pour le développement (IRD), France
Kneebone, Susan, University of Melbourne, Australia
López Sala, Ana María, Centre for Human and Social Sciences (CCHS), Spain
Martiniello, Marco, Université de Liège, Belgium
Mascareñas, Blanca Garcés, Universitat Pompeu Fabra, Spain
McNevin, Anne, New School For Social Research, USA
Mitsilegas, Valsamis, University of Liverpool, UK
Pelletier Quiñones, Paola, Pontificia Universidad Católica Madre y Maestra (PUCMM), Dominican Republic
Pickering, Sharon, Monash University, Australia
Puggioni, Raffaela, Jindal Global University, India
Samaddar, Ranabir, Mahanirban Calcutta Research Group, India
Sundberg, Kelly W., Mount Royal University, Canada
A few essentials for publishing in this journal
Submitted articles should not have been previously published or be currently under consideration for publication elsewhere.
Conference papers may only be submitted if the paper has been completely re-written (more details available here) and the author has cleared any necessary permissions with the copyright owner if it has been previously copyrighted.
Briefs and research notes are not published in this journal.
All our articles go through a double-blind review process.
All authors must declare they have read and agreed to the content of the submitted article. A full statement of our Ethical Guidelines for Authors (PDF) is available.
There are no charges for publishing with Inderscience, unless you require your article to be Open Access (OA). You can find more information on OA here.



Submission process

All articles for this journal must be submitted using our online submissions system.
View Author guidelines.