International Journal of Internet Technology and Secured Transactions
This journal also publishes Open Access articles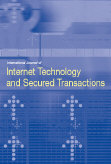 Editor in Chief

Dr. M.A. Dorgham

ISSN online

1748-5703

ISSN print

1748-569X
6 issues per year


CiteScore

1.6 (2022)

IJITST is an international refereed journal dedicated to the advancement of the theory and practical implementation of secured internet transactions and to fostering discussions on information technology evolution. IJITST aims to provide a highly professional and comparative academic research forum that promotes collaborative excellence between academia and industry.
Topics covered include
Networked system architecture and protocols
Networked system services and applications
Networked system security, privacy and trust
Digital crypto-currencies in networked systems
Incentives in networked systems
Malware and ransomware targeting networked systems
Rootkit and bootkit targeting networked systems
Security vulnerabilities in networked systems
Offensive security for networked systems
Reverse engineering
More on this journal...
Objectives
The objectives of IJITST are to bridge the knowledge gap between academia and industry and promote the exchange of ideas in secured internet transactions and the importance of information technology evolution to secured transactions. IJITST invites and welcomes research papers that encompass conceptual analysis, design implementation and performance evaluation.
Readership
IJITST endeavours to create awareness of technological advancement that provides professionals, policy makers, internet security consultants, academics, researchers and information technology managers with an understanding of current and future developments in internet security and information technology evolution.
Contents
IJITST publishes original papers, case studies and technical reports, and provides an international forum which is an authoritative source of information in the field. All papers undergo a rigorous peer review process. Special Issues devoted to important topics in secured internet transactions and information technology evolution will also be published.
Editor in Chief
Dorgham, M.A., International Centre for Technology and Management, UK
(supportinderscience.com)
Associate Editors
Barnett, George A., University of California – Davis, USA
Chan, H. Anthony, Huawei Technologies, USA
Chrysanthis, Panos K., University of Pittsburgh, USA
Guo, Yike, Imperial College London, UK
Schell, Bernadette, Laurentian University, Canada
American Editor
Scoglio, Caterina, Kansas State University, USA
Far East Editor
Shih, Timothy K., National Central University, Taiwan, Province of China
Editorial Board Members
Anis, Muhammad Moiz, Usman Institute of Technology, Pakistan
Chang, Alan Chin-Chen, Feng-Chia University, Taiwan, Province of China
Choi, Chang, Gachon University, South Korea
Choi, Young B., Regent University, USA
Das, Ashok Kumar, International Institute of Information Technology, India
Dillon, Tharam, La Trobe University, Australia
Ferrag, Mohamed Amine, Guelma University, Algeria
Fux, Vladimir, Technische Universität München, Germany
Gaur, Sudhanshu, Hitachi, USA
Gritzalis, Stefanos, University of the Aegean, Greece
He, Debiao, Wuhan University, China
Jiang, Qi, Xidian University, China
Kehal, Mounir, Higher Colleges of Technology, United Arab Emirates
Lee, Cheng-Chi, Fu Jen Catholic University, Taiwan, Province of China
Lee, Jihoon, Sangmyung University, South Korea
Lee, Kyungroul, Mokpo National University, South Korea
Li, Xiong, Hunan University of Science and Technology, China
Maglaras, Leandros, Ministry of Digital Policy, Telecommunications and Media, Greece
Moudi, Mehrnaz, University of Torbat Heydarieh, Iran
Munir, Kashif, National University of Computer and Emerging Sciences, Pakistan
Park, Hyunhee, Myongji University, South Korea
Rawat, Priyanka, University of Avignon, France
Ryoo, Jungwoo, Penn State Altoona, USA
Singh, Kamal Deep, University of Saint Etienne, France
Tsai, Chun-Wei, National Chung-Hsing University, Taiwan, Province of China
Tsukada, Manabu, University of Tokyo, Japan
Yan, Zhiwei, China Internet Network Information Center, China
A few essentials for publishing in this journal
Submitted articles should not have been previously published or be currently under consideration for publication elsewhere.
Conference papers may only be submitted if the paper has been completely re-written (more details available here) and the author has cleared any necessary permissions with the copyright owner if it has been previously copyrighted.
Briefs and research notes are not published in this journal.
All our articles go through a double-blind review process.
All authors must declare they have read and agreed to the content of the submitted article. A full statement of our Ethical Guidelines for Authors (PDF) is available.
There are no charges for publishing with Inderscience, unless you require your article to be Open Access (OA). You can find more information on OA here.



Submission process

All articles for this journal must be submitted using our online submissions system.
View Author guidelines.