International Journal of Intelligent Enterprise
This journal also publishes Open Access articles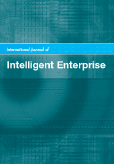 Editor in Chief

Dr. Vipul Jain

ISSN online

1745-3240

ISSN print

1745-3232
4 issues per year


CiteScore

1.0 (2022)

Major catalysts, e.g. deregulation, global competition, technological breakthroughs, changing customer expectations, structural changes, excess capacity, environmental concerns, less protectionism, etc., are reshaping the landscape of corporations worldwide. Assumptions about predictability, stability and clear boundaries are becoming less valid as two key actors have a clear impact on the nature of competitive space: agents with knowledge and interactions. IJIE covers new concepts of strategy and organisation as competitiveness of companies increasingly depends upon exploiting the new strategic potentials of intellect/service technologies.
Topics covered include
Organisational design
Strategy content
Strategic processes
Knowledge-based view of the firm
Organisational learning
Professional intellect
Technology management
Business and customer intelligence
More on this journal...
Objectives
Leveraged intellect and its prime facilitator, technology, appear as key factors in the achievement of a competitive advantage for the firm. This demands the exploration of the nature of the corporation, the sources of its added value, and how it is embedded with other, co-dependent corporations in the environment.
The objective of the
IJIE
is to bring together a selection of new perspectives that, focusing on intellect as a core resource in producing and delivering value, analyse the new strategies and the organisations that support them.
Readership
Interested readers include:
Chief Executive Officers, their advisors and strategy teams
Corporate leaders with bottom-line responsibilities
Management consultants
Academic researchers
Company presidents
Libraries and information centres serving the needs of the above
Contents
IJIE publishes high-quality original papers and it is double blind peer-reviewed. It presents strategies, resources, methodologies, tools, and techniques, aimed to unfold key aspects related to intellect and service technologies, relevant for research and practice. Both theoretical and empirical papers are welcome as well as qualitative and quantitative studies. Special Issues devoted to important topics within the aims and scopes of the Journal are also considered.
Editor in Chief
Jain, Vipul, Victoria University of Wellington, New Zealand
(vipul.jainvuw.ac.nz)
Editors
Bueno Campos, Eduardo, Universidad Autónoma de Madrid, Spain
Salmador, M. Paz, Universidad Autónoma de Madrid, Spain
Editorial Board Members
Ahmed, Pervaiz K., Monash University Malaysia, Malaysia
Antonelli, Cristiano, University of Turin, Italy
Bounfur, Ahmed, Univertsité Marne La Vallée, France
Byosiere, Philippe, Doshisha University, Japan
Chiu, Kuang-Hui, National Taipei University, Taiwan, Province of China
Colin, Jacques, Université de la Méditerranée, France
Dagnino, Giovanni Battista, University of Catania, Italy
Echevarría, Santiago García, Universidad de Alcalá de Henares, Spain
Edvinsson, Leif, Lund University, Sweden
Friel, Teresa L., Butler University, USA
Gopinath M, Saji, Indian Institute of Management, India
Ha, Sungho, Kyungpook National University (KNU), South Korea
Henderson, Joan B., Queen's University Belfast, UK
Javidan, Mansour, University of Calgary, Canada
Khan, Shahadat, RMIT University, Australia
Lang, Rainhart, Chemnitz University of Technology, Germany
Lechner, Christian, Groupe ESC Toulouse, France
Lee-Kelley, Liz, Cranfield University, UK
Luethge, Denise J., Northern Kentucky University, USA
Macharzina, Klaus, University of Hohenheim, Germany
Martinez, Veronica, Institute for Manufacturing, University of Cambridge, UK
Motohashi, Kazuyuki, University of Tokyo, Japan
Mouritsen, Jan, Copenhagen Business School, Denmark
Oviatt, Benjamin M., Georgia State University, USA
Rukstad, Michael, Harvard Business School, USA
Sahdev, Sunil, Indian Institute of Management Kozhikode, India
Salas, Vicente, Universidad de Zaragoza, Spain
Savall, Henri, University of Lyon, France
Senoo, Dai, Tokyo Institute of Technology, Japan
Themistocleous, Marinos, Brunel University, UK
Vas, Alain, Universite Catholique de Louvain, Belgium
Walsh, Steven T., University of New Mexico, USA
Yuan, Benjamin J.C., National Chiao Tung University, Taiwan, Province of China
A few essentials for publishing in this journal
Submitted articles should not have been previously published or be currently under consideration for publication elsewhere.
Conference papers may only be submitted if the paper has been completely re-written (more details available here) and the author has cleared any necessary permissions with the copyright owner if it has been previously copyrighted.
Briefs and research notes are not published in this journal.
All our articles go through a double-blind review process.
All authors must declare they have read and agreed to the content of the submitted article. A full statement of our Ethical Guidelines for Authors (PDF) is available.
There are no charges for publishing with Inderscience, unless you require your article to be Open Access (OA). You can find more information on OA here.



Submission process

All articles for this journal must be submitted using our online submissions system.
View Author guidelines.