International Journal of Healthcare Technology and Management
This journal also publishes Open Access articles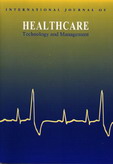 Editor in Chief

Dr. M.A. Dorgham

ISSN online

1741-5144

ISSN print

1368-2156
4 issues per year


Impact factor (Clarivate Analytics) 2023

1 (5 Year Impact Factor 0.8)
JCI 0.18

CiteScore

0.8 (2022)

IJHTM is a series emerging from the International Journal of Technology Management. It provides an international forum and refereed authoritative sources of information in the fields of the economics and management of technology in healthcare.
Topics covered include
Healthcare economics, management on macro/micro levels
Healthcare technology management, technology assessment
Medical technology management
Strategic management/organisation of healthcare/healthcare technology (HC/HCT)
Human resource management, organisation behaviour/theory and HC/HCT
R&D management, entrepreneurial management, innovation and HC/HCT
Quality management (clinical/administrative), benchmarking and TQM in HC/HCT
New product development and marketing and HC/HCT
ICT in healthcare
Economics and financial management of HC/HCT
Relationship between health and healthcare, health and social care interface
Government policies and HC/HCT management
HC/HCT management and the link between providers and insurers
Globalisation, technology transfer and licensing
E-commerce, supply chain management, operations management in healthcare
More on this journal...
Objectives
The aims of the IJHTM are:
to establish channels of communication and disseminate knowledge between policy-makers, professionals and providers working in the healthcare and related industries; and
to further the knowledge, research, theory and practice in the fields of management, economics and the management of technology in healthcare.
IJHTM publishes original papers, theory-based empirical papers, review papers, case studies, conference reports, technology reports, book reviews and commentaries.
Readership
Policy makers, executives and professionals in the healthcare and medical industries, investment and insurance institutions, experts and researchers in relevant academic and research centres, consultants and advisers in healthcare and related fields.
Contents
IJHTM publishes original papers, theory-based empirical papers, review papers, case studies, conference reports, technology reports, book reviews and commentaries.
Editor in Chief
Dorgham, M.A., International Centre for Technology and Management, UK
(editorialinderscience.com)
Executive Editor
Zhang, Ning Jackie, Seton Hall University, USA
Associate Editors
Geisler, Eliezer, Illinois Institute of Technology, USA
Harrington, Tomás S., University of East Anglia (UEA), UK
Krabbendam, Koos, University of Twente, Netherlands
Rubin, Harvey, Institute for Strategic Threat Analyis and Response (ISTAR), USA
Thuemmler, Christoph, Edinburgh Napier University, UK
Todeva, Emanuela, St. Mary's University, UK
Editorial Board Members
Babad, Yair M., University of Illinois at Chicago, USA
Barlow, James, Imperial College London, UK
Bart, Christopher K., The Not-For-Profit Governance Institute, Canada
Bell, Derek, Imperial College London, UK
Clarkson, P John, University of Cambridge, UK
Dawson, Sandra, University of Cambridge, UK
De Moor, George J.E., Universitair Ziekenhuis, Belgium
Del Pozo Guerrero, Francisco, Universidad Politécnica de Madrid, Spain
Dexter, Franklin, University of Iowa, USA
Evan, William M., University of Pennsylvania, USA
Gattiker, Urs E., International School of New Media GmbH, Germany
Giversen, Inger Marie, National Board of Health Islands, Denmark
Hasman, Arie, AMC-University of Amsterdam, Netherlands
Imam, Zaka, Central Drug Research Institute, India
Jackson, Peter M., Leicester University, UK
Kaihara, S., University of Tokyo, Japan
Keen, Justin, Leeds Institute of Health Sciences, UK
Kierkegaard, Sylvia Mercado, International Association of IT Lawyers, Denmark
Kleinjans, Jos C.S., Maastricht University, Netherlands
Lin, Binshan, Louisiana State University in Shreveport, USA
Lorenzi, Nancy M., Vanderbilt University Medical Center Informatics Center, USA
Louckx, Fred, Free University of Brussels, Belgium
Mantas, John, University of Athens, Greece
Mital, Chetna, Associates in Adult Healthcare, USA
Nobukawa, Masuaki, Senreikai Medical Corporation, Japan
Schwartz, J. Sanford, University of Pennsylvania, USA
Schweitzer, Stuart O., University of California, Los Angeles, USA
Sood, Sanjay P., C-DAC School of Advanced Computing, Mauritius
Taket, Ann, South Bank University, UK
Towse, Adrian, Office of Health Economics, UK
Van Eimeren, Wilhelm, GSF - National Research Center for Environment and Health, Germany
Wickramasinghe, Nilmini, La Trobe University, Australia
Wintermantel, Erich, Zentralinstitut für Medizintechnik ZIMT, Germany
Young, T.P., Brunel University, UK
Yu, Lean, Beijing University of Chemical Technology, China
A few essentials for publishing in this journal
Submitted articles should not have been previously published or be currently under consideration for publication elsewhere.
Conference papers may only be submitted if the paper has been completely re-written (more details available here) and the author has cleared any necessary permissions with the copyright owner if it has been previously copyrighted.
Briefs and research notes are not published in this journal.
All our articles go through a double-blind review process.
All authors must declare they have read and agreed to the content of the submitted article. A full statement of our Ethical Guidelines for Authors (PDF) is available.
There are no charges for publishing with Inderscience, unless you require your article to be Open Access (OA). You can find more information on OA here.



Submission process

All articles for this journal must be submitted using our online submissions system.
View Author guidelines.
Journal news
Review reveals research gaps in healthcare and technology studies
20 January, 2023
The role of technology in healthcare is high on the agenda especially in the face of rising costs, but also more positively in terms of how providers can improve the outcomes for patients with improvements in technology. Indeed, technology is critical to patient outcomes and the overall performance of healthcare systems. A literature review published in the International Journal of Healthcare Technology and Management would suggest that current research in the field has not fully explored just how far we might take the deployment of technology in improving the performance of healthcare provision. Amia Enam, Heidi Carin Dreyer, Jonas A. Ingvaldsen, and Luitzen De Boer of the Norwegian University of Science and Technology in Trondheim conducted a systematic literature review to come to this conclusion. They identified three key limitations in the published research. First, there is an apparent lack of understanding of the connection between technology and healthcare performance. Secondly, existing theories are not being used effectively in many studies. Thirdly, there is a lack of understanding of the context in which technology is deployed [...]
More details...