International Journal of Hospitality and Event Management
This journal also publishes Open Access articles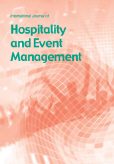 Editor in Chief

Dr. Ying (Tracy) Lu

ISSN online

2050-0491

ISSN print

2050-0483
2 issues per year

IJHEM is dedicated to meeting the academic and managerial needs of the fast-growing hospitality and event fields. IJHEM covers topics on operations and management of hospitality and event products and services such as lodging, restaurant and catering, meetings, incentives, conventions, exhibitions, festivals, weddings, sport and other special occasions and gatherings. The journal encourages both theoretical and empirical scholarly work, and interdisciplinary and global perspectives are highlighted.
Topics covered include
Lodging management and operations
Restaurant management and catering
Service management
Guests from emerging markets
Host and guest interactions
Globalization in hospitality and event
Information technology in hospitality and event
Image/branding
Customer loyalty
Event planning and coordination
Event impacts
Meetings, Incentives, Conventions, Exhibitions (MICE)
Sport events
Special events
More on this journal...
Objectives
IJHEM aims to be the leading channel for research in hospitality and event management, publishing significant articles that address the new needs of the industry using theoretical and/or empirical research approaches. It also aims to act as forum for exchanging new ideas, research results and sharing best practices in the industry.
Readership
IJHEM provides scholars with informative research-based articles to advance the research agenda, managers with practical recommendations to grow their businesses, and governments with implications to form appropriate regulations/policies and manage communities sustainably.
Contents
IJHEM publishes refereed papers, invited articles, research notes, book reviews, commentaries and case studies relevant to both academics and practitioners. Special Issues devoted to important topics in hospitality and event management will occasionally be published.
Editor in Chief
Lu, Ying (Tracy), University of Kentucky, USA
(tracy.luuky.edu)
Managing Editor
Fry, Jonathan, Aberystwyth University, UK
Consulting Editor
Zhou, Zongqing, Niagara University , USA
Advisory Board
Adler, Howard, Purdue University, USA
Cai, Liping A., Purdue Tourism & Hospitality Research Center, USA
Chon, Kaye, Hong Kong Polytechnic University, Hong Kong SAR, China
Editorial Board Members
Bartkus, Kenneth R., Utah State University , USA
Cheng, Li, Sichuan University, China
Dodds, Rachel, Ryerson University, Canada
Dong, Erwei, United States Sports Academy, USA
Dunning, John, Sheffield Hallam University, UK
Fu, Xiaoxiao, University of Central Florida, USA
Genc, Ruhet, Turkish-German University (TGU), Turkey
Huang, Joy (Zhuowei), University of Illinois at Urbana-Champaign , USA
Korstanje, Maximiliano E., University of Palermo, Argentina
Lee, Jenny (Jiyeon), University of New South Wales , Australia
Li, Mimi, The Hong Kong Polytechnic University, China
Lu, Zhi, University of Victoria, Canada
Michopoulou, Eleni, University of Derby, UK
Mohsin, Asad, University of Waikato, New Zealand
Slabbert, Elmarie, North-West University, South Africa
Smith, Wayne William, College of Charleston , USA
Wei, Wei, University of Central Florida, USA
Xie, Philip F., Bowling Green State University , USA
Ziakas, Vassilios, University of St Mark & St John, UK
A few essentials for publishing in this journal
Submitted articles should not have been previously published or be currently under consideration for publication elsewhere.
Conference papers may only be submitted if the paper has been completely re-written (more details available here) and the author has cleared any necessary permissions with the copyright owner if it has been previously copyrighted.
Briefs and research notes are not published in this journal.
All our articles go through a double-blind review process.
All authors must declare they have read and agreed to the content of the submitted article. A full statement of our Ethical Guidelines for Authors (PDF) is available.
There are no charges for publishing with Inderscience, unless you require your article to be Open Access (OA). You can find more information on OA here.



Submission process

All articles for this journal must be submitted using our online submissions system.
View Author guidelines.