International Journal of Environmental Policy and Decision Making
This journal also publishes Open Access articles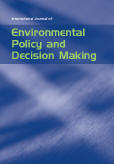 Editor in Chief

Prof. Maria Claudia Lucchetti

ISSN online

1752-6914

ISSN print

1752-6906
4 issues per year

IJEPDM focuses on environmental policy and decision making and the associated consequences at local, national and global levels. The journal provides a trans-disciplinary and multi-stakeholder approach for environmental and development problems.
Topics covered include
Multicriteria assessment of environmental policy/ecological economics/technologies
Stakeholders' role in environmental policy/ecological economics/technology implementation
Decision making for future environmental technology/policy/management strategies
Participatory decision making in the waste sector/environmental pollution/sustainable development
Integration of policies and research in the waste sector/environmental pollution/sustainable development
Environmental impact analysis in the waste sector, pollution and development
Biodiversity and climate change
Future scenarios and global consequences
Case studies analysis
More on this journal...
Objectives
The objectives of
IJEPDM
are to establish an effective channel of communication between policy and decision makers, executives and professionals working in government, industry, commerce and related businesses dealing with environment and sustainable development, and to provide a forum for them to disseminate information and to learn from each other's work.
Readership
Professionals, academics, managers, researchers and policy and decision makers.
Contents
IJEPDM publishes original and review papers, technical reports, case studies, conference reports, management reports, book reviews, notes, commentaries and news. Contributions may be by submission or invitation, and suggestions for Special Issues and publications are welcome.
Editor in Chief
Lucchetti, Maria Claudia, University of Roma Tre, Italy
(mariaclaudia.lucchettiuniroma3.it)
Associate Editor
Monni, Salvatore, Roma Tre University, Italy
Assistant Editor
Arcese, Gabriella, Niccolò Cusano University, Italy
Editorial Board Members
Avval, Seyed Hashem Mousavi, The Ohio State University, USA
Chen, Zhi, Concordia University, Canada
Chiacchierini, Ernesto, Accademia Italiana di Scienze Merceologiche (AISME), Italy
de Castro, Juan A., Universidad Complutense de Madrid, Spain
Foltynovich, Zenon, Uniwersytet Ekonomiczny W Poznaniu , Poland
Hoogervorst, Arend, Eagle Environmental, South Africa
Koroneos, Christopher J., National Technical University of Athens, Greece
Liao, Hua, Beijing Institute of Technology (BIT), China
Merli, Carlo, Sapienza University, Italy
Muthu, Subramanian Senthilkannan, SGS (HK) Limited, Hong Kong SAR, China
Pamfilie, Rodica, Bucharest Academy of Economic Studies, Romania
Pieper, Thomas, Carl von Ossietzky University of Oldenburg, Germany
Radonjič, Gregor, University of Maribor, Slovenia
Renzulli, Pietro, University of Bari Aldo Moro, Italy
Telles do Carmoo, Breno Barros, Federal University of the Semi-Arid Region, Brazil
Traverso, Marzia, RWTH Aachen University, Germany
Vogel, Gerhard, Vienna University of Economics and Business, Austria
Yuvaraja, T., Channabasaveshwara Institute of Technology, India
Zamagni, Alessandra, Italian National Agency for New Technologies, Energy and Sustainable Economic Development (ENEA), Italy
A few essentials for publishing in this journal
Submitted articles should not have been previously published or be currently under consideration for publication elsewhere.
Conference papers may only be submitted if the paper has been completely re-written (more details available here) and the author has cleared any necessary permissions with the copyright owner if it has been previously copyrighted.
Briefs and research notes are not published in this journal.
All our articles go through a double-blind review process.
All authors must declare they have read and agreed to the content of the submitted article. A full statement of our Ethical Guidelines for Authors (PDF) is available.
There are no charges for publishing with Inderscience, unless you require your article to be Open Access (OA). You can find more information on OA here.



Submission process

All articles for this journal must be submitted using our online submissions system.
View Author guidelines.