International Journal of Engineering Management and Economics
This journal also publishes Open Access articles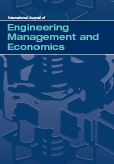 Editor in Chief

Prof. Corrado lo Storto

ISSN online

1756-5162

ISSN print

1756-5154
4 issues per year

The scope and complexity of engineering responsibilities have dramatically changed during the past 20 years. As a consequence, engineers perform many management activities in modern companies. However engineering management differs from ordinary management since engineering managers possess both the ability to apply engineering principles and the skills for organising and directing people and projects. IJEME bridges the latest advances in the engineering management and engineering economics with a multidisciplinary perspective.
Topics covered include
Creativity and technical entrepreneurship
Technical organisations and their management
Leadership and HRM; motivating/leading technical people
Product development, R&D, design management
Managing engineering and production operations
Project planning, acquisition, organisation, leadership/control
Financial management for engineers, cost estimation/accounting
Decision-making processes
Technology and knowledge management
Planning, forecasting and marketing issues
Project and risk management
Economic decision/capital investment analysis; design/project economics
Education
Engineering management in the service industry
Public policy analysis
More on this journal...
Objectives
The objectives of the IJEME are to further knowledge and research, as well as theory, methods and practice, in the field of engineering management and engineering economics. IJEME will be an international multidisciplinary forum for the exchange of ideas, experiences, theories, information and knowledge between people involved in engineering management and economic development of technologically-focused communities.
Readership
IJEME provides a vehicle to help professionals, academics, researchers, managers, and engineers working in the field of engineering management and economics to disseminate information and to learn from each other's work
Contents
IJEME publishes original, empirical and review papers, technical reports, case studies, conference reports, management reports, book reviews, notes, commentaries. Special Issues devoted to important topics in engineering management and engineering economics will occasionally be published
Editor in Chief
lo Storto, Corrado, University of Naples Federico II, Italy
(corrado.lostortounina.it)
Editorial Board Members
Abdul-Kader, Walid, University of Windsor, Canada
Albino, Vito, Technical University of Bari, Italy
Anderson, Timothy R., Portland State University, USA
Börjesson, Sofia, Chalmers University of Technology, Sweden
Badawy, Michael K., Virginia Tech University, USA
Bartezzaghi, Emilio, Politecnico di Milano, Italy
Beckman, Sara L., University of California, USA
Berg, Daniel, Rensselaer Polytechnic Institute, USA
Chakrabarti, Alok K., New Jersey Institute of Technology, USA
Chen, Kuen-Suan, National Chin-Yi University of Technology, Taiwan, Province of China
Daim, Tugrul U., Portland State University, USA
Dainty, Andrew, Loughborough University, UK
Daughton, Bill, Missouri University of Science and Technology, USA
Dawood, Nashwan, University of Teesside, UK
De Neufville, Richard, Massachusetts Institute of Technology, USA
Dessouky, Yasser, San Jose State University, USA
Dolgui, Alexandre, IMT Atlantique, France
Duffy, Alex, University of Strathclyde, UK
Durrani, Tariq S., University of Strathclyde, UK
Eppinger, Steven D., Massachusetts Institute of Technology, USA
Fernandes, António S. C, Instituto Superior Técnico (Technical University of Lisbon), Portugal
Ferreri, Domenico, Alenia Aeronautica S.p.A., Italy
Frey, Dan, Massachusetts Institute of Technology, USA
Garza-Reyes, Jose Arturo, University of Derby, UK
Gerosa, Sergio, Thales Alenia Space Italia, Italy
Gray, William J., Washington State University, USA
Hastak, Makarand (Mark), Purdue University, USA
Hoffman, Edward J., The George Washington University, USA
Jen-der, Day, National Kaohsiung University of Applied Sciences, Taiwan, Province of China
Kaseb, Sayed, Cairo University, Egypt
Katz, Ralph, Northeastern University and MIT, USA
Lambert, James H., University of Virginia, USA
Lawrence, Robert E., BAE Systems Inc, USA
Malmborg, Charles J., Rensselaer Polytechnic Institute, USA
Nasr, Nabil, Rochester Institute of Technology, USA
Neely, Andy, Cranfield University, UK
Parente, Diane H., Penn State Erie, USA
Piller, Frank T., RWTH Aachen University, Germany
Roos, Daniel, Massachusetts Institute of Technology, USA
Sainfort, Francois, University of Minnesota, USA
Triantis, Konstantinos P., Virginia Tech, USA
Wilemon, David, Syracuse University, USA
A few essentials for publishing in this journal
Submitted articles should not have been previously published or be currently under consideration for publication elsewhere.
Conference papers may only be submitted if the paper has been completely re-written (more details available here) and the author has cleared any necessary permissions with the copyright owner if it has been previously copyrighted.
Briefs and research notes are not published in this journal.
All our articles go through a double-blind review process.
All authors must declare they have read and agreed to the content of the submitted article. A full statement of our Ethical Guidelines for Authors (PDF) is available.
There are no charges for publishing with Inderscience, unless you require your article to be Open Access (OA). You can find more information on OA here.



Submission process

All articles for this journal must be submitted using our online submissions system.
View Author guidelines.