International Journal of Earthquake and Impact Engineering
This journal also publishes Open Access articles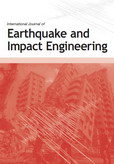 Editor in Chief

Dr. Ehsan Noroozinejad

ISSN online

2397-9380

ISSN print

2397-9372
2 issues per year

Earthquake and impact engineering are essential disciplines affecting the lives and properties of citizens in many parts of the world. They aim to understand the impact of seismic loading on buildings and other structures and infrastructures, avoiding future disasters. IJEIE is a peer-reviewed research journal offering an international forum fostering discussion on all aspects of the topic. It highlights the areas of earthquake hazard mitigation, preparedness and recovery germane to practicing engineers and reflecting state-of-the-art research.
Topics covered include
Earthquake, structural and impact engineering
Damaging earthquakes, new developments in regulations, national policies applied after major seismic events
Earthquake hazard mitigation, preparedness and recovery
Seismology, tsunamis, ground motion characteristics, soil and foundation dynamics, wave propagation
Earthquake resistant design and retrofit of structures
Supplemental energy dissipation, base isolation and structural control
Lifelines and offshore structures under shock and vibrations
Seismic code improvements
Seismic response of bridges and other special structures
Structural impact and failure
Structural crashworthiness
Blast loading and its effects on structures
Testing/measurement techniques coupled with applications
More on this journal...
Objectives
The main objective of IJEIE is to improve the practice of earthquake hazard mitigation, preparedness and recovery. It aims to publish the original research findings related to the response of structures, bodies and materials to the exposure to earthquakes, impact and blast events. It aims to disseminate research and development work from engineering communities worldwide in the fields of earthquake and impact engineering and engineering seismology. Research on experimental, analytical, design and field studies are encouraged.
Readership
IJEIE is intended to serve the informational needs of the diverse professionals engaged in earthquake loss reduction: civil, geotechnical, mechanical and structural engineers; geologists, seismologists and other earth scientists; architects and city planners; public officials; social scientists; and researchers in all these disciplines. The journal provides a vehicle to help all these majors to disseminate information and to learn from each other's work.
Contents
IJEIE provides a forum for a broad blend of scientific and technical papers to reflect the evolving needs of the civil, forensic, structural, geotechnical and impact engineering, structural dynamics and structural/mechanical/earthquake related communities. Original state-of-the-art papers and case studies are welcome. Timely papers on field investigations following damaging earthquakes will be considered for accelerated review and publication. Also, the journal extends a special invitation to authors of short communications of new research findings that may not have been developed sufficiently to warrant full-length papers. Special issues on specific topics will occasionally be published.
Editor in Chief
Noroozinejad, Ehsan, The University of British Columbia (UBC), Canada
(ehsan.noroozinejadgmail.com)
Deputy Editor
Ozturk, Baki, Hacettepe University, Turkey
Associate Editors
Astaneh-Asl, Abolhassan, University of California, Berkeley, USA
Casapulla, Claudia, University of Napoli "FEDERICO II", Italy
Hajirasouliha, Iman, University of Sheffield, UK
Takewaki, Izuru, Kyoto University, Japan
Regional Editor Asia
Ilki, Alper, Istanbul Technical University, Turkey
Regional Editor Australia and New Zealand
Chouw, Nawawi, University of Auckland, New Zealand
Regional Editor Europe
Bogdanovic, Aleksandra, Institute of Earthquake Engineering and Engineering Seismology, Macedonia, F.Y.R.
Regional Editor North America
Yang, Tony T.Y., University of British Columbia, Canada
International Advisory Board
Adam, Christoph, University of Innsbruck, Austria
Alexander, David, University College London, UK
Catbas, F. Necati, University of Central Florida (UCF), USA
Chatzi, Eleni, Swiss Federal Institute of Technology, Switzerland
Cimellaro, Gian Paolo, Politecnico Di Torino, Italy
Lourenco, Paulo B., University of Minho, Portugal
MacRae, Gregory, University of Canterbury, New Zealand
Noori, Mohammad, California Polytechnic State University, USA
Reinhorn, Andrei M., University at Buffalo, USA
S. Moghadam, Abdoreza, International Institute of Earthquake Engineering and Seismology (IIEES), Iran
Silva Gomes, Joaquim Francisco da, University of Porto, Portugal
Ye, Jianqiao, Lancaster University, UK
Editorial Board Members
Akiyama, Mitsuyoshi, Waseda University, Japan
Alam, Zeshan, Qingdao University of Technology, China
Anagnostopoulos, Stavros A., University of Patras, Greece
Aprile, Alessandra, University of Ferrara, Italy
Asprone, Domenico, University of Naples Federico II, Italy
Aydin, Ersin, Nigde Ömer Halisdemir University, Turkey
Basu, Dhiman, Indian Institute of Technology Gandhinagar, India
Beer, Michael, Leibniz University Hannover, Germany
Bento, Rita, University of Lisbon, Portugal
Bezabeh, Matiyas, McGill University, Canada
Challamel, Noël, University of South Brittany, France
Chiorean, Cosmin G., Technical University of Cluj-Napoca, Romania
Clemente, Paolo, Italian Agency for New Technologies, Energy and Sustainable Economic Development, Italy
Fragiadakis, Michalis, National Technical University of Athens, Greece
Gardoni, Paolo, University of Illinois at Urbana-Champaign, USA
Giresini, Linda, University of Pisa, Italy
Jahanshahi, Mohammad R., Purdue University, USA
Jia, Gaofeng, Colorado State University, USA
Jiang, Huanjun, Tongji University, China
Jin, Wei-Liang, Zhejiang University, China
Karavasilis, Theodore L., University of Patras, Greece
Lucchini, Andrea, Sapienza University, Italy
Maheshwari, B.K., Indian Institute of Technology Roorkee, India
Málaga-Chuquitaype, Christian, Imperial College London, UK
Memari, Ali M., Pennsylvania State University, USA
Metrikine, Andrei, Delft University of Technology, Netherlands
Mohamed Nazri, Fadzli, Universiti Sains Malaysia, Malaysia
Mwafy, Aman, United Arab Emirates University, United Arab Emirates
Nanda, Radhikesh Prasad, National Institute of Technology Durgapur, India
Ozbakkaloglu, Togay, University of Adelaide, Australia
Peresan, Antonella, University of Trieste, Italy
Pezeshk, Shahram, University of Memphis, USA
Rodrigues, Hugo Filipe Pinheiro, Polytechnic of Leiria, Portugal
Romão, Xavier, University of Porto, Portugal
Saidani, Messaoud, Coventry University, UK
Santa María, Hernán, Pontifical Catholic University of Chile, Chile
Sbartai, Badreddine, Badji Mokhtar Annaba University, Algeria
Silva, Vitor, University Fernando Pessoa, Portugal
Sivandi-Pour, Abbas, Kerman Graduate University of Technology, Iran
Talebi, Mohammad, Ivan Knowledge Enterprise, Iran
Tesfamariam, Solomon, University of British Columbia, Canada
Tsang, Hing-Ho, Swinburne University of Technology, Australia
Varum, Humberto, University of Porto, Portugal
A few essentials for publishing in this journal
Submitted articles should not have been previously published or be currently under consideration for publication elsewhere.
Conference papers may only be submitted if the paper has been completely re-written (more details available here) and the author has cleared any necessary permissions with the copyright owner if it has been previously copyrighted.
Briefs and research notes are not published in this journal.
All our articles go through a double-blind review process.
All authors must declare they have read and agreed to the content of the submitted article. A full statement of our Ethical Guidelines for Authors (PDF) is available.
There are no charges for publishing with Inderscience, unless you require your article to be Open Access (OA). You can find more information on OA here.



Submission process

All articles for this journal must be submitted using our online submissions system.
View Author guidelines.