International Journal of Computing Science and Mathematics
This journal also publishes Open Access articles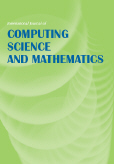 Editor in Chief

Prof. Zhihua Cui

ISSN online

1752-5063

ISSN print

1752-5055
8 issues per year


Impact factor (Clarivate Analytics) 2023

0.8 (5 Year Impact Factor 0.7)
JCI 0.25

CiteScore

1.4 (2022)

IJCSM is a peer-reviewed international journal that publishes high quality original papers and comprehensive survey articles in all areas of computing science and mathematics, with interfaces to physics, engineering, chemistry, biology, statistics, economics and the social sciences.
Topics covered include
Numerical analysis
Numerical algebra
Numerical methods for ODE, PDE, FDE
Computational geometry
Computational fluid dynamics
Computational optimisation
Computational probability
Statistical computation and simulation
Computational intelligence
Computational complexity
Theoretical computer science
Computational physics
Computational biology
Related applications in physics, engineering, chemistry, economics and the social sciences
More on this journal...
Objectives
IJCSM provides a lively forum for the communications of original research. Its objective is the timely dissemination of original research work on computing science and mathematics.
Readership
The audience of IJCSM consists of computational scientists, numerical analysts, applied mathematicians, physicists, statisticians, economists, biologists, engineers, researchers, and graduate students in computing science, applied mathematics and related disciplines.
Contents
IJCSM publishes original peer-reviewed papers, which include research papers, comprehensive survey articles, conference reports and book reviews within the whole field of computing science and mathematics, and it will continue to provide information on the latest trends and developments in this ever-expanding subject. Special Issues devoted to important topics on computing science and mathematics and applications will occasionally be published.
Editor in Chief
Cui, Zhihua, Taiyuan University of Science and Technology, China
(zhihua.cuihotmail.com)
Executive Editor
Cui, Zhiwei, General Motors, USA
Editorial Board Members
Abgrall, R., Université Bordeaux 1, France
Akrivis, G., University of Ioannina, Greece
Arato, M., University of Debrecen, Hungary
Balas, Mark J., Embry-Riddle Aeronautical University, USA
Benzi, Michele, Emory University, USA
Brezinski, Claude, Université des Sciences et Technologies de Lille, France
Cao, Bin, Hebei University of Technology, China
Cash, J.R., Imperial College London, UK
Cheng, Shi, Shaanxi Normal University, China
Clausen, Jens, Technical University of Denmark, Denmark
Corsini, Piergiulio, Udine University, Italy
Cuyt, Annie, Universiteit Antwerpen (CMI), Belgium
Degond, Pierre, Universite Paul Sabatier, France
Dellnitz, Michael, University of Paderborn, Germany
Dragomir, Sever S., Victoria University, Australia
Eiermann, Michael, Universitaet Bergakademie Freiberg, Germany
Fang, Wei, Jiangnan University, China
Freund, Roland W., University of California, Davis, USA
Gaishun, Ivan V., National Academy of Sciences of Belarus, Belarus
Galanin, M., Russian Academy of Sciences, Russian Federation
Glowinski, Roland, University of Houston, USA
Gonska, Heiner, University of Duisburg-Essen, Germany
Hall, Philip, Imperial College London, UK
Higham, Desmond J, University of Strathclyde, UK
Hussaini, M. Y., Florida State University, USA
Jiang, Bo, Zhejiang University of Technology, China
Koumoutsakos, Petros, ETHZ Computational Laboratory, Switzerland
Kurganov, Alexander, Tulane University, USA
La Torre, Davide, Skema Business School, France
Langer, Ulrich, Johannes Kepler University, Austria
Langtangen, Hans Petter, Simula Research Laboratory, Norway
Lasiecka, Irena, University of Virginia, USA
Li, Wei, Jiangxi University of Science and Technology, China
Liu, Huichao, Huanghuai University, China
Mo, Hongwei, Harbin Engineering University, China
Nabben, Reinhard, Technische Universitaet Berlin, Germany
Nashed, M. Z., University of Central Florida, USA
Nihoul, Jacques C.J., University of Liege, Belgium
Ohlberger, Mario, Westfaelische Wilhelms-Universitaet Muenster, Germany
Pareschi, Lorenzo, University of Ferrara, Italy
Pereverzyev, Sergei V., Austrian Academy of Sciences, Austria
Ramm, Alexander G., Kansas State University, USA
Reich, Simeon, Technion - Israel Institute of Technology, Israel
Simos, T.E., Ural Federal University and King Saud University, Saudi Arabia
Sleeman, B.D., University of Leeds, UK
Smarzewski, Ryszard, The John Paul II Catholic University of Lublin, Poland
Srivastava, Hari M., University of Victoria, Canada
Straughan, Brian, Durham University, UK
Wang, Hui, Nanchang Institute of Technology, China
Winther, Ragnar, University of Oslo, Norway
Wu, Zhou, Chongqing University, China
Xiao, Renbin, Huazhong University of Science and Technology, China
Xue, Yu, Nanjing University of Information Science and Technology, China
Zaleski, Stéphane, CNRS et Université Pierre et Marie Curie (Paris 6), France
Zhang, Wen, Icahn School of Medicine at Mount Sinai, USA
A few essentials for publishing in this journal
Submitted articles should not have been previously published or be currently under consideration for publication elsewhere.
Conference papers may only be submitted if the paper has been completely re-written (more details available here) and the author has cleared any necessary permissions with the copyright owner if it has been previously copyrighted.
Briefs and research notes are not published in this journal.
All our articles go through a double-blind review process.
All authors must declare they have read and agreed to the content of the submitted article. A full statement of our Ethical Guidelines for Authors (PDF) is available.
There are no charges for publishing with Inderscience, unless you require your article to be Open Access (OA). You can find more information on OA here.



Submission process

All articles for this journal must be submitted using our online submissions system.
View Author guidelines.