International Journal of Abrasive Technology
This journal also publishes Open Access articles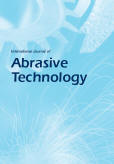 Editor in Chief

Prof. Xun Chen

ISSN online

1752-265X

ISSN print

1752-2641
4 issues per year


CiteScore

1.2 (2022)

Abrasive technology concerns manufacturing processes involving use of abrasives in a variety of forms. It has a long history originating from the discovery of minerals. With the increasing requirements for high-precision and high-surface-quality components in various applications, (e.g. silicon wafers in the semiconductor industry and optical lenses in the precision instrument industry), abrasive technology is becoming increasingly important in precision manufacturing. IJAT deals with abrasive technology, covering theoretical and applied research, new technologies and applications. IJAT is published with support of the International Committee for Abrasive Technology (ICAT).
Topics covered include
Grinding, finishing, deburring, lapping, polishing, honing etc.
Truing, dressing, ELID for grinding
Abrasive jet machining/processing
Abrasive flow machining
Loose/suspended abrasive particle machining/polishing
Hybrid super-finishing processes
In-process measurement/monitoring
Metrology for precision/ultra-precision machining
Abrasives and tools, tribology
Precision/ultra-precision and abrasive machining
Micro-machining, super-finish/nano-surfacing
Surface characterisation/evaluation
Silicon wafer and brittle materials processing
Ecological/environmentally-friendly coolants/cooling
Teaching and learning innovations
More on this journal...
Objectives
The objectives of IJAT are to provide a prime forum and communication channel for the interchange of information among academic researchers and industrial practitioners on the science, technologies and applications associated with precision and abrasive processing engineering.
Readership
Academics, researchers, industrial practitioners and university students specialising in manufacturing processes, precision engineering, abrasive processes and related fields.
Contents
IJAT publishes original research papers, review papers, technical papers and notes, short communications, case studies, and book reviews. Special issues devoted to the development of important topics in abrasive technology will be published periodically to compile selected papers from submissions to significant international conferences and symposiums and invited papers from prominent researchers.
Honorary Editor in Chief
Wang, Jun, The University of New South Wales, Australia
Editor in Chief
Chen, Xun, Liverpool John Moores University, UK
(x.chenljmu.ac.uk)
Associate Editors
Azarhoushang, Bahman, Hochschule Furtwangen University, Germany
Gan, Yong X., California State Polytechnic University, Pomona, USA
Huang, Chuanzhen, Shandong University, China
Ohashi, Kazuhito, Okayama University, Japan
Xu, Xipeng, Huaqiao University, China
Yuan, Zhishan, Guangdong University of Technology, China
Editorial Board Members
Butler, David L., University of Strathclyde, UK
Chao, Choung Lii, Tamkang University, Taiwan, Province of China
Chen, Chao-Chang Arthur, National Taiwan University of Science and Technology, Taiwan, Province of China
Chen, Ming, Shanghai Jiao Tong University, China
Ding, Wenfeng, Nanjing University of Aeronautics and Astronautics, China
Gao, Hang, Dalian University of Technology, China
Gao, Yongsheng, Hong Kong University of Science and Technology, Hong Kong SAR, China
Guo, Dongming, Dalian University of Technology, China
Huang, Han, The University of Queensland, Australia
Jiang, Zhengyi, University of Wollongong, Australia
Kang, Renke, Dalian University of Technology, China
Krajnik, Peter, Chalmers University of Technology, Sweden
Mizutani, Masayoshi, Tohoku University, Japan
Morita, Shinya, Tokyo Denki University, Japan
Ohmori, Hitoshi, RIKEN, Japan
Paul, Soumitra, Indian Institute of Technology Kharagpur, India
Sánchez, José A., University of the Basque Country, Spain
Shi, Zhongde, National Research Council of Canada (NRC), Canada
Shimizu, Jun, Ibaraki University, Japan
Slocum, Alexander, Massachusetts Institute of Technology, USA
Tawakoli, Taghi, Hochschule Furtwangen University, Germany
Tong, Zhen, University of Huddersfield, UK
Walker, David, University College London, UK
Wang, Chengyong, Guangdong University of Technology, China
Wu, Yongbo, Akita Prefectural University, Japan
Yoshihara, Nobuhito, Iwate University, Japan
Yuan, Julong, Zhejiang University of Technology, China
Zhang, Bi, University of Connecticut, USA
Zhang, Feihu, Harbin Institute of Technology, China
Zhou, Libo, Ibaraki University, Japan
A few essentials for publishing in this journal
Submitted articles should not have been previously published or be currently under consideration for publication elsewhere.
Conference papers may only be submitted if the paper has been completely re-written (more details available here) and the author has cleared any necessary permissions with the copyright owner if it has been previously copyrighted.
Briefs and research notes are not published in this journal.
All our articles go through a double-blind review process.
All authors must declare they have read and agreed to the content of the submitted article. A full statement of our Ethical Guidelines for Authors (PDF) is available.
There are no charges for publishing with Inderscience, unless you require your article to be Open Access (OA). You can find more information on OA here.



Submission process

All articles for this journal must be submitted using our online submissions system.
View Author guidelines.