International Journal of Applied Systemic Studies
This journal also publishes Open Access articles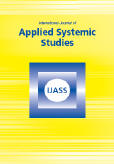 Editor in Chief

Prof. Nikitas Assimakopoulos

ISSN online

1751-0597

ISSN print

1751-0589
4 issues per year


CiteScore

0.8 (2022)

IJASS is dedicated to publishing quality manuscripts on all aspects of systemic analysis, from both a practical and an academic viewpoint. It publishes contributions from practitioners and academics, as well as national and international policy- and standard-making bodies, and sets out to be the definitive international reference source for such information.
Topics covered include
Conceptual systemic models, applications of systemic methodologies
Applied [socio]cybernetics, ethical/living systems
Complexity, chaos, self-organisation, [meta]control, viable systems
Creativity, innovation, critical systems thinking, strategic/procedural systems design
Digital service/workflow/legal systems, TQM, total systems intervention
Education/learning communities, virtual enterprises/communities
Emergence and neocybernetics, knowledge cybernetics systems
Human-centred systems, human-computer interaction
Interorganisational approaches, process reengineering
Modelling/simulation, multiagent-based systems, pattern recognition systems
Networks/global dynamics, system dynamics, new agora and global marketing
Problem structuring/design systems, semantics, knowledge representation
Social systems design and simulation, systemic multi-methodologies
Systemic leadership/change, ontologies, systems thinking/archetypes
Systems/metasystems and decisions/metadecisions, decision support systems
More on this journal...
Objectives
The mission of IJASS is to develop methodologies based on the laws and rules of various sciences. New designs and functional methodologies are composed for applications in business, operational and social, as well as biological, phenomena. The objectives of IJASS are to spread the science of systems and present the research and application results of its domain. As the science rapidly changes and grows, resources and time become more precious. IJASS provides the very best information and analysis to keep up to date with the latest developments and approaches to other scientific domains, through the application of systems approaches to them.
IJASS aims:
To provide a forum for the exchange of information on and experiences of studying the systems, and the methodologies, tools and products used to design, measure and achieve them.
To promote awareness of the crucial role of systems studies in the effective construction of the information systems developed, used, and/or maintained by organisations in pursuit of their business objectives.
To provide a vehicle for the publication of academic papers related to all aspects of soft and hard system approaches.
Readership
The readership of IJASS consists of academics, systems managers, computer scientists, information scientists, and researchers in applied system theory, as well as those involved in management, operations and political and social sciences in different scientific disciplines, i.e. universities, consulting firms, enterprises and industries.
Contents
IJASS publishes original work of an applied nature that significantly contributes to systems approaches. The journal also publishes book reviews and special issues devoted to important topics of a systemic nature. For special issues, IJASS accepts proposals on specific application domains of systems sciences, especially on emerging topics having focus on real systems or simulations based on representative traces from real systems. Review papers and technical reports are also welcome.
Honorary Editors
Cavana, Bob, Victoria University of Wellington, New Zealand
Midgley, Gerald, University of Hull, UK
Ríos, José Pérez, University of Valladolid, Spain
Editor in Chief
Assimakopoulos, Nikitas, University of Piraeus, Greece
(assinikunipi.gr)
Assistant Editor
Antoniadis, Rallis, University of Piraeus, Greece
International Advisory Board
Abbass, Hussein A., Defence and Security Applications Research Centre (DSA), Australia
Andrée, Piecq, G.I.R.O.S. Organization, Belgium
Andrew, Theo, University of Johannesburg, South Africa
Angelis, Vasilis, University of the Aegean, Greece
Athanasiadis, Ioannis N., IDSIA - Istituto Dalle Molle di Studi sull'Intelligenza Artificiale, Switzerland
Banathy, Bela Antal, International Systems Institute, USA
Barolli, Leonard, Fukuoka Institute of Technology (FIT), Japan
Chan, Tony Y. T., The University of Akureyri, Iceland
Chatzoglou, Prodromos, Democritus University of Thrace, Greece, Greece
Chen, Shu-Ching, Florida International University, USA
Christakis, Alexander N., CWA Ltd, USA
Claeys, Damien, University of Louvain, Belgium
Cull, Jane, Life's Natural Solutions (LNS), Australia
Degtiar, Vladimir, Moscow State University, Russian Federation
Deng, Zhi-Hong, Peking University, China
Dragomirescu, Horatiu, Bucharest University of Economic Studies, Romania
El-Darzi, Elia, University of Westminster, UK
Fitch, Dale, University of Michigan, USA
Flanagan, Thomas, Institute for 21st Century Agoras New England, USA
Flynn, David, University of Western Ontario, Canada
Georgopoulos, Nikolaos, University of Piraeus, Greece
Kriemadis, Athanasios, University of Peloponnese, Greece
Laouris, Yiannis, Cyprus Neuroscience & Technology Institute, Cyprus
Leopoulos, Vrassidas, National Technical University of Athens, Greece
Leydesdorff, Loet, University of Amsterdam, Netherlands
Li, Chang-Tsun, University of Warwick, UK
Maani, Kambiz, University of Queensland, Australia
Mulej, Matjaz, University of Maribor, Slovenia
Pagge, Jenny, University of Ioannina, Greece
Rios, Jose Perez, University of Valladolid, Spain
Rontos, Kostas, Aegean University, Greece
Sheffield, Jim, Victoria University of Wellington, New Zealand
Shih, Timothy K., National Central University, Taiwan, Province of China
Sim, Ben K.M., Hong Kong Baptist University, Hong Kong SAR, China
Smith, Martin C. B., Middlesex University London, UK
Snášel, Václav, FEI VSB-TU Ostrava, Czech Republic
Strijbos, Sytse, Vrije Universiteit Amsterdam, Netherlands
Tsagdis, Dimitrios, University of Hull, UK
Tsihrintzis, George A., University of Piraeus, Greece
Tsivacou, Ioanna, Panteion University, Greece
Virvou, Maria, University of Piraeus, Greece
Wong, Kuan Yew, Universiti Teknologi Malaysia, Malaysia
Yolles, Maurice, Liverpool John Moores University, UK
Zhichang, Zhu, University of Hull, UK
A few essentials for publishing in this journal
Submitted articles should not have been previously published or be currently under consideration for publication elsewhere.
Conference papers may only be submitted if the paper has been completely re-written (more details available here) and the author has cleared any necessary permissions with the copyright owner if it has been previously copyrighted.
Briefs and research notes are not published in this journal.
All our articles go through a double-blind review process.
All authors must declare they have read and agreed to the content of the submitted article. A full statement of our Ethical Guidelines for Authors (PDF) is available.
There are no charges for publishing with Inderscience, unless you require your article to be Open Access (OA). You can find more information on OA here.



Submission process

All articles for this journal must be submitted using our online submissions system.
View Author guidelines.