International Journal of Advanced Media and Communication
This journal also publishes Open Access articles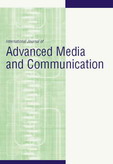 Editor in Chief

Dr. M.A. Dorgham

ISSN online

1741-8003

ISSN print

1462-4613
4 issues per year


CiteScore

0.8 (2020)

IJAMC is a refereed scholarly journal that provides an open forum for researchers, academics, engineers, and service providers in multimedia, particularly new media and communications protocols. It focuses on the role of new media and communication technologies as the knowledge infrastructure and the effect of representing information in various formats according to quality of service and quality of experience. IJAMC aims to provide state-of-the art knowledge in all aspects of advanced multimedia communications technology. A special emphasis is given to interdisciplinary research.
Topics covered include
Multimedia communications and Internet systems
P2P protocols and network overlays
Video/audio streaming and content delivery networks
Distributed multimedia technology, protocols, services
Multimedia information description, discovery, usage
Multimedia content processing
Haptics/tele-haptics
Collaborative environments
Security and intellectual property management
Educational multimedia and e-learning
Medical media, communications, and applications
Virtual reality and new media
Massively multiuser virtual environments, online gaming
More on this journal...
Objectives
IJAMC
aims at publishing high quality research papers produced by academics, engineers and invited guests on a variety of topics related to advanced multimedia communications. The research papers selected for publication in the journal are subject to an extensive review process by both internal and external referees. The mission of
IJAMC
is:
To advance international research on multimedia communications by publishing high quality articles
To expose the reader to various interdisciplinary use of new media
To provide an authoritative journal for readers
Readership
IJAMC provides a vehicle to help professionals, academics, researchers and policy makers, working in the field of information technology, telecommunications, computer science, and electrical engineering to disseminate information and to learn from each other's work.
Contents
IJAMC publishes original papers, review papers, case studies. Special Issues devoted to important topics in advanced media communications will occasionally be published. Excellent papers from international conferences are also published in this journal.
Editor in Chief
Dorgham, M.A., International Centre for Technology and Management, UK
(supportinderscience.com)
Editorial Board Members
Claypool, Mark, Worcester Polytechnic Institute, USA
Darlagiannis, Vasilios, EPFL IC LSIR, Switzerland
Dispert, Helmut, Kiel University of Applied Sciences, Germany
Hefeeda, Mohamed, Simon Fraser University, Canada
Hosseini, Mojtaba, Magor Communications Corp, Canada
Iglesias, Rosa, Ikerlan Research Centre, Spain
Ko, Franz I.S., Dongguk University, South Korea
Lang, Jochen, University of Ottawa, Canada
Liu, Peter X., Carleton University, Canada
Oliveira, Jauvane C. de, National Laboratory for Scientific Computation - LNCC / MCT, Brazil
Ooi, Wei Tsang, National University of Singapore, Singapore
Pakravan, Mohammad Reza, Sharif University of Technology, Iran
Petriu, Dorina C., Carleton University, Canada
Rensing, Christoph, Technische Universität Darmstadt, Germany
Rimac, Ivica, Bell Laboratories, USA
Sakr, Ziad, University of Trinidad and Tobago, Trinidad and Tobago
Sawyer, Steve, Syracuse University, USA
Shirmohammadi, Shervin, University of Ottawa, Canada
Smari, Waleed, University of Dayton, USA
Zink, Michael, University of Massachusetts, USA
Zwass, Vladimir, Fairleigh Dickinson University, USA
A few essentials for publishing in this journal
Submitted articles should not have been previously published or be currently under consideration for publication elsewhere.
Conference papers may only be submitted if the paper has been completely re-written (more details available here) and the author has cleared any necessary permissions with the copyright owner if it has been previously copyrighted.
Briefs and research notes are not published in this journal.
All our articles go through a double-blind review process.
All authors must declare they have read and agreed to the content of the submitted article. A full statement of our Ethical Guidelines for Authors (PDF) is available.
There are no charges for publishing with Inderscience, unless you require your article to be Open Access (OA). You can find more information on OA here.



Submission process

All articles for this journal must be submitted using our online submissions system.
View Author guidelines.