Latin American Journal of Management for Sustainable Development
This journal also publishes Open Access articles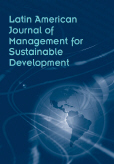 Editor in Chief

Associate Prof. Luciana Oranges Cezarino

ISSN online

2052-0344

ISSN print

2052-0336
4 issues per year

The Latin American region has experienced rapid political and economic change over recent decades. The challenges for its managers and academics are often different to those experienced in other parts of the world. Considering that Latin America is a relevant player in global societal challenges, LAJMSD provides an international forum for a better understanding of best practices of management focusing on sustainable development. It offers an enthusiastic scientific platform that contributes to the Latin business society in sustainability transitions.
Topics covered include
Sustainable development management
Latin America – emerging and developing countries
Strategy, competencies, capabilities and innovations for sustainability
Corporate social responsibility
Education for sustainable development
Climate change and global warming
Greener, cleaner, more sustainable and responsible operation practices
Diversity, inclusion, workplace and organisational behaviour
Harassment, rape, corruption, violence and crime reduction policies
Disclosure, circular and low-carbon economy
Traditional and native community
More on this journal...
Objectives
LAJMSD welcomes new applications of existing theories, new approaches to sustainability phenomena or novel empirical results that change the status quo in the management of sustainable development. The quality of explaining data through adequate theory to produce critical thinking is part of a rigorous criteria for accepting papers.
In addition, all research methods, political adherences or logical frameworks are considered. However, only studies that use high-quality standards are eligible. We guarantee a complete blind-review process that protects authors from any selection bias. Our reviewers are technically skilled and conscious of the editorial policies of the journal and the importance of scientific ethics.
We invite business and management scholars to disseminate sustainability inquiries in order to meet the objective of achieving the future we want for Latin America. LAJMSD accepts reviews, empirical research and theoretical papers.
Readership
The journal provides a vehicle to help professionals, academics, researchers and policy makers working in the field of sustainable development to disseminate scientific information.
Contents
LAJMSD publishes excellent and impactful research on sustainability issues in the management of Latin American organisations. Therefore, we seek contributions relevant to the general theory of management and its evolution that analyse the environmental, social, human and economic contexts of Latin American organisations. We encourage academics from the business and management fields to consider LAJMSD as a free arena for new discussions and perspectives on sustainable development in Latin America.
Editor in Chief
Cezarino, Luciana Oranges, Ca' Foscari University of Venice, Italy
(lajmsd.editorgmail.com)
Editor
Liboni, Lara Bartocci, University of Sao Paulo, Brazil
Associate Editors
Jabbour, Ana Beatriz Lopes de Sousa, University of Lincoln, UK
Jabbour, Charbel Chiapetta, University of Lincoln, UK
Assistant Editor
Stocco, Lucas Conde, University of Sao Paulo, Brazil
Editorial Board Members
Caeiro, Sandra Sofia Ferreira da Silva, Universidade Aberta, Portugal
Fernando, Yudi, Universiti Malaysia Pahang, Malaysia
González-Benito, Javier, Universidad de Salamanca, Spain
Kannan, Devika, University of Southern Denmark, Denmark
Lozano, Rodrigo, University of Gävle, Sweden
Machado, Marcio Cardoso, Universidade Paulista, Brazil
Meena, Purushottam Lal, College of Charleston, USA
Montoya-Torres, Jairo R., Universidad de La Sabana, Colombia
Puppim de Oliveira, José Antonio, Getulio Vargas Fundation - EAESP, Brazil
Rui, Zhenhua, Massachusetts Institute of Technology, USA
Sarkis, Joseph, Worcester Polytechnic Institute, USA
Venkatesh, V.G., École de management de Normandie, France
Yong, Geng, Shanghai Jiao Tong University, China
A few essentials for publishing in this journal
Submitted articles should not have been previously published or be currently under consideration for publication elsewhere.
Conference papers may only be submitted if the paper has been completely re-written (more details available here) and the author has cleared any necessary permissions with the copyright owner if it has been previously copyrighted.
Briefs and research notes are not published in this journal.
All our articles go through a double-blind review process.
All authors must declare they have read and agreed to the content of the submitted article. A full statement of our Ethical Guidelines for Authors (PDF) is available.
There are no charges for publishing with Inderscience, unless you require your article to be Open Access (OA). You can find more information on OA here.



Submission process

All articles for this journal must be submitted using our online submissions system.
View Author guidelines.