International Journal of Web Engineering and Technology
This journal also publishes Open Access articles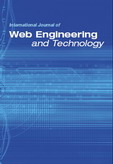 Executive Editor

Prof. Emeritus Lorna Uden

ISSN online

1741-9212

ISSN print

1476-1289
4 issues per year


CiteScore

0.8 (2021)

IJWET is a refereed international journal providing a forum and an authoritative source of information in the fields of web engineering and web technology. It is devoted to innovative research in the analysis, design, development, use, evaluation and teaching of web-based systems, applications, sites and technologies.
Topics covered include
Requirements specification/analysis, design methods/models
Architectural/design/navigation patterns, pattern mining, reuse, integration
Application frameworks/architectures, processes, methodologies, testing
Integration with legacy systems, migration of legacy systems to Web environments
Managing system evolution/maintenance; performance monitoring, evaluation metrics
Internet of Things [IoT] development and business models for IoT-based applications
Service oriented computing and privacy protection/security issues in the IoT
Web knowledge management, web agents, advanced hypermedia
[Mobile] web services, service-based approaches; e-commerce and e-business
Web engineering for wireless platforms
User interface design issues, customisation/personalisation
Web standards, usability, universal accessibility, Semantic Web
Big data and knowledge management/innovation
Big data theoretical development and business models of big data applications
Social networks and network security
More on this journal...
Objectives
IJWET aims to provide an interdisciplinary forum for the exchange of ideas concerning theoretical, technical, practical, social and pedagogical issues, and to publish research of the highest quality and significance. It focuses on the evolution of the software engineering process and dedicated technologies, methods and models for web applications. It addresses all aspects from conception, analysis and design to implementation, performance evaluation and continued maintenance.
Readership
Professionals, academics, researchers, and managers.
Contents
IJWET publishes original papers, case studies, technical reports, conference reports, educational approaches, book reviews, commentaries and news items. All papers, case studies and educational approaches will undergo a rigorous peer review process.
Executive Editor
Uden, Lorna, Staffordshire University, UK
(l.udenstaffs.ac.uk)
Associate Editor
Varlamis, Iraklis, Harokopio University of Athens, Greece
Editorial Board Members
Baez, Marcos, University of Trento, Italy
Basso, Fábio Paulo, Universidade Federal do Pampa, Brazil
Carvalho, Darlinton Barbosa Feres, Universidade Federal de São João del-Rei, Brazil
Distante, Damiano, University of Rome Unitelma Sapienza, Italy
Frasincar, Flavius, Erasmus University Rotterdam, Netherlands
Gan, Keng Hoon, Universiti Sains Malaysia, Malaysia
Karabatis, George, University of Maryland, Baltimore County (UMBC), USA
Koliver, Cristian, Universidade Federal de Santa Catarina , Brazil
Koloniari, Georgia, University of Macedonia, Greece
Kondylakis, Haridimos, Foundation of Research & Technology-Hellas (FORTH), Greece
Moreno García, María N., University of Salamanca, Spain
Rossi, Gustavo, Universidad Nacional de La Plata, Argentina
Vassilakis, Costas, University of Peloponnese , Greece
Veijalainen, Jari, University of Jyväskylä, Finland
Wang, Xianzhi, University of Technology Sydney, Australia
Yu, Hong Qing, University of Derby, UK
Zelenkov, Yuri, National Research University Higher School of Economics, Russian Federation
Zhu, Mingzhu, Apple Inc, USA
A few essentials for publishing in this journal
Submitted articles should not have been previously published or be currently under consideration for publication elsewhere.
Conference papers may only be submitted if the paper has been completely re-written (more details available here) and the author has cleared any necessary permissions with the copyright owner if it has been previously copyrighted.
Briefs and research notes are not published in this journal.
All our articles go through a double-blind review process.
All authors must declare they have read and agreed to the content of the submitted article. A full statement of our Ethical Guidelines for Authors (PDF) is available.
There are no charges for publishing with Inderscience, unless you require your article to be Open Access (OA). You can find more information on OA here.



Submission process

All articles for this journal must be submitted using our online submissions system.
View Author guidelines.