International Journal of Vehicle Information and Communication Systems
This journal also publishes Open Access articles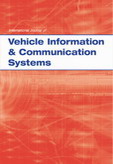 Editor in Chief

Associate Prof. Zhenling Liu

ISSN online

1741-8208

ISSN print

1471-0242
4 issues per year


CiteScore

1.0 (2022)

Information and communication systems of vehicles are the keys to make vehicles and transport systems smart. IJVICS focuses on novel/enhanced theories and applications of these two systems and their integration. It provides a forum for this important research area where the systems may assist the driver or even control the vehicle, big data analysis may help manufacturers build more convenient, comfortable and safer vehicles and the results may also be used to improve safety, efficiency and convenience of transport systems.
Topics covered include
Vehicular computers, human-machine interfaces, sensors and meters
Real-time data processing, artificial intelligence, cloud computing, modelling and simulation
Intelligent transportation, vehicle information, industrial IoT in vehicles
Cooperative/V2V/V2I communications
Positioning, localisation, navigation, mobility management
Communication theory/protocols
Vehicular wireless access technology
Collision avoidance systems, vehicle behaviour models
Quality of service, security, environmentally aware services
Cooperative driving, intelligent/self-driving vehicles
New energy vehicle and data management
Cyber-physical systems
Embedded vehicle engineering
Engineering design of optimal systems
More on this journal...
Objectives
IJVICS aims to highlight how information flow and communication takes place, as well as their interaction, effects and implications between systems and subsystems within the vehicle itself, between the vehicle and other vehicles and between the vehicle and the surrounding environment. Effects of such interaction on the driver, passengers and their safety; the associated environmental implications are also emphasised.
Readership
Professionals, academics, researchers, and managers.
Contents
IJVICS publishes papers which represent original research, development and applications, as well as case studies, review papers and technical reports.
Editor in Chief
Liu, Zhenling, Henan University of Technology, China
(ijvics.editorgmail.com)
Advisory Board
Mall, Rajib, Indian Institute of Technology, Kharagpur, India
Sheu, Jiang-Ping, National Tsing Hua University, Taiwan, Province of China
Wu, Jie, Temple University, USA
Editorial Board Members
Byon, Young-ji, Northwestern College, USA
Cengiz, Korhan, Trakya University, Turkey
Chao, Chih-Min, National Taiwan Ocean University, Taiwan, Province of China
Eiza, Max Hashem, Liverpool John Moores University, UK
Gowda, Dankan V., B.M.S Institute of Technology and Management, India
Huang, Yanjun, Tongji University, China
Kolandaisamy, Raenu, UCSI University, Malaysia
Kumar, Pradeep, University of KwaZulu-Natal, South Africa
Lee, SuKyoung, Yonsei University, South Korea
Nguyen, Ngoc Tu, Purdue University Fort Wayne, USA
Onyema, Edeh Michael, Coal City University, Nigeria
Ponnusamy, Vijayakumar, SRM Institute of Science and Technology, India
Reddy, Alavalapati Goutham, Fontbonne University, USA
Sahoo, Prasan Kumar, Chang Gung University, Taiwan, Province of China
Yuvaraja, T., Channabasaveshwara Institute of Technology, India
Zhang, Ning, University of Waterloo, Canada
A few essentials for publishing in this journal
Submitted articles should not have been previously published or be currently under consideration for publication elsewhere.
Conference papers may only be submitted if the paper has been completely re-written (more details available here) and the author has cleared any necessary permissions with the copyright owner if it has been previously copyrighted.
Briefs and research notes are not published in this journal.
All our articles go through a double-blind review process.
All authors must declare they have read and agreed to the content of the submitted article. A full statement of our Ethical Guidelines for Authors (PDF) is available.
There are no charges for publishing with Inderscience, unless you require your article to be Open Access (OA). You can find more information on OA here.



Submission process

All articles for this journal must be submitted using our online submissions system.
View Author guidelines.