International Journal of Technology Intelligence and Planning
This journal also publishes Open Access articles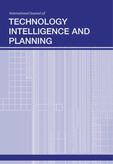 Editor in Chief

Prof. Nazrul Islam

ISSN online

1740-2840

ISSN print

1740-2832
4 issues per year


CiteScore

1.7 (2022)

IJTIP is an international research and practice-based journal which encompasses all aspects of technology analysis, dealing with quantitative, qualitative or hybrid features of technology research and their impacts. It provides an authoritative source of information, answering the needs of academics and practitioners in the fields of technology intelligence, technology planning and roadmapping, technological change, technology controlling and technology decision-making processes.
Topics covered include
Organising technology intelligence, planning, resource allocation, controlling, decision-making processes

Choosing/using such processes, e.g. core competence analysis, roadmapping, bibliometrics
Phenomenon of emergent strategies, implications for these processes
Different management levels (lower/middle/top management), relevance to these processes
Strategy implementation and these processes
Entrepreneurial behaviour (promoters, gatekeepers, etc.), implications for these processes

Strategy development:

Technology selection, make-or-buy, keep-or-sell decision making

Technological change and technology decision-making processes
Impact of technology intelligence/planning/controlling processes on decision making, organisational learning
Politics, bounded rationality, etc. in technology decision making
Linking technology strategy to company strategy and functional strategies
Technological decision making in high-velocity environments
More on this journal...
Objectives
IJTIP aims to further the development of the field of technology analysis, intelligence, planning and roadmapping. A specific goal is to connect the research done by academics and professionals in the field and to link it to research streams on organisational decision making and learning.
Readership
IJTIP disseminates knowledge and establishes channels of communication between policy makers, professionals and experts working in universities, research institutions and industry.
Contents
IJTIP publishes original papers, theory-based empirical papers, bibliometrics, review papers, case studies with profound implications for theory, relevant technology intelligence and planning reports, book reviews and research notes. Commentaries on papers and reports published in the journal are encouraged.
Editor in Chief
Islam, Nazrul, University of Exeter, UK
(ijtipeditorgmail.com)
Associate Editors
Avila-Robinson, Alfonso, Tecnológico de Monterrey, Mexico
Walsh, Steven T., University of New Mexico, USA
Editorial Board Members
Ahluwalia, Saurabh, University of New Mexico, USA
Alberti, Fernando G., LIUC Università Cattaneo, Italy
Antal, Ariane Berthoin, Wissenschaftszentrum Berlin, Germany
Ashton, W. Bradford, Concurrent Technologies Corporation (CTC), USA
Caldwell, Barrett S., Purdue University, USA
Chen, Kaihua, Institute of Science, Technology, Policy, and Management, China
Chiesa, Vittorio, Politecnico di Milano, Italy
Chowdhury, Daba, University of Suffolk, UK
Cohen, Susan K., University of Pittsburgh, USA
De Meyer, Arnoud, Singapore Management University, Singapore
Dodgson, Mark, University of Queensland Business School, Australia
Dou, Henri, L'Ecole Supérieure de Commerce et de Management de Tours-Poitiers, France
Fleisher, Craig S., Aurora WDC, USA
Gemünden, Hans Georg, Technical University of Berlin, Germany
Gerdsri, Nathasit, Mahidol University, Thailand
Gerybadze, Alexander, Universität Hohenheim, Germany
Guild, Paul, University of Waterloo, Canada
Herstatt, Cornelius, Technische Universität Hamburg-Harburg (TUHH), Germany
Kappel, Thomas A., Danfoss Power Electronics, USA
Klavans, Richard A., SciTech Strategies, Inc., USA
Lichtenthaler, Ulrich, Otto Beisheim Graduate School of Management, Germany
Macdonald, Stuart, University of Leicester, UK
Moehrle, Martin G., Universität Bremen, Germany
Nobeoka, Kentaro, Hitotsubashi University, Japan
Pizzurno, Emanuele, LIUC Università Cattaneo, Italy
Prescott, John E., University of Pittsburgh, USA
Probert, David, University of Cambridge, UK
Reinmöller, Patrick, Cranfield University, UK
Savioz, Pascal, Mageba (Shanghai) Bridge Products Co., Ltd., China
Su, Hsin-Ning, National Chiao Tung University, Taiwan, Province of China
Tschirky, Hugo, Swiss Federal Institute of Technology Zurich (ETHZ), Switzerland
Yuan, Fei, Beijing University of Technology, China
A few essentials for publishing in this journal
Submitted articles should not have been previously published or be currently under consideration for publication elsewhere.
Conference papers may only be submitted if the paper has been completely re-written (more details available here) and the author has cleared any necessary permissions with the copyright owner if it has been previously copyrighted.
Briefs and research notes are not published in this journal.
All our articles go through a double-blind review process.
All authors must declare they have read and agreed to the content of the submitted article. A full statement of our Ethical Guidelines for Authors (PDF) is available.
There are no charges for publishing with Inderscience, unless you require your article to be Open Access (OA). You can find more information on OA here.



Submission process

All articles for this journal must be submitted using our online submissions system.
View Author guidelines.