International Journal of Surface Science and Engineering
This journal also publishes Open Access articles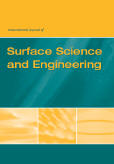 Editor in Chief

Prof. J. Paulo Davim

ISSN online

1749-7868

ISSN print

1749-785X
4 issues per year


Impact factor (Clarivate Analytics) 2023

0.8 (5 Year Impact Factor 1)
JCI 0.19

CiteScore

1.9 (2022)

IJSurfSE publishes refereed quality papers in the broad field of surface science and engineering including tribology, but with a special emphasis on the research and development in friction, wear, coatings and surface modification processes such as surface treatment, cladding, machining, polishing and grinding, across multiple scales from nanoscopic to macroscopic dimensions. High-integrity and high-performance surfaces of components have become a central research area in the professional community whose aim is to develop highly reliable ultra-precision devices.
Topics covered include
Surface characterisation and metrology
Surface integrity
Contact mechanics
Friction and wear, including mechanisms, modelling, characterisation, measurement and testing
Interface temperatures of sliding surfaces
Lubrication and lubricants
Coatings and surface treatments
Multiscale tribology including biomedical/biological systems and manufacturing processes
Tribology of composite materials: metallic, polymeric and ceramic
Tribological applications
Nanoscale tribology
Surface modifications, including surface cladding, cutting, polishing and grinding
Special surfaces such as those for high-performance lenses
More on this journal...
Objectives
The objectives of IJSURFSE are to establish a channel of communication to disseminate knowledge between academics/researchers and industry practitioners. Because of the multiscale nature of surface science and engineering, IJSURFSE will provide a forum for cross-scale investigations into the property, integrity and durability of surfaces and subsurfaces of advanced elements.
Readership
Disciplines:
Academics; materials researchers; materials, manufacturing and mechanical engineers; physicists in surface analysis; professionals in tribology and surface engineering and related industries.
Scales:
From nanoscopic (e.g. nanoscience and nanotechnology) to macroscopic.
Contents
IJSURFSE publishes original research papers; review papers; technical papers and notes; short communications; discussion on papers; cases studies; special issues on selected topic reflecting important advances in the general field of surface science and technology.
Editor in Chief
Davim, J. Paulo, University of Aveiro, Portugal
(pdavimua.pt)
Associate Editor
Tsai, Hung-Yin, National Tsing Hua University, Taiwan, Province of China
Editorial Board Members
Baptista, A. Monteiro, University of Porto, Portugal
Bermúdez, M. D., Polytechnical University of Cartagena, Spain
Bhushan, Bharat, Ohio State University, USA
Celis, Jean-Pierre, Katholieke Universiteit Leuven (KULeuven), Belgium
Colaço, Rogério, IST-Technical University of Lisbon, Portugal
De Mello, José Daniel Biasoli, University Federal of Uberlândia, Brazil
Fillon, Michel, Institut Pprime, CNRS - Université de Poitiers - ENSMA, UPR 3346, France
Friedrich, K., University of Kaiserslautern, Germany
Gao, Wei, Tohoku University, Japan
Gomes, José, University of Minho, Portugal
Grum, Janez, University of Ljubljana, Slovenia
Hodgson, Peter, Deakin University, Australia
Holmberg, Kenneth, VTT Technical Research Centre of Finland, Finland
Huang, Han, The University of Queensland, Australia
Jiang, Zhengyi, University of Wollongong, Australia
Kapoor, Ajay, Swinburne University of Technology, Australia
Kuriyagawa, Tsunemoto, Tohoku University, Japan
Li, Lin, University of Manchester, UK
Luo, Jianbin, Tsinghua University, China
Miranda, A. Sousa, University of Minho, Portugal
Neville, Anne, University of Leeds, UK
Ngan, Alfonso H W, The University of Hong Kong, Hong Kong SAR, China
Polini, Riccardo, Università di Roma 'Tor Vergata', Italy
Ramalho, Amílcar, University of Coimbra, Portugal
Rocha, Luís, University of Minho, Portugal
Santo, Loredana, University of Rome 'Tor Vergata', Italy
Seabra, Jorge, University of Porto, Portugal
Sinatora, Amilton, University of S. Paulo, Brazil
Sousa, Luisa, University of Porto, Portugal
Subramanian, K., Saint-Gobain Co., USA
Suh, Nam Pyo, Korea Advanced Institute of Science and Technology (KAIST), South Korea
Teixeira, Vasco, University of Minho, Portugal
Tieu, Kiet, University of Wollongong, Australia
Vieira, Teresa, University of Coimbra, Portugal
Zhang, Liangchi, Southern University of Science and Technology, China
A few essentials for publishing in this journal
Submitted articles should not have been previously published or be currently under consideration for publication elsewhere.
Conference papers may only be submitted if the paper has been completely re-written (more details available here) and the author has cleared any necessary permissions with the copyright owner if it has been previously copyrighted.
Briefs and research notes are not published in this journal.
All our articles go through a double-blind review process.
All authors must declare they have read and agreed to the content of the submitted article. A full statement of our Ethical Guidelines for Authors (PDF) is available.
There are no charges for publishing with Inderscience, unless you require your article to be Open Access (OA). You can find more information on OA here.



Submission process

All articles for this journal must be submitted using our online submissions system.
View Author guidelines.