International Journal of Spatial, Temporal and Multimedia Information Systems
This journal also publishes Open Access articles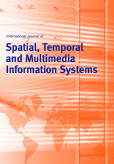 Editor in Chief

Prof. Wassim Jaziri

ISSN online

2052-3564

ISSN print

2052-3556
4 issues per year

IJSTMIS is an international peer-reviewed journal covering innovative research and practice in the rapidly advancing area of computer science related to new generations of information systems. Taking a multidisciplinary approach, IJSTMIS encourages both fundamental and applied research papers that report on activities related to new research and development at the interface of spatial, temporal and multimedia studies as well as associated fields.
Topics covered include
Geographic information systems
Temporal systems, real-time systems
Multimedia systems, techniques, simulation, database management
Spatio-temporal data management and modelling
Query languages, temporal and spatial data mining and data warehousing
Mobile/nomadic computing, mobile systems, moving objects
Pervasive and ubiquitous computing
Hardware and software solutions for spatial, real-time and multimedia systems
Real-time applications, intelligent transport
E-technologies and mobile technologies
Semantic information systems
Human-computer interfaces
Geomatics, spatial analysis, spatial decision aids
Environmental sciences, regional development, natural resources management, etc.
New generations of information systems
More on this journal...
Objectives
Located at the confluence of related and rapidly advancing domains, IJSTMIS aims to provide a forum for disseminating original research and experiences in the expanding uses of computer science for spatial, temporal and multimedia studies as well as newly-emerging topics. Thereby, its objective is to be an effective channel of communication between academic and industrial researchers in these domains in which advances in both worlds are very closely coupled.
Readership
IJSTMIS has a dual emphasis and serves as a common forum for frontline industrial developments as well as pioneering academic research. It provides a vehicle to help professionals, academics, researchers and policy makers working in the field of spatial, temporal and multimedia information systems, as well as emerging new topics, to disseminate information and to learn from each other's work.
Contents
IJSTMIS publishes high quality original papers, review papers, technical reports, case studies, conference reports and book reviews. Special Issues devoted to important topics in new generations of information systems will occasionally be published.
IJSTMIS is indexed in:
IJSTMIS is listed in:

This journal is yet to be included in any lists or directories.

Editor in Chief
Jaziri, Wassim, Taibah University, Saudi Arabia and Sfax University, Tunisia
(jaziri.wassimgmail.com)
Deputy Editor
Mainguenaud, Michel, INSA Rouen, France
Editorial Board Members
Albdaiwi, Bader, Kuwait University, Kuwait
Bajjali, William, University of Wisconsin – Superior, USA
Belghith, Abdelfettah, University of Manouba, Tunisia
Bouaziz, Rafik, University of Sfax, Tunisia
Chow, Chi-Yin, City University of Hong Kong, Hong Kong SAR, China
Claramunt, Christophe, Naval Academy Research Institute , France
Clementini, Eliseo, University of L'Aquila, Italy
Delavar, Mahmoud Reza, University of Tehran, Iran
Dong, Pinliang, University of North Texas, USA
Duvallet, Claude, University of Le Havre, France
Faiz, Sami, University of Jendouba, Tunisia
Falquet, Gilles, University of Geneva, Switzerland
Fukuta, Naoki, Shizuoka University , Japan
Huang, Helen, University of Queensland, Australia
Joliveau, Thierry, Université Jean Monnet - Saint-Etienne, France
Li, Xiang, East China Normal University, China
Meng, Xiaolin, University of Nottingham, UK
Millward, Hugh, Saint Mary's University, Canada
O'Hare, Gregory, University College Dublin, Ireland
Obermeyer, Nancy, Indiana State University, USA
Pantazis, Dimos, TEI Athens, Greece
Posegga, Joachim, University of Passau, Germany
Roche, Stéphane, Université Laval, Canada
Roussey, Catherine, Irstea/Cemagref, France
Sedes, Florence, Université Paul Sabatier, France
Smit, Julian, University of Cape Town, South Africa
Teller, Jacques, Université de Liège, Belgium
Wachowicz, Monica, University of New Brunswick, Canada
Weber, Christiane, University of Strasbourg, France
A few essentials for publishing in this journal
Submitted articles should not have been previously published or be currently under consideration for publication elsewhere.
Conference papers may only be submitted if the paper has been completely re-written (more details available here) and the author has cleared any necessary permissions with the copyright owner if it has been previously copyrighted.
Briefs and research notes are not published in this journal.
All our articles go through a double-blind review process.
All authors must declare they have read and agreed to the content of the submitted article. A full statement of our Ethical Guidelines for Authors (PDF) is available.
There are no charges for publishing with Inderscience, unless you require your article to be Open Access (OA). You can find more information on OA here.



Submission process

All articles for this journal must be submitted using our online submissions system.
View Author guidelines.