International Journal of Spatio-Temporal Data Science
This journal also publishes Open Access articles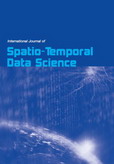 Editor in Chief

Dr. M.A. Dorgham

ISSN online

2399-1283

ISSN print

2399-1275
4 issues per year

The rapid pace of data growth through proliferating, disparate location-sensing sources has given rise to a paradigm shift in how new age spatio-temporal (big) data is processed. Confidence in existing/traditional data engineering capabilities is gradually fading, triggering an urgent need for the next generation data management and analytical frameworks to deal with scalable spatio-temporal big data. IJSTDS addresses the issues/challenges increasingly posed by overly complex and geographically distributed spatio-temporal data, a rapidly growing area in the realm of big data.
Topics covered include
Algorithms, applications and challenges
Spatio-temporal (big) data in GIS, remote sensing, photogrammetry and computing
Next-generation technologies for data
Spatio-temporal data engineering
Scalable spatio-temporal data analytics issues and challenges
NoSQL solutions
Scalable geospatial analytics for satellite and aerial imagery
Rich and interactive visual and media analytics
Query advancements
Cloud computing support in data engineering, management and processing
Geomatics, spatial analysis and decision aids
Scalable geospatial analytics for smart and precision agriculture
Internet of Things evolution and spatio-temporal data
Artificial intelligence, machine learning and deep learning with data
Blockchain technology for data and information
More on this journal...
Objectives
As data-driven research is rapidly gaining momentum, IJSTDS intends to publish high-quality scholarly original research on all aspects of spatio-temporal data science. The primary mission of IJSTDS is to be instrumental in the advancements of contemporary spatio-temporal data science. It focuses on improvement and development of new tools and techniques, algorithms for spatio-temporal data science and a wide variety of data-driven applied research across diverse domains.
Readership
The intended audience of IJSTDS will be researchers from academia and industry and practitioners who deal with spatio-temporal data from the various relevant domains. The readership will include academics, applied statisticians, archivists, consultants, data analysts and data miners, database administrators, educators and graduate students, engineers, librarians, management scientists, operation researchers, policy makers, problem solvers and decision makers, programmers, and strategic planners.
Contents
IJSTDS publishes high quality original papers, review papers, technical reports, case studies, conference reports and book reviews. Special Issues devoted to important topics in spatio-temporal data science will occasionally be published.
Honorary Editor
Sharma, Sugam, Iowa State University, USA
Editor in Chief
Dorgham, M.A., International Centre for Technology and Management, UK
(supportinderscience.com)
Associate Editors
Chehbi-Gamoura, Samia, University of Strasbourg, France
Lomotey, Richard, Pennsylvania State University, USA
Wachowicz, Monica, University of New Brunswick, Canada
Editorial Board Members
Amirian, Pouria, University of Oxford, UK
Basiri, Anahid, University of Southampton, UK
Bojic, Iva, Massachusetts Institute of Technology, USA
Chang, Victor, Aston University, UK
Gadia, Shashi, Iowa State University, USA
Goundar, Sam, RMIT University, Vietnam
Goyal, S.B., City University of Malaysia, Malaysia
Hu, Jinyu (Jenny), Stanford University, USA
Iglesias Prieto, Andres, University of Cantabria, Spain
Iqbal, Rahat, Coventry University, UK
Jakobczak, Dariusz Jacek, Koszalin University of Technology, Poland
Kolekar, Maheshkumar H., Indian Institute of Technology Patna, India
Kor, Ah-Lian, Leeds Beckett University, UK
Li, Kun, Google Inc., USA
Liiv, Innar, University of Oxford, UK
Mandal, Debasis, Synopsys, Inc., USA
Mills, Aaron, BAE Systems, USA
Peddoju, Sateesh K., Indian Institute of Technology Roorkee, India
Qamar, Shamimul, King Khalid University, Saudi Arabia
Rombo, Simona E., Università degli Studi di Palermo, Italy
Sharma, Subhash C., Indian Institute of Technology Roorkee, India
Shukla, Parijat, National University of Ireland, Ireland
Srivastava, Praveen Ranjan, Indian Institute of Management, Rohtak, India
Sumalpong-Montenegro, Chuchi, Silliman University, Philippines
Sureephong, Pradorn, Chiang Mai University, Thailand
Tim, U. Sunday, Iowa State University, USA
Tomaiuolo, Michele, University of Parma, Italy
Varfolomeyev, Aleksey, Petrozavodsk State University, Russian Federation
Vendrusculo, Laurimar G., Ministry of Agriculture, Brazil
Wiktorski, Tomasz, University of Stavanger, Norway
Yahyapour, Ramin, Georg-August-Universität Göttingen, Germany
Yerramilli, Sudha, Jackson State University, USA
A few essentials for publishing in this journal
Submitted articles should not have been previously published or be currently under consideration for publication elsewhere.
Conference papers may only be submitted if the paper has been completely re-written (more details available here) and the author has cleared any necessary permissions with the copyright owner if it has been previously copyrighted.
Briefs and research notes are not published in this journal.
All our articles go through a double-blind review process.
All authors must declare they have read and agreed to the content of the submitted article. A full statement of our Ethical Guidelines for Authors (PDF) is available.
There are no charges for publishing with Inderscience, unless you require your article to be Open Access (OA). You can find more information on OA here.



Submission process

All articles for this journal must be submitted using our online submissions system.
View Author guidelines.