International Journal of Swarm Intelligence
This journal also publishes Open Access articles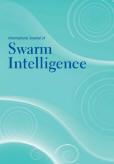 Editor in Chief

Dr. Mario Pavone

ISSN online

2049-405X

ISSN print

2049-4041
2 issues per year

Swarm intelligence is a computational intelligence technique to solve complex real-world problems. It involves the study of collective behaviour of individuals in a population who interact locally with one another and with their environment in a decentralised control system. IJSI is a peer-reviewed international publication dedicated to reporting research and new developments in the multidisciplinary field of swarm intelligence.
Topics covered include
Particle swarm optimisation
Artificial bees and fireflies algorithm
Bacterial foraging optimisation
Ant colony optimisation
Swarm robotics
Artificial immune systems
Glow worm swarm optimisation
Hybridisation of swarm intelligence methods
Numerical algorithms formulation and analysis
Review and comparative studies of swarm intelligence techniques
New methodologies inspired from learning behaviour of social insects
Theory and practice of swarm intelligence methods in different domains
Real-world problem solving using swarm intelligence methods
More on this journal...
Objectives
IJSI serves as a forum for facilitating and enhancing information-sharing among swarm intelligence researchers in the field, ranging from algorithm developments to real-world applications. Targeting researchers, academicians, students and engineers, this journal provides innovative findings in swarm intelligence, computational intelligence and their applications.
Readership
IJSI is aimed at professionals, academics, students, researchers and policy makers who are interested in the potential of swarm intelligence based techniques for solving problems. In particular, this includes people with background in computer science, mathematics, engineering and quantitative management science. IJSI may serve as a reference title for the courses like soft computing, computational intelligence or swarm intelligence.
Contents
IJSI publishes all types of original research work such as papers, review papers, technical reports, conference papers (if substantially extended) and book reviews which have not been published elsewhere. Special Issues devoted to important topics in computational intelligence will occasionally be published.
Honorary Editors
Bansal, Jagdish Chand, South Asian University, India
Formato, Richard A., USA
Editor in Chief
Pavone, Mario, University of Catania, Italy
(mpavonedmi.unict.it)
Executive Editors
Deep, Kusum, Indian Institute of Technology Roorkee, India
Simon, Dan, Cleveland State University, USA
Associate Editors
Clerc, Maurice, SAU Center for Research and Innovative Learning, India
Sharma, Harish, Rajasthan Technological University, India
Honorary Advisory Board
Deb, Kalyanmoy, Michigan State University, USA
Deshmukh, S.G., ABV-Indian Institute of Information Technology and Management Gwalior, India
Sanyal, Sugata, Tata Consultancy Services, India
Suganthan, Ponnuthurai Nagaratnam, Nanyang Technological University, Singapore
Verma, A.K., Indian Institute of Technology Bombay, India
Vrahatis, Michael N., University of Patras, Greece
Editorial Board Members
Acan, Adnan, Eastern Mediterranean University, Cyprus
Akay, Bahriye Baþtürk, Erciyes University, Turkey
Ali, Montaz, Witwatersrand University, South Africa
Barbosa, Helio J.C., LNCC/MCT - Laboratório Nacional de Computação Científica , Brazil
Blackwell, Tim, Goldsmiths, University of London , UK
Chan, Jonathan H., King Mongkut's University of Technology Thonburi, Thailand
Coello Coello, Carlos A., CINVESTAV-IPN, Mexico
Das, Swagatam, Indian Statistical Institute (ISI), India
Engelbrecht, Andries, University of Pretoria, South Africa
Fernández Martínez, Juan Luis, University of Oviedo, Spain
Gao, Xiao-Zhi, University of Eastern Finland, Finland
García Gonzalo, Maria Esperanza, University of Oviedo, Spain
Geem, Zong Woo "Victor", Gachon University, South Korea
Ghose, Debasish, Indian Institute of Science, India
Gong, Wenyin, China University of Geosciences, China
Kim, Joong Hoon, Korea University, South Korea
Krishnamoorthy, Mohan, Monash University, Australia
Lim, Meng-Hiot, Nanyang Technological University, Singapore
Liu, Hongbo, Dalian Maritime University, China
Monmarché, Nicolas, Université François Rabelais Tours, France
Nagar, Atulya K., Liverpool Hope University, UK
Omran, Mahamed G.H., Gulf University for Science and Technology, Kuwait
Pan, Linqiang, Huazhong University of Science and Technology , China
Parsopoulos, Konstantinos E., University of Ioannina, Greece
Salhi, Said, University of Kent, UK
Shrivastava, Vivek, Rajasthan Technical University, India
Siarry, Patrick, Université de Paris 12, France
Yang, Xin-She, Middlesex University, UK
A few essentials for publishing in this journal
Submitted articles should not have been previously published or be currently under consideration for publication elsewhere.
Conference papers may only be submitted if the paper has been completely re-written (more details available here) and the author has cleared any necessary permissions with the copyright owner if it has been previously copyrighted.
Briefs and research notes are not published in this journal.
All our articles go through a double-blind review process.
All authors must declare they have read and agreed to the content of the submitted article. A full statement of our Ethical Guidelines for Authors (PDF) is available.
There are no charges for publishing with Inderscience, unless you require your article to be Open Access (OA). You can find more information on OA here.



Submission process

All articles for this journal must be submitted using our online submissions system.
View Author guidelines.