International Journal of Supply Chain and Operations Resilience
This journal also publishes Open Access articles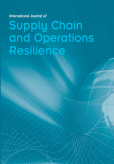 Editor in Chief

Prof. Ming K. Lim

ISSN online

2052-8698

ISSN print

2052-868X
2 issues per year

Supply chains and business operations are the backbone for development and growth of organisations and nations. Today's uncertain, turbulent environments expose supply chains and business operations to risks/disruptions that can significantly damage organisations and economies. IJSCOR presents the latest research/developments in supply chain/operations resilience strategies, highlighting theoretical research with practical applications. Besides being a theoretical platform for the academic community, IJSCOR helps practitioners bridge the gap between supply chain and operations resilience theory and its effective deployment and application.
Topics covered include
Resilient supply chain management, operational resilience in industrial systems
Reverse logistics, green supply, closed loop/knowledge-based supply chains, RFID
Vendor/supplier selection, supplier development, purchasing management
Disaster management
Supply chain performance/optimisation/risk/decision making/support systems
Responsive and reconfigurable supply chains and operations
Materials, equipment and maintenance management in uncertain environments
Global lean/agile supply chains and operations management
Internal operations and systems re-engineering, improvement, optimisation
E-commerce supply and operations management, aggregate planning, ERP, MRP, JIT
Resilient strategic thinking and implications, organisational resilience
Modelling, risk analysis and risk management
Education and training
Quality management (e.g. business excellence models, six sigma, TQM, SPC, etc.)
Empirical research and case studies
More on this journal...
Objectives
IJSCOR aims to provide a platform for exchanging innovative ideas and sharing practical experiences in managing, improving and sustaining resilience strategies for supply chains and business operations. The global dimension is emphasised in developing effective strategies, tactics, operational policies and methods to improve the robustness of supply chain and business operations in order to make them less susceptible to external and systematic vulnerabilities.
Readership
IJSCOR provides a vehicle to help professionals, senior executives, academics, researchers, industry consultants, and policy makers working in the fields of supply chain and operations management to disseminate state-of-the-art knowledge and information and to learn from each other's work.
Contents
IJSCOR publishes original papers, review papers, case studies, empirical research, technical notes, and book reviews. Special Issues devoted to important topics in supply chain and operations management issues will occasionally be published. Supply chain and business operations improvement strategies, methods and techniques of both theoretical and practical nature are welcome. Articles that deal not only with the resilience aspect but also general aspects of supply chain and business operations issues in the service industry (e.g. IT, transportation, distribution, logistics, etc.), public services (e.g. healthcare, defence, etc.), manufacturing industry (e.g. automobile, food, aerospace, durable products, etc.), process industry (e.g. oil and gas, energy production, mining, etc.) and education are encouraged.
Editor in Chief
Lim, Ming K., University of Glasgow, UK
(ming.limglasgow.ac.uk)
Editors
Garza-Reyes, Jose Arturo, University of Derby, UK
Kumar, Vikas, Birmingham City University, UK
Managing Editor
Wang, Chao, Beijing University of Technology, China
European Editor
Ghadimi, Pezhman, University College Dublin, Ireland
Editorial Board Members
Akkaranggoon, Supalak, Khon Kaen University, Thailand
Amorim, Marlene, University of Aveiro, Portugal
Azevedo, Americo, University of Porto, Portugal
Batista, Luciano, Northampton University, UK
Benyoucef, Lyes, Aix-Marseille University, France
Brady, Malcolm, Dublin City University, Ireland
Chan, Felix T.S., Macau University of Science and Technology, Macao
Chang, Yoon Seok, Korea Aerospace University, South Korea
Chong, Alain Yee-Loong, University of Nottingham, Ningbo Campus, China
Gunasekaran, Angappa, Penn State Harrisburg, USA
Hellström, Daniel, Lund University , Sweden
Hvolby, Hans-Henrik, Aalborg University, Denmark
Kumar, Maneesh, Cardiff University, UK
Kumar, Niraj, University of Liverpool Management School, UK
Laureani, Alessandro, Google Ireland, Ireland
Li, Qingwei, Eastman Chemical Company, USA
Locatelli, Giorgio, University of Lincoln, UK
O'Regan, Nicholas, Aston University, UK
Perez-Araos, Agustin, Instituto Technologico de Estudios Superiores de Monterrey (ITESM), Mexico
Rocha-Lona, Luis, Instituto Politécnico Nacional, Mexico
Soriano-Meier, Horacio, University of Northampton , UK
Tan, Kim Hua, Nottingham University, UK
Tan, Raymond R., De La Salle University, Philippines
Tiwari, Manoj Kumar, Indian Institute of Technology, India
Tseng, Ming-Lang, Asia University, Taiwan, Province of China
van Riel, A.C.R., Radboud University Nijmegen, Netherlands
Wang, Yi-Chi, Feng Chia University, Taiwan, Province of China
A few essentials for publishing in this journal
Submitted articles should not have been previously published or be currently under consideration for publication elsewhere.
Conference papers may only be submitted if the paper has been completely re-written (more details available here) and the author has cleared any necessary permissions with the copyright owner if it has been previously copyrighted.
Briefs and research notes are not published in this journal.
All our articles go through a double-blind review process.
All authors must declare they have read and agreed to the content of the submitted article. A full statement of our Ethical Guidelines for Authors (PDF) is available.
There are no charges for publishing with Inderscience, unless you require your article to be Open Access (OA). You can find more information on OA here.



Submission process

All articles for this journal must be submitted using our online submissions system.
View Author guidelines.