International Journal of Risk Assessment and Management
This journal also publishes Open Access articles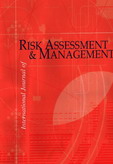 Editor in Chief

Dr. M.A. Dorgham

ISSN online

1741-5241

ISSN print

1466-8297
4 issues per year


CiteScore

1.6 (2022)

IJRAM is an interdisciplinary and refereed journal that provides cross learning between:
Different business and economics, as well as scientific and technological, disciplines
Energy industries, environmental and ecological systems
Safety, public health and medical services
Software services, reliability and safety
Topics covered include
Principles and theory of risk assessment and management
Risk assessment policy, standards and regulations
Risk-based decision making and risk management
Decision making and decision support systems for risk and disaster management on regional and global scales
Risk perception and communications
Risk assessment and control
Risk characterisation
Dynamic risk assessment
Integration of risk models and quantifications
Advanced concepts and information technologies in risk assessment and management
Integrated risk assessment and safety management
Integrated risk assessment in developing and rapidly developing countries
More on this journal...
Objectives
IJRAM aims to provide an international forum for researchers and practitioners across the many relevant disciplines and industries to disseminate information and learn from each other|s work.
Readership
Professionals, academics, researchers, and managers.
Contents
IJRAM publishes original and review papers, technical reports, case studies, conference reports, management reports, book reviews, and notes commentaries and news. Contribution may be by submission or invitation, and suggestions for special issues and publications are welcome.
Editor in Chief
Dorgham, M.A., International Centre for Technology and Management, UK
(editorialinderscience.com)
Associate Editor
Busby, Jerry, Lancaster University, UK
European Editor
Jovanovic, Aleksandar, European Virtual Institute for Integrated Risk Management, Germany
Editorial Board Members
Batson, Robert G., The University of Alabama, USA
Beroggi, Giampiero E.G., Zurich University of Applied Sciences, Switzerland
Chapman, Chris B., University of Southampton, UK
Charnley Elliott, Gail, Health Risk Strategies, USA
Corotis, Ross B., University of Colorado, USA
Drottz Sjöberg, Britt-Marie, Norwegian University of Science and Technology (NTNU), Norway
Gheorghe, Adrian V., Old Dominion University, USA
Guidotti, Tee L., Medical Advisory Services, USA
Haynes, Kingsley E., George Mason University, USA
Hirschberg, Stefan, Paul Scherrer Institute, Switzerland
Krewski, Daniel, University of Ottawa, Canada
Kunreuther, Howard, University of Pennsylvania, USA
Levner, Eugene, Holon Institute of Technology, Israel
Lofstedt, Ragnar E., King's College London, UK
Micallef, Stefan, United Nations Environment Program (UNEP), Kenya
Papazoglou, Ioannis A., National Centre for Scientific Research 'DEMOKRITOS', Greece
Paté-Cornell, M. Elisabeth, Stanford University, USA
Renn, Ortwin, Institute for Advanced Sustainability Studies (IASS), Potsdam, Germany
Rotmans, Jan, DRIFT, Dutch Research Institute For Transitions, Netherlands
Rutledge, Peter J., NASA Headquarters, USA
Sjöberg, Lennart, Stockholm School of Economics, Sweden
Suder, Gabriele, The University of Melbourne, Australia
Turner, John V., National Aeronautics and Space Administration, USA
Wallace, William A., Rensselaer Polytechnic Institute, USA
Wei, Yi-Ming, Beijing Institute of Technology (BIT), China
Wilson, Richard, Harvard University, USA
Wu, Desheng (Dash), University of Toronto, Canada
A few essentials for publishing in this journal
Submitted articles should not have been previously published or be currently under consideration for publication elsewhere.
Conference papers may only be submitted if the paper has been completely re-written (more details available here) and the author has cleared any necessary permissions with the copyright owner if it has been previously copyrighted.
Briefs and research notes are not published in this journal.
All our articles go through a double-blind review process.
All authors must declare they have read and agreed to the content of the submitted article. A full statement of our Ethical Guidelines for Authors (PDF) is available.
There are no charges for publishing with Inderscience, unless you require your article to be Open Access (OA). You can find more information on OA here.



Submission process

All articles for this journal must be submitted using our online submissions system.
View Author guidelines.