International Journal of Precision Technology
This journal also publishes Open Access articles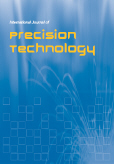 Editor in Chief

Associate Prof. Jinyang Xu

ISSN online

1755-2079

ISSN print

1755-2060
4 issues per year

IJPTech promotes advances in precision technology accompanied by the underlying science and mathematics. It deals with normal, precision, high precision and ultra-precision machining processes and the machine tools, cutting tools and measurement systems involved in these processes. Precision is defined as something which is repetitive but not necessarily accurate. The ideal product, process or system is that which is precise and accurate as well. The journal welcomes papers of an engineering, scientific and mathematical nature.
Topics covered include
Precision cutting tools, materials
Mechanics of precision machining/polishing
Precision, high precision, ultra-precision machine tools
Hydrodynamic/hydrostatic/gas bearings
Precision metrology
Tribology
Clean rooms
Microelectromechanical systems (MEMS)
Energy particle beam machining
Nanoprocessing
More on this journal...
Objectives
The objective of IJPTech is to provide a forum for state-of-the-art international research in all areas of precision technology as defined by the late Professor Taniguchi, a pioneer in this area and the inventor of the word nanotechnology. It embraces all activities ranging from the micrometre to the nanometer. Science and mathematics must form a part of papers submitted for publication in this journal.
Readership
IJPTech provides a vehicle to help professionals, academics, researchers and policy makers, working in the field of precision technology management, precision science and engineering and business education, to disseminate information and to learn from each other's work.
Contents
IJPTech publishes original papers, review papers, technical reports, case studies and book reviews pertaining to precision technology. Special issues devoted to important topics in precision technology are encouraged and will be published.
Honorary Editor
Venkatesh, V. C., University of Nevada-Las Vegas, USA
Editor in Chief
Xu, Jinyang, Shanghai Jiao Tong University, China
(xujinyangsjtu.edu.cn)
Associate Editors
Jain, Neelesh Kumar, Indian Institute of Technology Indore, India
Pande, S.S., Indian Institute of Technology Bombay, India
Posinasetti, Nageswara Rao, University of Northern Iowa, USA
Yousif, Belal, University of Southern Queensland, Australia
Editorial Board Members
Afzulparkar, Nitin, Asian Institute of Technology, Thailand
Aitchison, David, University of Canterbury, New Zealand
Balasubramaniam, R., Bhabha Atomic Research Centre, India
Brevern, P., Multimedia University, Malaysia
Bukkapatnam, Satish T.S., Oklahoma State University and Texas A&M University, USA
Dixit, Uday Shanker, Indian Institute of Technology, Guwahati, India
Gupta, Kapil, University of Johannesburg, South Africa
Hassan, Ashraf, Benha University, Egypt
Izman, S., University of Technology-Malaysia, Malaysia
Jain, Pramod Kumar, Indian Institute of Technology Roorkee, India
Jain, Syadwad, Intel Corporation, USA
Jawahir, I. S., University of Kentucky, USA
McGeough, Joe A., University of Edinburgh, UK
Palani, I. A., Indian Institute of Technology Indore, India
Pandey, Pulak Mohan, Indian Institute of Technology Delhi, India
Pathak, Sunil, HiLASE Center, Czech Republic
Rahman, Mustafizur, National University of Singapore, Singapore
Ramkumar, Janakarajan, Indian Institute of Technology Kanpur, India
Singh, Ramesh Kumar, Indian Institute of Technology Bombay, India
Sladek, Jerzy, Cracow University of Technology, Poland
Sonar, Tushar, South Ural State University, Russian Federation
Weckenmann, Albert A., University Erlangen-Nuremberg, Germany
Whitehouse, David, University of Warwick, UK
Yuan, S.M., Beihang University, China
Zhong, Zhao Wei, Nanyang Technological University, Singapore
A few essentials for publishing in this journal
Submitted articles should not have been previously published or be currently under consideration for publication elsewhere.
Conference papers may only be submitted if the paper has been completely re-written (more details available here) and the author has cleared any necessary permissions with the copyright owner if it has been previously copyrighted.
Briefs and research notes are not published in this journal.
All our articles go through a double-blind review process.
All authors must declare they have read and agreed to the content of the submitted article. A full statement of our Ethical Guidelines for Authors (PDF) is available.
There are no charges for publishing with Inderscience, unless you require your article to be Open Access (OA). You can find more information on OA here.



Submission process

All articles for this journal must be submitted using our online submissions system.
View Author guidelines.