International Journal of Product Sound Quality
This journal also publishes Open Access articles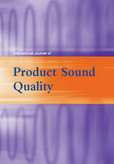 Editor in Chief

Associate Prof. Jinyang Xu

ISSN online

1742-6766

ISSN print

1742-6758
4 issues per year

IJPSQ is an international scientific peer-reviewed journal that publishes original research findings addressing the use of sound for the design, fabrication, manufacture and assessment of engineering products. It provides a scientific platform for both academia and industry to disseminate their latest research results in all subjects and topics related to the sound issues of modern products. Full papers, communications and reviews are all welcome.
Topics covered include
Psychoacoustics
Jury evaluations
Sound perception
Sound metrics
Simulation
Modelling
Design for sound quality
Target setting
Product applications
Production line testing
Brand management
Measurement techniques and equipment
Auralisation
Response to vibration
More on this journal...
Objectives
The main objective of IJPSQ is to disseminate theory and practice relating to the sound characteristics of engineering products. It aims to offer a unique scientific forum for academics, researchers and practitioners to discuss and exchange their latest achievements relevant to the use of sound for the design, fabrication, manufacture and assessment of modern products.
Readership
Researchers, practitioners and managers across the many relevant disciplines, including physics, engineering, manufacturing, psychology, marketing and engineering business management.
Contents
IJPSQ publishes original papers, review papers, case studies, book reviews, commentaries and news. Special Issues devoted to important topics in product sound quality will occasionally be published. Commentaries on papers and reports published in IJPSQ are encouraged. Authors will have the opportunity to respond to commentary on their work before the entire treatment is published. Contributions may be by submission or invitation.
Editor in Chief
Xu, Jinyang, Shanghai Jiao Tong University, China
(xujinyangsjtu.edu.cn)
Associate Editors
Tiwari, Nachiketa, Indian Institute of Technology, India
Tong, Huan, University College London, UK
Editorial Board Members
El Mansori, Mohamed, Arts et Métiers ParisTech, France
Ersoy, Sezgin, Marmara University, Turkey
Franz, Gérald, Université de Picardie Jules Verne, France
Gupta, Munish Kumar, Opole University of Technology, Poland
Hassan, Muhammad Hafiz, Universiti Sains Malaysia, Malaysia
Ivanov, Vitalii, Sumy State University, Ukraine
Kalsi, Nirmal S., Shri Vishwakarma Skill University, Haryana, India
Kam, Taiyan, National Chiao Tung University, Taiwan, Province of China
Kolesnyk, Vitalii, Sumy State University, Ukraine
Krishnaraj, Vijayan, PSG College of Technology, India
Nasseri, Simin, Kennesaw State University, USA
Niu, Junchuan, Shandong University, China
Pavlenko, Ivan, Sumy State University, Ukraine
Rathi, Rajeev, Lovely Professional University, India
Sharma, Parveen, Lovely Professional University, India
Sonar, Tushar, South Ural State University, Russian Federation
Trojanowska, Justyna, Poznan University of Technology, Poland
Verma, Rajesh Kumar, Madan Mohan Malaviya University of Technology, India
Wang, Dazhong, Shanghai University of Engineering Science, China
Xue, Xin, Fuzhou University, China
Yildirim, Sahin, Erciyes University, Turkey
A few essentials for publishing in this journal
Submitted articles should not have been previously published or be currently under consideration for publication elsewhere.
Conference papers may only be submitted if the paper has been completely re-written (more details available here) and the author has cleared any necessary permissions with the copyright owner if it has been previously copyrighted.
Briefs and research notes are not published in this journal.
All our articles go through a double-blind review process.
All authors must declare they have read and agreed to the content of the submitted article. A full statement of our Ethical Guidelines for Authors (PDF) is available.
There are no charges for publishing with Inderscience, unless you require your article to be Open Access (OA). You can find more information on OA here.



Submission process

All articles for this journal must be submitted using our online submissions system.
View Author guidelines.