International Journal of Private Law
This journal also publishes Open Access articles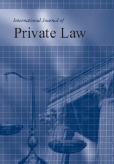 Editor in Chief

Dr. M.A. Dorgham

ISSN online

1753-6243

ISSN print

1753-6235
4 issues per year


CiteScore

0.0 (2022)

IJPL provides a forum for international discussion on all aspects of private law including audio-visual, media, communication and space law, which have not been covered by any journals so far. It explores legal issues facing individuals, entrepreneurs and business owners, and discusses provocative and timely issues facing both the national and international community. IJPL is dedicated to providing comprehensive, practical, reliable and current information for practicing attorneys, judges, students and academics regarding the practice of private law worldwide.
Topics covered include
Commercial law and bankruptcy/insolvency
Employment/labour, human rights, consumer protection, marketing
Finance, corporate governance, banking and investment
Legislative and regulatory affairs
International law/judicial assistance
Arbitration/ADR, choice of law, recognition of foreign judgments
Property ownership, real estate, intellectual property
Family law, wills and estates
Contract law, restitution, torts
Trade law, competition law, e-commerce, sales of goods, product liability
Offshore outsourcing
Jurisdiction of the courts, jurisdiction and judgments, equity, trust
Environmental/space/aviation/health/pharmaceutical law
Media/entertainment/communication/sports law
Conflict of law, case law, policy developments, law and culture
More on this journal...
Objectives
Problems of international dimension require international efforts. The objectives of IJPL are to establish an effective channel of communication between policy makers, government agencies, academics, researchers, legal practitioners, universities and businesses concerned with practical legal issues prevalent in private law. The aim is to attract the highest level of research results and to provide valuable insight into matters of broad intellectual and practical concern to the legal and business communities, and to meet quality standards.
The immediate goal is to enable readers to obtain quality legal analysis that is easily accessible and, best of all, succinct. Readers can keep abreast of the daily highlights of legal news from around the nation and the world. IJPL provides an effective resource for comprehensive analysis of contemporary law issues to practicing attorneys, academia and the business community in a manner that fosters the intellectual development of students and professionals. It breaks new ground on legal issues, provides an in-depth discussion of current developments and timely issues, particularly those with a cross-border focus, and offers a survey of the law in areas of particular interest to our international readership. Finally, it publishes articles directed at business lawyers unfamiliar with a substantive area, as well as articles on technical legal issues.
Readership
IJPL provides a vehicle to help professionals, academics, researchers and policy makers working in the fields of business, e-commerce and finance, either as producers of new knowledge or as users of this knowledge, to disseminate primary information and to learn from each other's work. Among its readers are businessmen, researchers, professionals, academics and legal practitioners.
Contents
IJPL publishes original papers, review papers, technical reports, case studies, conference reports, book reviews, notes, case commentaries and news. Special Issues devoted to important topics in private law will occasionally be published.
Editor in Chief
Dorgham, M.A., International Centre for Technology and Management, UK
(supportinderscience.com)
Editorial Board Members
Belikova, Ksenia, People's Friendship University of Russia, Russian Federation
Boele-Woelki, Katharina, Bucherius Law School, Germany
Cornelius, Steve J., University of Pretoria, South Africa
Khoo, Teng Guan, Anglia Ruskin University, UK
Malkawi, Bashar H., H.H. Dubai Ruler's Court, United Arab Emirates
Oloko, Temitope, Lagos State University, Nigeria
Patterson, Dennis, Rutgers University, USA
Popovic, Dragoljub, European Court of Human Rights, France
Stepanov, Sergey, Institute for Private Law, Russian Federation
Tripathy, Sunita, Jindal Global Law School, India
Wendt, John T., University of St. Thomas, USA
Zhang, Xiao Yang, Open University of Hong Kong, Hong Kong SAR, China
A few essentials for publishing in this journal
Submitted articles should not have been previously published or be currently under consideration for publication elsewhere.
Conference papers may only be submitted if the paper has been completely re-written (more details available here) and the author has cleared any necessary permissions with the copyright owner if it has been previously copyrighted.
Briefs and research notes are not published in this journal.
All our articles go through a double-blind review process.
All authors must declare they have read and agreed to the content of the submitted article. A full statement of our Ethical Guidelines for Authors (PDF) is available.
There are no charges for publishing with Inderscience, unless you require your article to be Open Access (OA). You can find more information on OA here.



Submission process

All articles for this journal must be submitted using our online submissions system.
View Author guidelines.