International Journal of Power Electronics
This journal also publishes Open Access articles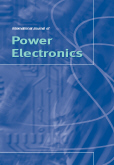 Editor in Chief

Dr. Dinesh Kumar

ISSN online

1756-6398

ISSN print

1756-638X
8 issues per year


CiteScore

0.9 (2022)

IJPElec is a refereed international journal which presents to the international scientific community important results of work in this field, whether in the form of modelling, simulation, analysis, fundamental research, development, application, design or real-time implementation. The scope of IJPElec is broad, encompassing all aspects of power electronics.
Topics covered include
Advanced power semiconductor devices
Modelling, simulation, analysis, design and implementations of the application of power circuit components (power semiconductors, inductors, high frequency transformers, capacitors)
Inverters, converters, controlled and uncontrolled rectifiers
Control algorithms and techniques applied to power electronics
Electromagnetic and thermal performance of electronic power converters and inverters
Applications in motor drives, wind energy systems, solar, battery chargers, UPS and hybrid systems
Low power electronics
EMI/EMC considerations
More on this journal...
Objectives
The main objective of IJPElec is to establish an excellent channel of communication between experts in academic and research institutions, practitioners and professionals working in industry and related business, and policy makers.
Readership
IJPElec provides a vehicle to help professionals, academics, researchers and policy makers, working in the field of power electronics and dealing with modelling, simulation, analysis, design and implementation, to disseminate information and to learn from each other's work.
Contents
IJPElec publishes original papers, review papers, technical reports, and case studies. Special Issues devoted to important topics in power electronics will occasionally be published.
Editor in Chief
Kumar, Dinesh, Danfoss Drives A/S, Denmark
(dineshr30ieee.org)
Editors
Ghasemi, Negareh, The University of Queensland, Australia
Rajpurohit, Bharat Singh, Indian Institute of Technology Jodhpur, India
Associate Editors
Ahmadi Kamarposhti, Mehrdad, Islamic Azad University, Iran
Dianov, Anton, Samsung Electronics Co., Ltd,, South Korea
Lebey, Thierry, Université de Toulouse, France
Mondal, Gopal, Siemens AG, Germany
Pindoriya, Rajesh, Thapar Institute of Engineering and Technology, India
Santra, Subhendu, KIIT Deemed to be University, India
Regional Editor
Hosseini, Hamid, Kumamoto University, Japan
Advisory Board
Blaabjerg, Frede, Aalborg University, Denmark
Dong, Z. Y., University of Sydney, Australia
Dwivedi, Sanjeet, Danfoss Power Electronics A/S, Denmark
Ghosh, Arindam, Curtin University, Australia
Guerrero, Josep M., Aalborg University, Denmark
Harnefors, Lennart, ABB, Power Systems/HVDC, Sweden
Lorenz, Leo, European Center for Power Electronics, Germany
Paramasivam, S., ESAB, India
Rathore, Akshay Kumar, Concordia University, Canada
Sakugawa, Takashi, Kumamoto University, Japan
Sebastian, Tomy, Halla Mechatronics, USA
Singh, Bhim, Indian Institute of Technology, Delhi, India
Vasudevan, Krishna, Indian Institute of Technology, Madras, India
Wheeler, Pat, University of Nottingham, UK
Williamsons, Sheldon, Ontario Tech University, Canada
Zare, Firuz, University of Queensland, Australia
Editorial Board Members
Chouhan, Sanjeev S., Maulana Azad National Institute of Technology, India
Comanescu, Mihai, Penn State Uniiversity - Altoona, USA
Garg, Vijay Kumar, UIET, Kurukshetra University, India
Ghosh, Arnab, National Institute of Technology Rourkela, India
Giri, Ashutosh K., Government Engineering College Bharuch, India
Lee, Kyo-Beum, Ajou University, South Korea
Mendonça dos Santos, Pedro, Instituto Telecomunicações, Portugal
Moradi, Arash, Amplitude Consultants Pty Ltd, Australia
Nguyen, Minh-Khai, Chosun University, South Korea
Sun, Kai, Tsinghua University, China
Verma, Arun Kumar, Malaviya National Institute of Technology, India
Yazdani, Amir, Ryerson University, Canada
A few essentials for publishing in this journal
Submitted articles should not have been previously published or be currently under consideration for publication elsewhere.
Conference papers may only be submitted if the paper has been completely re-written (more details available here) and the author has cleared any necessary permissions with the copyright owner if it has been previously copyrighted.
Briefs and research notes are not published in this journal.
All our articles go through a double-blind review process.
All authors must declare they have read and agreed to the content of the submitted article. A full statement of our Ethical Guidelines for Authors (PDF) is available.
There are no charges for publishing with Inderscience, unless you require your article to be Open Access (OA). You can find more information on OA here.



Submission process

All articles for this journal must be submitted using our online submissions system.
View Author guidelines.