International Journal of Nano and Biomaterials
This journal also publishes Open Access articles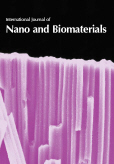 Editor in Chief

Prof. Jin Zhang

ISSN online

1752-8941

ISSN print

1752-8933
4 issues per year


CiteScore

0.9 (2022)

In recent years, frontiers of research in engineering, science and technology have been driven by developments in nanomaterials, encompassing a diverse range of disciplines such as materials science, biomedical engineering, nanomedicine and biology, manufacturing technology, biotechnology, nanotechnology, and nanoelectronics. IJNBM provides an interdisciplinary vehicle covering these fields. Advanced materials inspired by biological systems and processes are likely to influence the development of novel technologies for a wide variety of applications from vaccines to artificial tissues and organs to quantum computers.
Topics covered include
Nanostructured materials/surfaces/interfaces
Synthesis of nanostructures
Biological/biomedical materials
Artificial organs/tissues
Tissue engineering
Bioengineering materials
Medical devices
Functional/structural nanomaterials
Carbon-based materials
Nanomaterials characterisation
Novel applications of nanomaterials
Modelling of behaviour of nanomaterials
Nanomaterials for biomedical applications
Biological response to nanomaterials
More on this journal...
Objectives
IJNBM aims at promoting and coordinating developments in the field of nano and biomaterials. The international dimension is emphasised in order to meet the latest needs of accelerating theoretical knowledge and practical verification of new technologies and products.
Readership
IJNBM is intended to help professionals, academics, researchers and policy makers, working in the field of materials science and technology and materials testing, physical modelling or simulation of various processes in nano and biomaterials, engineering education, and to disseminate information related to nano and biomaterials.
Contents
IJNBM publishes original high quality papers, rapid communications, timely review papers, technical reports, and case studies. Special issues devoted to developments in important topics in biological and nanostructured materials will be published periodically.
Editor in Chief
Zhang, Jin, Western University, Canada
(jzhangeng.uwo.ca)
Executive Editor
Zhong, Wen, University of Manitoba, Canada
Associate Editors
Levingstone, Tanya J., Dublin City University, Ireland
Ouyang, Jianying, Security and Disruptive Technologies Research Centre (SDT), National Research Council Canada (NRC), Canada
Panja, Sudipta, University of Nebraska Medical Center, USA
Regional Editor
Deng, Shuhao, Central South University, China
Editorial Board Members
Astruc, Didier, Université Bordeaux I, France
Bhushan, Bharat, Ohio State University, USA
Brabazon, Dermot, Dublin City University, Ireland
Brydson, Rik, University of Leeds, UK
Chen, L.Q., Pennsylvania State University, USA
Gorb, Stanislav N., Christian-Albrechts-University of Kiel , Germany
Irvin, Randall, University of Alberta, Canada
Ishihara, Kazuhiko, University of Tokyo, Japan
Ishikawa, Kunio, Kyushu University, Japan
Langford, Steven J., Monash University, Australia
Layrolle, Pierre, University of Nantes, France
Lu, K., Chinese Academy of Sciences, China
Palmore, G. Tayhas R., Brown University, USA
Phoenix, David, London South Bank University, UK
Somasundaran, P., Columbia University, USA
Stamboulis, Artemis, University of Birmingham, UK
Szpunar, J.A., McGill University, Canada
Tada, Hirokazu, Osaka University, Japan
Tenne, Reshef, Weizmann Institute of Science, Israel
Thomsen, Peter, University of Gothenburg, Sweden
Troczynski, Tom, University of British Columbia, Canada
Vecchio, Kenneth S., University of California at San Diego, USA
Ziomek-Moroz, Margaret, U.S. Department of Energy, USA
A few essentials for publishing in this journal
Submitted articles should not have been previously published or be currently under consideration for publication elsewhere.
Conference papers may only be submitted if the paper has been completely re-written (more details available here) and the author has cleared any necessary permissions with the copyright owner if it has been previously copyrighted.
Briefs and research notes are not published in this journal.
All our articles go through a double-blind review process.
All authors must declare they have read and agreed to the content of the submitted article. A full statement of our Ethical Guidelines for Authors (PDF) is available.
There are no charges for publishing with Inderscience, unless you require your article to be Open Access (OA). You can find more information on OA here.



Submission process

All articles for this journal must be submitted using our online submissions system.
View Author guidelines.
Journal news
Mopping up amitriptyline to treat overdose
1 August, 2023
Research in the International Journal of Nano and Biomaterials has demonstrated how Microcrystalline Cellulose (MCC) can be used to soak up the drug amitriptyline in cases of overdose. Amitriptyline is a commonly prescribed tricyclic antidepressant, used to manage depression, chronic pain, and mood disorders. It is, as with many prescription medicines, also a drug of abuse as well as representing a potential lethal risk to users through overdose. Amitriptyline can have various detrimental effects if misused. It can affect breathing cause nausea vomiting and diarrhoea. It also affects the central nervous system leading to confusion, agitation, hallucinations, delirium, drowsiness, and potentially coma at higher doses. It has serious effects on the heart and cardiovascular system causing arrhythmia, hypotension (a dangerous drop in blood pressure), and even cardiac arrest. Soma Chakraborty, Adrienne Nicole S. Bartolome, and Francisgerard A. Aguilar in the Department of Chemistry at Ateneo de Manila University in Quezon City, Philippines, explain that sequestration, the process of capturing and removing a substance from a solution, could be used to manage amitriptyline overdose. The team has investigated the effectiveness of MCC in sequestering, or adsorbing, amitriptyline from aqueous solutions [...]
More details...