International Journal of Masonry Research and Innovation
This journal also publishes Open Access articles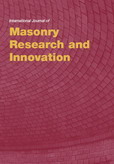 Editor in Chief

Prof. Antonio Formisano

ISSN online

2056-9467

ISSN print

2056-9459
6 issues per year


Impact factor (Clarivate Analytics) 2023

1.1 (5 Year Impact Factor 1.2)
JCI 0.26

CiteScore

2.5 (2022)

IJMRI proposes and fosters discussion on the mechanics of masonry structures, with emphasis on a variety of topics including theoretical investigations, numerical approaches and technical applications in new works, repair practice and built heritage preservation. This perspective acknowledges the complexity of the masonry research sector, bridging between theory and application, with a readership spanning across from academia to industry.
Topics covered include
Theoretical/numerical analysis of masonry structures
Earthquake resistance and traditional-innovative retrofitting
Masonry and building physics
Repair and strengthening
Conservation of historic buildings
Codes and standards
Innovation and sustainability of masonry
New construction techniques/technologies
Architecture with masonry
Masonry materials and testing
New developments in design/verification
Reliability and performance
Emblematic case studies
Fire resistance
More on this journal...
Objectives
The objective of IJMRI is the publication and dissemination of original research devoted to masonry structures and innovation in new construction, repair and built heritage conservation. It therefore aims to provide a broad blend of scientific and technical papers, favouring exchange of ideas among theoreticians and practitioners active in different fields, including civil engineering, architecture, material science, cultural heritage, applied mathematics and others. The emphasis is placed on analytical, experimental, numerical and/or technological contributions of interest to researchers and practitioners in the field of masonry research and innovation. The journal will include information on aspects such as existing built heritage and new construction, including state-of-the-art aspects of innovative materials, construction technologies, design approaches, sustainability, energy efficiency, comfort, codes and regulations, emblematic case studies, historic buildings, training and education, among others.
Readership
Readership spans across from academia to industry, including, but not limited to:
Academic: Graduate students and researchers
Faculties: Staff members from departments of architecture, engineering (including civil, mechanical and material science) and conservation and restoration
Practitioners: Civil engineers and architects
Industry: Building industry in general (brick/block masonry producers, mortar producers, FRP and steel producers, advanced materials for repair and strengthening producers)
Contents
IJMRI publishes original papers, review papers, technical reports, case studies and book reviews. Special Issues devoted to important topics in masonry research will occasionally be published.
Honorary Editor
Milani, Gabriele, Technical University of Milan, Italy
Editor in Chief
Formisano, Antonio, University of Naples, Italy
(antoformunina.it)
Associate Editors
Adam, Jose M., Universitat Politècnica de València, Spain
Plevris, Vagelis, Oslo Metropolitan University, Norway
Sarhosis, Vasilis, University of Leeds, UK
Stavroulakis, Georgios, Technical University of Crete, Greece
Editorial Board Members
Addessi, Daniela, Sapienza University of Rome, Italy
Angelillo, Maurizio, Università degli Studi di Salerno (UNISA), Italy
Asteris, Panagiotis G., School of Pedagogical and Technological Education, Greece
Bagi, Katalin, Budapest University of Technology and Economics, Hungary
Bento, Rita, University of Lisbon, Portugal
Bertolesi, Elisa, Brunel University, UK
Clementi, Francesco, Polytechnic University of Marche, Italy
Corradi, Marco, University of Huddersfield, UK
Dhanasekar, Manicka, Queensland University of Technology, Australia
Dubois, Frédéric, CNRS - Université de Montpellier, France
Fouchal, Fazia, University of Limoges, France
Gams, Matija, University of Ljubljana, Slovenia
Ghiassi, Bahman, University of Nottingham, UK
Ghosh, Siddhartha, Indian Institute of Technology Bombay, India
Ivorra, Salvador, University of Alicante, Spain
Laefer, Debra F., New York University, USA
Lagomarsino, Sergio, University of Genoa, Italy
Lebon, Frédéric, Aix Marseille Université, France
Lemos, José V., LNEC (National Laboratory for Civil Engineering), Portugal
Li, Shengcai, Yangzhou University, China
Macorini, Lorenzo, Imperial College London, UK
Magenes, Guido, Università di Pavia, Italy
Masia, Mark John, The University of Newcastle, Australia
Massart, Thierry J., Université Libre de Bruxelles (ULB), Belgium
Menon, Arun, Indian Institute of Technology Madras, India
Miccoli, Lorenzo, Xella Technology and Research Centre, Germany
Mojsilovic, Nebojsa, ETH Zürich, Switzerland
Mosoarca, Marius, Politehnica University Timisoara, Romania
Muñoz, Julián García, Universidad Politécnica de Madrid, Spain
Oliveira, Daniel, University of Minho, Portugal
Parisi, Fulvio, University of Naples Federico II, Italy
Parsekian, Guilherme Aris, Federal University of Sao Carlos (UFSCar), Brazil
Perucchio, Renato, University of Rochester, USA
Pietruszczak, Stan, McMaster University, Canada
Rabinovitch, Oded, Technion - Israel Institute of Technology, Israel
Roca, Pere, Universitat Politècnica de Catalunya, Spain
Rots, Jan G., TU Delft, Netherlands
Sacco, Elio, University of Naples Federico II, Italy
Sandoval, Cristián, Pontificia Universidad Católica de Chile, Chile
Schultz, Arturo E., University of Minnesota, USA
Shrive, Nigel, University of Calgary, Canada
Tarque, Nicola, Pontificia Universidad Católica del Perú, Peru
Varum, Humberto, University of Porto, Portugal
Verstrynge, Els, KU Leuven (Catholic University of Leuven), Belgium
Vincens, Eric, Université de Lyon, France
Vintzileou, Elizabeth, National Technical University of Athens, Greece
A few essentials for publishing in this journal
Submitted articles should not have been previously published or be currently under consideration for publication elsewhere.
Conference papers may only be submitted if the paper has been completely re-written (more details available here) and the author has cleared any necessary permissions with the copyright owner if it has been previously copyrighted.
Briefs and research notes are not published in this journal.
All our articles go through a double-blind review process.
All authors must declare they have read and agreed to the content of the submitted article. A full statement of our Ethical Guidelines for Authors (PDF) is available.
There are no charges for publishing with Inderscience, unless you require your article to be Open Access (OA). You can find more information on OA here.



Submission process

All articles for this journal must be submitted using our online submissions system.
View Author guidelines.