International Journal of Management Development
This journal also publishes Open Access articles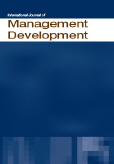 Editor in Chief

Associate Prof. Fabio Cassia

ISSN online

1752-850X

ISSN print

1752-8240
2 issues per year

IJMD's mission is to publish innovative scholarly research that has the potential to advance the field of management. Its unique feature is a focus on the development of management competencies needed to make effective decisions that enable firms to successfully face contemporary challenges in national, international and global markets. The journal covers the development and application of management competencies in all areas of management including, among others, marketing, human resource management, operations management and international management.
Topics covered include
Management decisions
Resources, competencies and knowledge management
Corporate social responsibility and sustainability
Human resource management and organisational behaviour
Marketing, brand and customer relationship management
International management and marketing
Managerial accounting and firms' financial decisions
Operations, supply chain and quality management
Innovation management, smart technologies, artificial intelligence
Entrepreneurship and social entrepreneurship
Small and family business management
Service management
Crisis management and turnaround
Management of private, public and third sector organisations
Management and marketing in tourism, hospitality and the public sector
More on this journal...
Objectives
The main objective of IJMD is to advance the theory and practice of management, presenting innovative research which addresses the development of management competencies and their applications to a wide range of contemporary managerial decisions. The journal aims to publish high-quality papers showing how new management competencies can be acquired, managed and applied to improve decision-making quality and, in turn, strengthen the competitive advantage of the firm. IJMD aims to reach a wide audience including scholars, managers, policy makers and other stakeholders, while meeting high academic standards in terms of quality and rigour. Through its international, cross-cultural scope, IJMD aims at fostering the exchange of ideas and knowledge among management researchers and practitioners all over the world.
Readership
IJMD addresses several audiences including the academic community, top and middle managers from different functions, front-line managers, professionals and consultants, policy makers, and other stakeholders in firms.
Contents
IJMD publishes innovative research characterised by rigorous methodology and sound scientific validity, offering both strong theoretical implications and relevant managerial insights. IJMD welcomes original high-quality papers including research papers, literature review papers, conceptual papers and case studies.
Editor in Chief
Cassia, Fabio, University of Verona, Italy
(fabio.cassiaunivr.it)
Executive Editor
Magno, Francesca, Università degli Studi di Bergamo, Italy
Editorial Board Members
Arruda-Filho, Emílio José Montero, University of Amazon, Brazil
Bandeira, Mariana Lima, Universidad Andina Simón Bolívar, Ecuador
Cavusgil, Erin, University of Michigan-Flint, USA
Crowther, David, De Montfort University, UK
Elshareif, Elgilani, Canadian University of Dubai, United Arab Emirates
Garcia-Madariaga, Jesús, Universidad Complutense de Madrid, Spain
Gunasekaran, Angappa, Penn State Harrisburg, USA
Huuhka, Ari, University of Vaasa, Finland
Jain, Vipul, Victoria University of Wellington, New Zealand
Lukason, Oliver, University of Tartu, Estonia
Madsen, Mona Toft, Aarhus University, Denmark
Moretta Tartaglione, Andrea, University of Cassino and Southern Lazio, Italy
Moura e Sá, Patrícia, University of Coimbra, Portugal
Parameswar, Nakul, Indian Institute of Technology Hyderabad, India
Rai, Bharatendra K., University of Massachusetts - Dartmouth, USA
Ruiz-Alba, José L., University of Westminster, UK
Sangle, Shirish, National Institute of Industrial Engineering (NITIE), India
Singh, Satyendra, Academy of Business and Emerging Markets and University of Winnipeg, Canada
Zain, Mohamed, Sultan Qaboos University, Oman
A few essentials for publishing in this journal
Submitted articles should not have been previously published or be currently under consideration for publication elsewhere.
Conference papers may only be submitted if the paper has been completely re-written (more details available here) and the author has cleared any necessary permissions with the copyright owner if it has been previously copyrighted.
Briefs and research notes are not published in this journal.
All our articles go through a double-blind review process.
All authors must declare they have read and agreed to the content of the submitted article. A full statement of our Ethical Guidelines for Authors (PDF) is available.
There are no charges for publishing with Inderscience, unless you require your article to be Open Access (OA). You can find more information on OA here.



Submission process

All articles for this journal must be submitted using our online submissions system.
View Author guidelines.
Journal news
Introverted leaders in the spotlight
25 May, 2023
A review in the International Journal of Management Development has highlighted the crucial role of personality types in the workplace. The study specifically focuses on dispelling the various misconceptions around leaders with introverted personalities. It reveals the key characteristics and qualities that make for effective leadership and compares the leadership styles of introverts and extroverts. The review could guide recruiters and human resource managers in improving their hiring practices and leadership development processes, making them more inclusive of introverts when identifying and nurturing potential leaders. Hevvon A. Barnes of the University of Hartford, Connecticut and Susan M. Stewart of Western Illinois University, Moline, Illinois, USA, suggest that introverted leaders have long been misunderstood and their review seeks to challenge the deceived wisdom about their abilities. It is possible that by recognizing and valuing the unique strengths, talents, perspectives, and values of introverted leaders organizations could gain a deeper understanding of their contribution and build on it [...]
More details...