International Journal of Intelligent Systems Design and Computing
This journal also publishes Open Access articles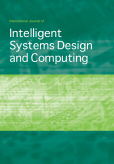 Editor in Chief

Dr. M.A. Dorgham

ISSN online

2052-8485

ISSN print

2052-8477
4 issues per year

Emerging and evolving systems are integrating intelligent attributes to enable the thrust towards making technology adaptive and functional as an aid to improve existing designs.IJISDC, an international peer-reviewed journal, promotes discussion on the design and implementation of intelligent systems related to emerging areas of communication, computer vision, human-computer interaction, soft computing and related issues. The journal offers an applied approach driven by innovation, to facilitate intelligent design and implementation.
Topics covered include
Intelligent systems design
Composite systems design in communication and computing
Soft-computational applications in communication and upcoming networks
Computer vision, AI applications
Computational geometry
Signal/image processing
Image matching, medical imaging
Pattern/face recognition
Architecture, languages
Parallel computer vision
Cognition
Robotics, multi-sensor data fusion
All areas of communication
All areas of intelligent computing
More on this journal...
Objectives
The primary objective of IJISDC is to provide a framework for discussion and dissemination of knowledge in the area of intelligent systems design and its importance in the changing scenario of technology development. It is a medium to highlight research contributions on a global scale. The outcome is a platform facilitating discussion, documentation and dissemination of know-how and knowledge related to upcoming research domains in electrical, electronics and computational sciences and engineering.
Readership
IJISDC provides a global platform facilitating discussion, documentation and dissemination related to upcoming research domains in electrical, electronics and computational sciences and related disciplines to help professionals, academics, researchers and policy makers working in engineering, manufacturing, business and education to work cohesively and foster growth in intelligent systems design and implementation.
Contents
IJISDC publishes original papers, review papers, technical reports, case studies and book reviews. Special issues devoted to important topics in related design and technology areas will occasionally be published.
Editor in Chief
Dorgham, M.A., International Centre for Technology and Management, UK
(supportinderscience.com)
Editorial Board Members
Al-Masri, Eyhab, University of Waterloo, Canada
Alfredson, Jens, Saab Aeronautics, Sweden
Awad, Ali Ismail, Luleå University of Technology, Sweden
Banerjee, Bonny, University of Memphis, USA
Behera, H. S., Veer Surendra Sai University of Technology (VSSUT), India
Bhuyan, M.K., IIT Guwahati, India
Borissov, Yuri L., Institute of Mathematics and Informatics, Bulgaria
De, Swapnadip, Meghnad Saha Institute of Technology, India
Dutta, Malay Kishore, Amity University, India
Gao, Xiao-Zhi, University of Eastern Finland, Finland
Jain, Vishal, Bharati Vidyapeeth's Institute of Computer Applications and Management (BVICAM), India
Jamuar, Sudhanshu Shekhar, University of Malaya, Malaysia
Kumar, Sathish A.P., Coastal Carolina University, USA
Lenuta, Alboaie, Al. I. Cuza University, Romania
Ma, Kun, University of Jinan, China
Neri, Filippo, University of Naples Federico II, Italy
Nguyen, Ngoc Tu, Purdue University Fort Wayne, USA
Potdar, Vidyasaga, Curtin University, Australia
Senthilkumar, Sukumar, Vellore Institute of Technology, India
Strzelecki, Michal, Technical University of Lodz, Poland
Tsiropoulou, Eirini Eleni, University of New Mexico, USA
Vijayakumar, K., St. Joseph's Institute of Technology, India
Yuvaraja, T., Channabasaveshwara Institute of Technology, India
Zagdkhorol, Bayasgalan, Mongolian University of Science and Technology , Mongolia
A few essentials for publishing in this journal
Submitted articles should not have been previously published or be currently under consideration for publication elsewhere.
Conference papers may only be submitted if the paper has been completely re-written (more details available here) and the author has cleared any necessary permissions with the copyright owner if it has been previously copyrighted.
Briefs and research notes are not published in this journal.
All our articles go through a double-blind review process.
All authors must declare they have read and agreed to the content of the submitted article. A full statement of our Ethical Guidelines for Authors (PDF) is available.
There are no charges for publishing with Inderscience, unless you require your article to be Open Access (OA). You can find more information on OA here.



Submission process

All articles for this journal must be submitted using our online submissions system.
View Author guidelines.