International Journal of Immunological Studies
This journal also publishes Open Access articles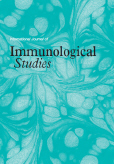 Editor in Chief

Dr. M.A. Dorgham

ISSN online

1754-145X

ISSN print

1754-1441
2 issues per year

IJIS publishes a broad range of papers on all aspects of immunology from scientists in academic and non-academic organisations as well as business and government worldwide. IJIS is the flagship journal of the Frontiers in Immunology Research Network.
Topics covered include
Allergy and immunopathology, antigen presentation, autoimmunity
B cells, NK cells, NKT and T regulatory cells, cellular immunology
Signal transduction, stem cells, T cell biology
Cytokines, chemokines, inflammation
Dendritic cells, diabetes
Imaging at the molecular, cellular or whole animal level
Immune responses to infectious diseases and viral infections
Tumour immunology, immunogenetics and gene discovery, immunotherapy
Innate immunity, in silico modelling, knockout/knock-in studies
Lymphocyte activation and homing, lymphocyte differentiation and migration
Mechanisms of cell death, molecular immunology, mucosal immunology SIG
Plasmon resonance, protein crystallography
The MHC and its interactions, tolerance, transplantation
Vaccine development
Veterinary immunology SIG
More on this journal...
Objectives
The objectives of IJIS are to establish an effective channel of communication between scientists (in academic and non-academic institutions), policy makers, and all concerned with the complex role and importance of immunological inquiries for the benefit of human and animal well-being. It also aims to promote developments in the area of scientific resources ranging from engineering of new tools and R&D funding to education. The international dimension is emphasised in order to overcome cultural and national barriers and to meet the needs of accelerating global and ecological changes.
Readership
IJIS provides a means to help professionals, academics, researchers and policy makers, concerned with immunological issues in laboratories, relevant industries, governmental and non-governmental institutions, with their efforts to disseminate information and to learn from each other's work
Contents
IJIS publishes original papers, review papers, case studies, notes, commentaries, reports relating to technology and education, and book reviews. Special Issues devoted to themes in vogue will occasionally be published.
IJIS is indexed in:
More indexes...
IJIS is listed in:
This journal is yet to be included in any lists or directories.

Honorary Editor
Kantarelis, Demetri, Assumption University, USA
Editor in Chief
Dorgham, M.A., International Centre for Technology and Management, UK
(supportinderscience.com)
Associate Editors
Aziz, Maria, Pri-Med Care Research and Development, USA
Shams, Mohamed, Ministry of Health Oman Pharmacy Institute, Oman
Editorial Board Members
Arneth, Borros, Institute of Laboratory Medicine and Pathobiochemistry, Molecular Diagnostics, Germany
Berzins, Stuart, University of Melbourne, Australia
Brill, Aaron Bertrand (Randy), Vanderbilt University Medical Center, USA
Coggeshall, Mark, Oklahoma Medical Research Foundation, USA
Cose, Stephen, University of Bristol, UK
Das, Priti, SCB Medical College and Hospital, India
Ferrera, Francesca, University of Genoa, Italy
Gorelik, Eli, University of Pittsburgh, USA
Gorentla, Balachandra Kumar, Duke University Medical Center, USA
Indiveri, Francesco, University of Genoa, Italy
Isakov, Noah, Ben Gurion University of the Negev, Israel
Kunkalla, Kranthi, University of Miami, USA
Mahalingam, Marthandan, Catholic University of America , USA
Mintern, Justine D., The Walter and Eliza Hall Institute, Australia
Nanan, Ralph, The University of Sydney, Australia
Phanse, Yashdeep, University of Wisconsin-Madison, USA
Quinn, Anthony, University of Toledo, USA
Rocha, Benedita, INSERM U591 Institut Necker, France
Samineni, Sridhar, City of Hope, USA
Satyaraj, Ebenezer, Nestle Research Center, USA
Singh, Abinav Kumar, University of Texas Medical Branch, USA
Sukumar, Neelima, Cornell University, USA
Sykulev, Yuri, Thomas Jefferson University, USA
Tundup, Smanla, University of Virginia, USA
Woodland, Robert T., University of Massachusetts Medical School, USA
Zhang, Hong, Texas Tech University, USA
A few essentials for publishing in this journal
Submitted articles should not have been previously published or be currently under consideration for publication elsewhere.
Conference papers may only be submitted if the paper has been completely re-written (more details available here) and the author has cleared any necessary permissions with the copyright owner if it has been previously copyrighted.
Briefs and research notes are not published in this journal.
All our articles go through a double-blind review process.
All authors must declare they have read and agreed to the content of the submitted article. A full statement of our Ethical Guidelines for Authors (PDF) is available.
There are no charges for publishing with Inderscience, unless you require your article to be Open Access (OA). You can find more information on OA here.



Submission process

All articles for this journal must be submitted using our online submissions system.
View Author guidelines.